Sally Rippin's bestselling Billie B Brown series stole the hearts of kids around Australia. Now she's using her amazing storytelling powers to tackle various issues – including racism – in her new series Polly and Buster. Epic adventures continue in the second book in this wildly popular series, Polly and Buster 2: The Mystery of the Magic Stones.
What does it take to write for children? To some, it might sound like an easy task, when in actual fact there are a lot of careful steps involved.
"There's always a responsibility as a writer for children," says Rippin. "The younger you write for, the more heavily I think you feel that responsibility. You do want to open them up to the ways of the world but you don't want to completely terrify them or put them off growing up. My responsibility is that I want to explain complex things to them in a way that they can relate to."
No easy feat! And yet Sally Rippin has accomplished this admirably, in both her Billie B Brown series and now with Polly and Buster.
"I feel that the challenge in writing for young people is to work on levels," says Rippin. "If they're reading it alone, the language has to be accessible, the adventure has to be enticing but if they're reading it with an adult, it's a starting point. It's a conversation starter about much deeper things."
Sally Rippin's books aren't just about teaching important lessons. They're about fun and adventure! She hopes they are a refuge for children who want to escape into another world for a little while. "I think they're so much more bombarded than we ever were growing up," she say, in reference to today's children. "We do our best as adults to try and explain what's going on to them without terrifying them. Sometimes I think the role of reading a book is just creating a little refuge."
"In such a really deceptively simple way, these early books are teaching you compassion. They're teaching you to imagine what it's like to be something or someone else. That's so powerful. That's our future." – Sally Rippin
The importance of children's literature is often overshadowed by adult literature. "All the prestige lies in writing adult's literature," says Rippin. "We don't always, as adults, listen to children or take them seriously. We think they're just little people that should hurry up and grow up. We don't genuinely listen to them with openness and curiosity. They say the most amazing things! They haven't learnt all these filters we have. So if we took a moment to listen to them and their perspective of the world, how much more interesting would they seem? It's like we shut ourselves off from our childhood because we think of that as being … infantile or potentially unformed, so we give the same disregard to children's literature."
Click the clink below to listen to our podcast interview, in which John Purcell and Sarah McDuling chat with Sally Rippin on a range of topics, including the responsibility and joy of writing for children and the importance of children's literature.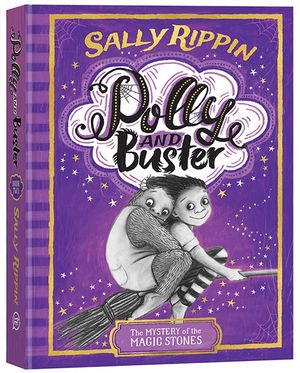 The Mystery of the Magic Stones
Polly and Buster Series: Book 2
What would you do if everyone thought your best friend was dangerous?
Polly the witch and Buster the monster shouldn't be friends. And they definitely shouldn't be on the run from almost everyone in town. But when Polly is called to the Hollow Valley Mines – the forbidden, haunted mines – by her magic stones, these two best friends have a big decision to make.
Do they stay hidden and safe, or risk it all to save the day? The magical sequel to The Wayward Witch and the Feelings Monster. Written and illustrated by Sally Rippin.
About the Contributor
Before entering the exciting world of books, Bronwyn served in the Royal Australian Air Force, travelled extensively and worked (still does!) as a barista on the weekends. Books are her true passion. Bronwyn's debut fantasy novel Relic is coming out in 2019 with indie publishing house Talem Press. They are to publish her entire trilogy called The Relic Trilogy. In her spare time, Bronwyn writes, reads and enjoys keeping fit (which she undoes by eating loads of chocolate) with Martial Arts and personal training. She can't answer what her favourite book is but she has a soft spot for Peter Pan (J.M Barrie), Outlander (Diana Gabaldon), Stardust (Neil Gaiman), The Illuminae Files (Jay Kristoff and Amie Kaufman) and Six of Crows (Leigh Bardugo). Fantasy, sci-fi and YA make up the majority of her bookshelves.