The Girl on the Page is easily one of the best books this year. It's actually brilliant. Hands down, fantastic.
But I can't write a book review.
The author is my boss, John Purcell, chief literary zealot at Booktopia. Writing an impartial book review is completely off the cards.
But while I have your attention, here are ten reasons that you should read The Girl on the Page and see how good it is for yourself…
1) It's completely addictive.

I've spoken to a very broad spectrum of people who have read early copies of The Girl on the Page and not one has been able to put it down. Many readers have crashed through all 350+ pages overnight!
2) It's scandalous.

Publishers conniving to screw over authors, authors lashing out at readers and the literary establishment, fast cars and way too much booze, sex and betrayal … and this is just in the first 100 pages!
3) It's laugh-out-loud funny.
John is completely unafraid to tear apart the flimsy, flashy facade of modern publishing and expose it's inner workings.
Ever wondered what strange and ridiculous goings-on lead to the manufacture of overpriced big-name action thrillers? What about the awardings of the highest honours in literature? The Girl on the Page paints a gleeful and riotous satire of it all.
4) It's a book about books and reading.

Let's not beat around the bookshelf. I love reading and I love talking about books, and if you're reading this then there's a very good chance that you do too. This is not only a book about books, it's an absolutely brilliant one. Plus you'll come out at the end with a massive reading list!
5) The characters are solid gold.
Amy is superficial and vicious. Too smart and beautiful for anyone to handle; she survives largely on champagne, money and the trumped-up glamour of commercial publishing. Helen Owen is the polar opposite – stoic, sincere, old, authentic. Helen, along with her fellow literary behemoth husband Malcolm, are at odds with the very idea of success that Amy lives for.
In isolation, these characters are extreme to the point of toxicity but when John puts them in the room together sh*t hits the fan in the most fascinating ways! Reading these worldviews crash into one another and the explosive problems that it poses for all involved is nothing short of brilliant.
6) It pulls the rug out from under you.

People I've talked to about The Girl on the Page, and the early reviews I've seen, all react to the intense power of reversal this book offers up. What begins as a juicy, sartorial jaunt into the literary sphere rapidly snowballs into something much, much deeper. What happens in this book is gut-wrenching. Readers go from giggles to all-out sobbing. I've seen some readers seething with rage after finishing this book (someone in the office nearly punched John!). I cannot and will not spoil this book for you, but I can tell you that it delivers a mighty thump. I didn't know what hit me.
7) Bestselling authors are raving about it.

Caroline Overington said The Girl on the Page was "like getting on a fast-moving train … filled with people who love books as much as you do!"
Blanche d'Alpuget "squealed with laughter, page after page."
Michael Robotham called it a "rollicking, sexy read about great fiction, trashy readers, writerly egos and the industry that feeds them all."
For Caroline Baum it was a "juicy page-turner that takes a scalpel to the literary world, written with deep insider intel and a gleeful sense of mischief."
For Matt Haig it was "impossible not to enjoy."
A.J. Finn calls it "Fizzy, ferocious, and ice-pick sharp, packed with wit and heart."
This group represents a broad spectrum of some of the most popular writers working today. They all agree that The Girl On the Page is truly something special and worthy of promoting to their fans.
8) It runs at a million miles-an-hour.

I've told you how quickly I and other early readers have zipped through this novel. We have good cause! The Girl on the Page is so incendiary and ferociously paced, it practically explodes off the page. No moment is wasted – every one of Amy's wild escapades, every glorious quip or observation and every caustic conversation is both razor sharp and essential to the greater whole. I can guarantee that you'll race through the entire novel and come stumbling into its crushing and brilliant ending.
9) The crushing and brilliant ending.
I still feel the wind knocked out of me from the first reading. The ending of this book is as shocking as it is magnificent. I can't spoil but… wow!
10) What you'll carry away after reading.
A good book will keep you up late engrossed in the action. A great book will leave you to ponder and ruminate over the more tricky things in life with some new perspective. A truly special book (many people will read only one or two of these in a lifetime) will demolish your worldview and you'll come out of the book seeing your whole life afresh.
Truly special books make a permanent imprint on who you are as person. They're the books that we return to again and again and recommend for everyone to read regardless of taste. The Girl on the Page undoubtedly satisfies the criteria of good and great. For me, and for many of you, it will reach that third ultimate level – a truly special book.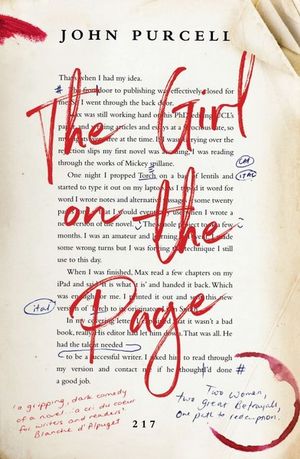 The Girl on the Page
Two women, two great betrayals, one path to redemption. A punchy, powerful and page-turning novel about the redemptive power of great literature, from industry insider, John Purcell.
Amy Winston is a hard-drinking, bed-hopping, hot-shot young book editor on a downward spiral. Having made her name and fortune by turning an average thriller writer into a Lee Child, Amy is given the unenviable task of steering literary great Helen Owen back to publication.
When Amy knocks on the door of their beautiful townhouse in north west London, Helen and her husband, the novelist Malcolm Taylor, are ... READ MORE
About the Contributor
Ben is Booktopia's dedicated fiction and children's book specialist. He spends his days painstakingly piecing together beautiful catalogue pages and gift guides for the website. At any opportunity, he loves to write warmly of the books that inspire him. If you want to talk books, find him tweeting at @itsbenhunter