Kate Forsyth, one of Australia's favourite novelists and the author of books including The Impossible Quest series, Bitter Greens, The Wild Girl and The Beast's Garden, gives us her verdict on the best books she read in July 2018.
---
The Desert Nurse
by Pamela Hart
I'm a big fan of Pamela Hart's vivid and intelligent historical romances. They give me everything I want in a book – drama, heartache, struggle, triumph, and an enthralling glimpse into the past that teaches me something I did not know. The Desert Nurse is set mainly in Egypt during the First World War, and tells the story of a young woman named Evelyn Northey who is determined to become a doctor, despite all the obstacles in her way. Her father is a doctor himself, but does not believe that women should be anything but wives and mothers. He refuses to allow Evelyn the money to go to university to study medicine, and withholds her mother's inheritance until she turns thirty or is married.
When war breaks out, Evelyn disobeys her father and enlists as a nurse bound for Egypt. She makes friends with the other nurses and doctors, and works herself to exhaustion caring for the wounded soldiers of the disastrous Gallipoli conflict.
The romantic hero of this story is Dr William Brent, who survived polio but was left with a weak leg. Unable to fight, he too works tirelessly to save lives and mend shattered bodies. He and Evelyn are strongly drawn to each other, sharing high ideals of compassion, sympathy and determination. Evelyn has sworn never to marry, however, knowing that a husband and children would prevent her from achieving her dream of becoming a doctor. William, meanwhile, fears being a burden. Besides, there is no time for love. Men are fighting and dying in horrible numbers, and at times it seems as if the war would never end.
Evelyn and William's love story is engaging and heart-warming, as they struggle to find a way to be together, but for me the real strength of this novel is how it illuminates the lives of the nurses and doctors during the Anzac campaign. It is clear that Pamela Hart has done massive amounts of research, but it is woven so lightly and deftly all though the book that the cracking pace is never compromised. I truly felt as if I was hearing the story of a young nurse in the Egyptian war zone, struggling to help in any way she could, and trying to find a way to make her dreams come true. It's the kind of book that leaves you with a big lump in the throat, helped by having one of the best last lines I've ever read.
Click here to order your copy of The Desert Nurse
---
---
The Orchid Thief:
A True Story of Beauty and Obsession
by Susan Orlean
I remember when The Orchid Thief came out in 1998, it caused a real buzz. It was a New York Times bestseller, a Barnes and Noble Discover book, a Borders New Voices selection, and an honoree in the American Library Association book-of-the-year selection. It also eventually inspired a movie called Adaption, starring Meryl Streep as Susan Orlean, which must have been a weird and wonderful feeling for the author. It is also credited with beginning – or at least propelling into wide popularity – the genre of narrative non-fiction, in which memoir, biography, travel writing and/or literary journalism is spun together into an engaging and fascinating read.
I love narrative non-fiction, particularly when it has to do with nature, but it is only now that I managed to move The Orchid Thief to the top of my reading pile, perhaps because I am writing a novel about an obsession with Chinese roses.
The Orchid Thief is the story of a man named John Laroche who is determined to clone an endangered flower – the rare ghost orchid Polyrrhiza lindenii – but is caught stealing one from a swamp in South Florida, along with three Seminole Indians who claim they are the rightful owners because the swamp once belonged to their tribe. John Laroche is highly intelligent and unsettlingly odd. He leads Susan Orlean into a two-year exploration of the world of orchid enthusiasts, and the result is a series of inter-connected essays all focused on some aspect of this delicate and difficult flower.
Susan Orlean's style is warm, intimate, and humorous. She goes to great lengths to get her stories, trekking deep into the swamps, visiting orchid fairs, and meeting a wide range of funny, eccentric or half-mad characters. Sometimes the essays digress far away from John Laroche and his orchid mania, but they are always interesting and insightful. One of my favourite quotes from the book reads: 'The world is so huge that people are always getting lost in it. There are too many ideas and things and people, too many directions to go. I was starting to believe that the reason it matters to care passionately about something is that it whittles the world down to a more manageable size. It makes the world seem not huge and empty but full of possibility.'
I too believe it is important to care passionately about something. As the sub-title says, this book is as much about beauty and obsession as it is about the orchid thief, and that makes it a fascinating glimpse into human desire.
Click here to order your copy of The Orchid Thief
---
---
The Girl in the Tower 
Winternight Series: Book 2
by Katherine Arden
I really loved Katherine Arden's debut novel, The Bear and the Nightingale, an historical fantasy set in medieval Russia, and was keen to see Vasya's adventures continue. This is my favourite kind of fantasy –a proud, courageous, and sympathetic heroine, a setting rich in sensuous detail, drenched in the magic of its time, and a storyline that is both suspenseful and yet believable.
In the first book, we saw Vasya grow from a child to a young woman, and face accusations of witchcraft because of her uncanny ability to see magical creatures hidden to most human eyes. One of those creatures is the frost demon Morozko, and Vasya has an ambivalent and troubling relationship with him.
In this sequel, this relationship – which is not quite a romance – takes centre stage, as Vasya struggles to find a place for herself in the world. Offered two choices – marriage or a convent – she disguises herself as a boy and sets out to find adventure instead. The depiction of medieval Russia – vast, snowbound, and dangerous – is marvellously done. Vasya and her horse struggle to survive, and yet she spurns the help of Morozko, afraid of its hidden cost.
"You are immortal, and perhaps I seem small to you," she said at last fiercely. "But my life is not your game."
It is not easy maintaining her boyish disguise, as Vasya battles with outlaws who are burning villages and stealing children, and deals with family tensions and the unwanted attentions of a mysterious stranger. A compulsively readable and beautifully written mix of Russian history and folklore.
Click here to order your copy of The Girl in the Tower
---
---
The Peacock Summer
by Hannah Richell
I've been waiting for a new novel from Hannah Richell for a long time, having absolutely adored her two earlier novels, The Shadow Year and Secrets of the Tides. I got a real stomach flip of excitement when I saw this book with its gorgeous cover and intriguing title.
Like her earlier books, The Peacock Summer is a parallel narrative that moves between the stories of two women. It begins in Sydney in contemporary times, when Maggie learns of the illness of her beloved grandmother Lillian. Maggie goes back home to Cloudesley, her grandmother's home in the Chiltern Hills, only to find the old manor house falling into ruin. Lillian is not strong, and there is no money left for the upkeep of the estate. To make matters worse, Maggie needs to face up to the consequences of actions in her past which have made her an outcast in the village.
Hannah Richell's writing is swift and elegant and a pleasure to read, and she is masterful at lacing the narrative with atmosphere and suspense:
"She runs a hand over the huge, faded tapestry hanging across the wall – then turns to climb the curved staircase to her own room. Halfway up she stops and listens. There is no scrabble of dog paws on the tiled floor, no shuffle of newspaper pages from the library, no distant murmur from her grandmother's radio. There is nothing; not even the glug of water moving through old pipes. This house, that has witnessed so much throughout the years – dinner parties and laughter, conversation and arguments, dancing and music – a house that had seen so much life, had so many people pass through its doors, stands utterly silent. It is unnerving to be its only occupant. What echoes would she hear – what stirrings from the past – if she only knew what to listen for?
Her eyes fall upon the grandfather clock in the hall and she turns and heads back down the stairs, blowing dust from the cabinet to wind it the way Lillian once showed her. She watches with a certain satisfaction as the pendulum begins to sway, a steady tick rising up out of the old clock like a resuscitated heart beating in a chest. One small thing corrected.
She doesn't want to think yet of all the the wrongs she still needs to set right."
The story then moves to her grandmother's point-of-view. Lillian is in her mid-20s and married to the lord of the manor, a handsome powerful man named Charles Oberon. Yet she feels stifled and unhappy. One day her husband hires a talented young artist to paint the walls of a room in Cloudesley. His name is Jack, and he and Lillian fall in love. Yet it's an impossible dream. Lillian is tapped by duty and obligation, and Charles is not a man to let go of what he holds.
Back and forth the two stories weave, touching lightly across the decades as Maggie begins to learn her grandmother's long-held secrets as she struggles to save the house she loves. It's a story of Maggie's personal growth and change, as well as a story of mysteries and revelations, and I adored it just as much as I had hoped.
Click here to order your copy of The Peacock Summer
---
---
Mariana
by Susanna Kearsley
When Julia Beckett was a little girl, she pointed at an old house in an English village and said, with great conviction, 'that's my house.' Twenty-five years later, she buys the house and moves to live there. Almost immediately, she finds herself slipping back in time and into the life of Mariana, a young woman in the Restoration era. The slippages are involuntary, astoundingly vivid, and dangerous. Julia is not aware of what her body is doing in her own time, and her life as Mariana becomes increasingly urgent and important to her. She falls in love with the 16th century lord of the manor, Richard de Mornay, and is haunted by the conviction that something terrible happened to him. Gradually, her two lives begin to mesh and Julia discovers why she was drawn to live her past life over again.
A gentle and beguiling story of romance, betrayal, and reincarnation, Mariana has an old-fashioned feeling to it. At one point, a character says, 'What rot!' which is what characters always say in my beloved old schoolgirl books from the 1930s. Julia's brother is a vicar, which somehow adds to the Agatha-Christie-type atmosphere of this small English village, and the only sex scene happens offstage. The book was published in 1994, which is after the invention of the internet, but Julia's brother must go to the library to dig up tales of reincarnation and past life flashbacks. So it's difficult to pinpoint when the modern-day sections are set. I don't mind this at all. I love books written in, or set during, the 1930s and 40s, and the book reminds me of time travel books I loved as a child, like Tom's Midnight Garden by Philippa Pierce and A Traveller in Time by Alison Uttley.
In a way, the timelessness of the story makes it even more enjoyable. And I can't help wishing I could buy an old house in an English village, and discover I once lived there before …
Click here to order your copy of Mariana 
---
---
The Royal Ranger
by John Flanagan
For a long time, John Flanagan was one of my son's favourite authors and I read him book after book in the Ranger's Apprentice series each night at bedtime. I enjoyed them as much as he did (which was not at all generally true of all our bedtime read-a-thons). Often I'd find myself choked up at the end as Will, the small but indomitable hero, once again triumphed against the bad guys. An irresistible mix of action, adventure, and humour, the Ranger's Apprentice series has sold more than fifteen million copies worldwide which makes John Flanagan one of Australia's most successful children's authors.
The Royal Ranger is the first in a new series which begins when Will must take on a new apprentice of his own, and train them in the mysterious skills of a ranger. His new apprentice is going to be a challenge, however. Not only is she rebellious and spoiled, but she's a princess! The first girl to ever be apprenticed as a Ranger, Maddie has a lot to learn, and a lot to prove.
I was on a panel with John Flanagan at the Bendigo Writers Festival, and so read this latest offering in preparation to sharing a stage with him. I loved revisiting the word of Araluen, and particularly loved seeing a girl in the role of a Ranger. She was tough, determined, and made a great sidekick to Will. Long may the Rangers rule!
Click here to order your copy of The Royal Ranger
---
---
Verity Sparks, Lost & Found
by Susan Green
I have had this lovely book on my shelves for quite some time, but had never managed to find the time to read it. Being on a panel with Susan Green at the Bendigo Writers Festival gave me the impetus I needed (I always like to read the novels of people I share a stage with).
It is clear from the opening pages that I had begun reading the second in a series, which I never lie to do. Susan Green does a great job of explaining back story without losing pace, however, and so I soon discovered that Verity Sparks had been abandoned as a baby on the steps of a church in London, had survived the mean streets of Victoiran London, and had a special pyschic gift called teleagtivism (the ability to find lost things) which had helped her find her father.
I was soon transported to Melbourne in 1879, where Verity Sparks is sent to a boarding school so that she can learn to become a lady. But her gift has deserted her, and some of the girls at the school are unkind to her. She misses her father, and the school has hidden secrets that Verity must uncover, not to mention the intriguing case of the missing Ecclethorpe heiress. Murders and mysteries abound, but luckily Verity's gifts of observation and deduction are as sharp as ever.
This is a charming tale, a kind of psychic-detective-historical-melodrama mashup for younger readers, with a really engaging heroine.
Click here to order your copy of Verity Sparks, Lost and Found
---
---
Resurrection Bay
by Emma Viskic
Caleb Zelic has discovered his best friend lying in a pool of blood, his throat cut. Gary was a policeman with a young family. Caleb is a private investigator who had asked for his help on a case. Caleb is also profoundly deaf.
This is a high-octane thriller, thrumming with pace and tension. The style is curt and intense: 'It had been an hour before he'd read the message, another two in the car, stuck behind every double-B and ageing Volvo. He should have run the red lights. Broken the speed limits. The law of physics.'
Characters are drawn in swift, deft strokes. 'Tedesco was watching him: a face hewn from stone, with all the warmth to match.' 'Frankie … was wearing her usual jeans and battered leather jacket; her short, grey hair purple-tipped and scarecrow-wild.'
Yet there is poetry in the writing too. Caleb's deafness makes his voice arresting and unpredictable. The word 'executed' is described as 'a happy-looking word: a little smile for the first syllable, a soft pucker for the third.' Scott is 'a soft name, just sibilance and air.' I loved the freshness of this voice for a hard-boiled detective; it's bold and confident writing. I also loved the vulnerability of a man in search of a murderer who cannot hear his enemy coming.
Caleb has a love interest – his ex-wife, Kat, a blue-eyed Koori who draws and sculpts. She became one of my favourite characters, being feisty and yet kind and loving. The tension between Caleb and Kat added another element to the story, and helped the story hurtle on towards its surprising ending.
Click here to order your copy of Resurrection Bay
---
---
Kate Forsyth wrote her first novel aged seven and has now sold more than a million books worldwide. Her most recent book, Beauty in Thorns, is a reimagining of Sleeping Beauty set amongst the passions and scandals of the Pre-Raphaelites. Other novels for adults include Bitter Greens, which won the 2015 American Library Association award for Best Historical Fiction; and The Wild Girl, which was named the Most Memorable Love Story of 2013.
Kate's books for children include the collection of feminist fairy-tale retellings, Vasilisa the Wise & Other Tales of Brave Young Women, illustrated by Lorena Carrington, and The Impossible Quest fantasy series which has been optioned for a film. Named one of Australia's Favourite 15 Novelists, Kate has a BA in literature, a MA in creative writing and a doctorate in fairy tale studies, and is also an accredited master storyteller with the Australian Guild of Storytellers. She is a direct descendant of Charlotte Waring Atkinson, the author of the first book for children ever published in Australia.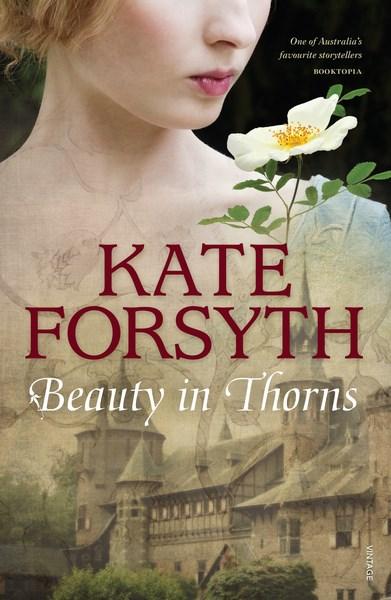 Beauty in Thorns
A reimagining of 'Sleeping Beauty' set amongst the passions and tragedies of the Pre-Raphaelite circle of artists and poets.
The Pre-Raphaelites were determined to liberate art and love from the shackles of convention.
Ned Burne-Jones had never had a painting lesson and his family wanted him to be a parson. Only young Georgie Macdonald – the daughter of a Methodist minister – understood. She put aside her own dreams to support him, only to be confronted by many years of gossip and scandal.
Dante Gabriel Rossetti was smitten with his favourite model, Lizzie Siddal. She wanted to be an artist herself, but was seduced by the irresistible lure of laudanum.
William Morris fell head-over-heels for a 'stunner' from the slums, Janey Burden. Discovered by Ned, married to William, she embarked on a passionate affair with Gabriel that led inexorably to tragedy.
Margot Burne-Jones had become her father's muse. He painted her as Briar Rose, the focus of his most renowned series of paintings, based on the fairy-tale that haunted him all his life. Yet Margot longed to be awakened to love.
Bringing to life the dramatic true story of love, obsession and heartbreak that lies behind the Victorian era's most famous paintings, Beauty in Thorns is the story of awakenings of all kinds.
About the Contributor