It's my job at Booktopia to curate our fiction collection and at this time of year I experience an internal (sometimes external) crisis. There's just so many new books to read and recommend.
I've made this digest of some of my recent favourites, read on and discover something new and amazing!
---


Transcription 
by Kate Atkinson
Review by Ben Hunter 
In a pacy and perilous escapade, eighteen-year-old Juliet Amstrong begins work in wartime London as an MI5 transcriber notating endless recorded conversations of fascist sympathisers and would-be spies. Ten years later, the threats of those war years re-emerge in new and frightening ways.
Atkinson, the award-winning creator of Life After Life and God in Ruins weaves a incredibly taut and wittily-told sequence of events that plunges the reader into the the depths of an ethically murky questioning of truth,  justice and the war for knowledge. There's much depth and empathy to be found in this addictive novel.
Click here to order your copy of Transcription
---
Paris Echo
by Sebastian Faulks
Review by Ben Hunter
Paris Echo shows Sebastian Faulks back at his best. An American postdoctoral researcher and Moroccan runaway are two opposites in a city whose history casts a deep shadow. This book is deeply intriguing and asks heavy questions of the reader. I couldn't put it down.
Urgent, moving and perfectly balanced, Paris Echo holds unique blend of popular and literary elements that you will adore as I have.
Click here to order your copy of Paris Echo
---
Shell
by Kristina Olsson
Review by Ben Hunter
Luminous, lyrical and powerfully human, Shell takes a hard look at the cost of life and what it takes to achieve real beauty by looking back at the troubled beginning of our most famous landmark and contrasting it with the greatest political and social division in our living history.
This book renders a turning point in the collective Australian mindset into a haunting and beautiful spectacle.
Click here to order your copy of Shell
---
Black Friday
by Nana Kwame Adjei-Brenyah
Review by Ben Hunter
Wow. This book is an explosive cocktail of darkly funny and daringly brutal short stories that will electrify readers of George Saunders, Roxane Gay and Colson Whitehead.
Adjei-Brenyah searches for a despairing humanity through the prism of extreme American prejudice, violence, consumption and medication. This books cuts you deep but it's impossible to stop reading.
Click here to order your copy of Black Friday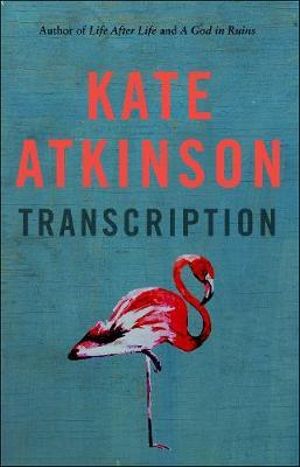 Transcription
The magnificent new novel by the bestselling and award-winning Kate Atkinson, a major publishing event.
'Think of it as an adventure, Perry had said right at the beginning of all this. And it had seemed like one. A bit of a lark, she had thought. A Girls' Own adventure.'
In 1940, eighteen-year old Juliet Armstrong is reluctantly recruited into the world of espionage. Sent to an obscure department of MI5 tasked with monitoring the comings and goings of British Fascist sympathizers, she discovers the work to be by turns both tedious and terrifying. But after the war has ended, she presumes the events of those years have been relegated to the past forever.
Ten years later, now a producer at the BBC, Juliet is unexpectedly confronted by figures from her past. A different war is being fought now, on a different battleground, but Juliet finds herself once more under threat. A bill of reckoning is due, and she finally begins to realize that there is no action without consequence.
Transcription is a work of rare depth and texture, a bravura modern novel of extraordinary power, wit and empathy. It is a triumphant work of fiction from one of this country's most exceptional writers.
About the Contributor
Ben is Booktopia's dedicated fiction and children's book specialist. He spends his days painstakingly piecing together beautiful catalogue pages and gift guides for the website. At any opportunity, he loves to write warmly of the books that inspire him. If you want to talk books, find him tweeting at @itsbenhunter