Review by Sarah McDuling
Sadie is the most profoundly upsetting (and amazing) book I have read in quite some time. This book absolutely gutted me. I was blinking away tears while I was reading, and openly sobbing by the end.
I'm not quite sure how to review Sadie. I believe it might be the most powerful book Courtney Summers has ever written (and she has written some very powerful books).
This is a deeply disturbing and heart-wrenching story that left me feeling hollow and weary and unbearably sad. I can't say that I enjoyed it but I can say that it had a huge impact on me and I highly recommend it to anyone who (like me) has loved Courtney Summers previous books.
This is the story of Sadie and her little sister Mattie. Sadie has always looked after Mattie, she lives to protect her little sister and loves her more than anything.
When Mattie is found dead, Sadie swears vengeance. She is determined to find the man who killed Mattie and destroy him. Nothing will stop her.
Courtney Summers is a phenomenal writer. She broke my heart with All the Rage a few years ago, but with Sadie she has achieved a whole new level of heartbreak. She has a way of boldly confronting the darkest and most painful subjects, only to treat them with such gentle care and compassion. Her writing is beautiful, raw, visceral, electrifying and absolutely gripping.
In Sadie, the narrative is creatively split into two different time periods. The past we live through Sadie's eyes as she relentlessly pursues revenge. The later timeline is told through the transcript of a True Crime podcast investigating Mattie's death and Sadie's disappearance. This split narrative was very effective and made it feel as though the book really was based on a true story.
Sadie scared me, disgusted me, filled me with rage and plunged me into despair. It is a harsh, terrible, amazing and brilliant book. Though Courtney Summers is classified as a YA author, I feel that Sadie could easily have been published as adult crime fiction – which is something to keep in mind for younger readers.  This is an extremely dark and painful book, and will probably haunt me for a long time. I strongly urge people to read it – especially readers with an interest in True Crime. While Sadie's story is fictional, it is sadly believable and all too close to real life.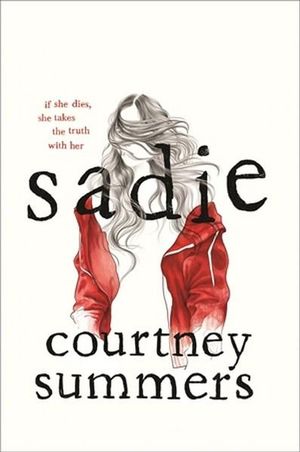 Sadie
A missing girl on a journey of revenge and a Serial—like podcast following the clues she's left behind.
Sadie hasn't had an easy life. Growing up on her own, she's been raising her sister Mattie in an isolated small town, trying her best to provide a normal life and keep their heads above water.
But when Mattie is found dead, Sadie's entire world crumbles. After a somewhat botched police investigation, Sadie is determined to bring her sister's killer to justice and hits the road following a few meager clues to find him.
When West McCray—a radio personality working on a segment about small, forgotten towns in America—overhears Sadie's story at a local gas station, he becomes obsessed with finding the missing girl. He starts his own podcast as he tracks Sadie's journey, trying to figure out what happened, hoping to find her before it's too late.
Courtney Summers has written the breakout book of her career. Sadie is propulsive and harrowing and will keep you riveted until the last page.
About the Contributor
Sarah McDuling is Booktopia's Senior Content Producer and Editor of The Booktopian Blog. She has been in the bookselling game for almost a decade and a dedicated booklover since birth (potentially longer). At her happiest when reading a book, Sarah also enjoys talking/writing/tweeting about books. In her spare time, she often likes to buy a lot of books and take photographs of books. You can follow her on Twitter and Instragram @sarahmcduling
Follow Sarah: Twitter