The Girl on the Page
by John Purcell
Review by Bronwyn Eley
As someone who works in the book industry, The Girl on the Page felt like an old friend the second I delved into it's pages. The jargon, the authors, the book launches – everything felt familiar. Except it all felt new and exciting thanks to wise and torn Helen, lost and passionate Malcolm, and wild and unstoppable Amy.
It's almost not even worth mentioning that I know the author – John Purcell – because I'd have picked up this book anyway. The gorgeous cover beckons you to its spot on the shelf, but it is the storyline that holds your attention long after the first page has been turned.
Amy was a challenging character for me to read. She is so wildly perplexing and foreign to me personally, yet that was the reason she held my attention so raptly. There is something so morbidly curious about watching a car crash in slow motion, which is exactly what it felt like reading Amy's journey. 
Helen and Malcolm, on the other hand, were a lovely offset to Amy's self-destructive spirit. They are the older couple I wish I could have dinner with to pick their brains. These literary giants go through a tumultuous time of their own throughout the course of the book and I have to admit that John Purcell achieved something that is very difficult in my opinion: he made me care for these people as if they were my real friends.
Not to mention the extremely surprising and heart-wrenching ending, which I promise not to spoil. All I can say is: prepare yourself for a kick in the gut. It is the sucker-punch of all endings, which made me love it even more.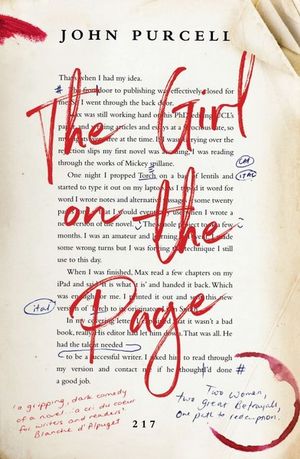 The Girl on the Page
Two women, two great betrayals, one path to redemption. A punchy, powerful and page-turning novel about the redemptive power of great literature, from industry insider, John Purcell.
Amy Winston is a hard-drinking, bed-hopping, hot-shot young book editor on a downward spiral. Having made her name and fortune by turning an average thriller writer into a Lee Child, Amy is given the unenviable task of steering literary great Helen Owen back to publication.
When Amy knocks on the door of their beautiful townhouse in north west London, Helen and her husband, the novelist Malcolm Taylor, are conducting a silent war of attrition...
About the Contributor
Bronwyn Eley is new to the book industry, having previously served in the Royal Australian Air Force & even spent some time as a barista until entering the exciting world of Booktopia. Books are her true passion. Bronwyn writes in her spare time, often has her face buried in a book and enjoys keeping fit (which she undoes by eating loads of chocolate) with Martial Arts and personal training. She can't answer what her favourite book is but she has a soft spot for Peter Pan (J.M Barrie), Outlander (Diana Gabaldon), Stardust (Neil Gaiman), The Illuminae Files (Jay Kristoff and Amie Kaufmand) and Six of Crows (Leigh Bardugo). Fantasy, sci-fi and YA make up the majority of her bookshelves.