It's easy to say that Michael Robotham is in a "league of his own when it comes to thrillers". He is, after all, a multi-million-copy bestselling author. His crime fiction has thrilled countless people, including many in this office, for years. The Other Wife is Robotham's latest book in the Joe O'Loughlin series and it's truly remarkable.
Many Booktopians in the office are a little infatuated with Robotham and his work.
"When Michael Robotham won the prestigious Gold Dagger Award for his novel Life or Death the world discovered something many of us already knew," says Booktopia's John Purcell. "Robotham is one of the finest crime novelists on the planet. Whether writing standalone novels or novels centered on his recurring character, clinical psychologist Joe O'Loughlin, Robotham grips the reader from the first page to the last."
Read John's full review of The Other Wife here.
It was such a pleasure to have Michael Robotham swing by the office to chat about The Other Wife. We delved into many fascinating topics in the podcast, including Robotham's relationship with his father, how he keeps up with research and advancements in clinical psychology and his own writing experience over the years.
"It's probably the most personal story I've ever tackled," says Robotham. "It's a story about families and grief and fathers and sons… and in a sense it mirrors a bit about my relationship with my father."
"I had an interesting relationship with my father," continues Robotham. "He was a tremendously wonderful father. But he was also a man that I spent my entire life trying to impress. He was a man of his generation, he didn't praise his children, he didn't ever say that he loved you… I spent my entire life as a journalist and a ghost writer and as an author trying to impress him."
We're not sure what the future holds for Joe O'Loughlin. This is the ninth book in the series and Robotham has hinted that it may well be the last Joe O'Loughlin book … at least for some time.
Joe is beloved by readers and The Other Wife is bound to be an emotional read for longtime fans. Robotham is famous for pulling on the heartstrings of his readers. "Make the readers care about your characters," he says. "And then do terrible things to them."
The Other Wife is a triumph. Strongly character driven and full of complexity – if this has to be the last Joe O'Loughlin book then at least we can be pleased that it's such an absolute cracker!
Listen to our full interview with Michael Robotham here: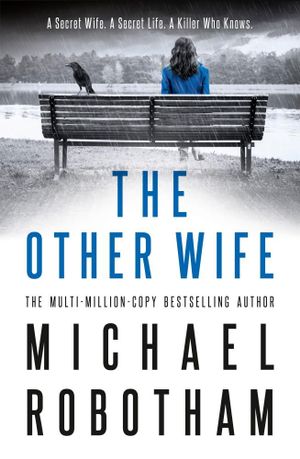 The Other Wife
A secret wife. A secret life. A killer who knows. The new bestseller that will keep you on the edge of your seat until its shocking climax, by multi-million-copy selling author Michael Robotham.
William and Mary have been married sixty years. William is a celebrated surgeon, Mary a devoted wife. Both are strong believers in right and wrong.
William and Olivia have been together twenty years. Olivia was once a tennis star, but her career has long since faded.
Clinical psychologist Joe O'Loughlin knows only one of these stories to be true. But when he is called to his father's hospital bed after a brutal attack, everything he once knew is turned upside down. Is it possible his father, the upstanding citizen, was leading a double life?
And who is the strange woman crying at William's bedside, covered in his blood - a friend, a mistress, a fantasist or a killer?
A confronting psychological thriller from one of the greatest crime writers of today, Michael Robotham, the bestselling author of The Secrets She Keeps.
About the Contributor
Before entering the exciting world of books, Bronwyn served in the Royal Australian Air Force, travelled extensively and worked (still does!) as a barista on the weekends. Books are her true passion. Bronwyn's debut fantasy novel Relic is coming out in 2019 with indie publishing house Talem Press. They are to publish her entire trilogy called The Relic Trilogy. In her spare time, Bronwyn writes, reads and enjoys keeping fit (which she undoes by eating loads of chocolate) with Martial Arts and personal training. She can't answer what her favourite book is but she has a soft spot for Peter Pan (J.M Barrie), Outlander (Diana Gabaldon), Stardust (Neil Gaiman), The Illuminae Files (Jay Kristoff and Amie Kaufman) and Six of Crows (Leigh Bardugo). Fantasy, sci-fi and YA make up the majority of her bookshelves.