Liar Liar
Detective Harriet Blue # 3
by James Patterson & Candice Fox
The Detective Harriet Blue series continues to get better and better with each new book. I was not even slightly surprised when Liar Liar kept me up all night and into the early hours of the morning – reaching a whole new level of awesome that practically caused my eyeballs to pop out of my head. That's pretty much what I have come to expect from this dynamic writing duo. James Patterson and Candice Fox deliver nothing but eye-popping awesomeness – every single time!
Harriet (AKA Harry) Blue's story began with Never Never and continued in Fifty Fifty. Now we have Liar Liar, the third book in this insanely addictive series.  After the breathtaking ending of the last book, I expected great things from Liar Liar. And now that I've read it, all I can say is … wow. It really delivers!!
Like the previous two books, I flew through Liar Liar in a single sitting, unable to tear my eyes away from the pages. There is an unstoppable pace to these books which makes it extremely difficult (or in my case impossible) to put them down. Once you start, you are held captive for a wild ride of non-stop suspense and action until the end slams into you, leaving you blinking in stunned disbelief. These books are always over too quickly and always leave you hungry for more.
After the stunning conclusion of Fifty Fifty, Harry has gone rogue. Looking for vengeance, she's on a mission to hunt down the serial killer Regan Banks. When she catches him, she has no intention of bringing him to justice. Instead, she plans to end him. Regan Banks deserves to die and Harry is determined to ensure he gets exactly what he deserves.
And so begins an epic game of cat and mouse as Harry hunts Banks, while Banks taunts Harry at every turn … meanwhile the police are in pursuit of them both.
This book is fraught with near unbearable tension, and things get very dark and scary at times. Opening with a tragic and terrible act of violence, readers are propelled on a frantic chase towards a real game-changer of an ending. I am so very keen for the next book in this series – I just wish I could dive into it straight away. Without giving away any spoilers, I will say that the ending of Liar Liar sets thing up for a pretty spectacular fourth book.
As a huge fan of Harry Blue, I loved this book and relished each and every moment with this brash, ballsy, violent, foul tempered protagonist. I was also delighted to catch up with other favourite characters like Tox Barnes and Edward (Whitt) Whittaker.
This is a great new addition to one of my favourite crime series and I really cannot recommend it highly enough.  Gripping, shocking, fast-paced and fun – Liar Liar is another pitch-perfect page-turner from James Patterson and Candice Fox.
I'm ready for the next one please!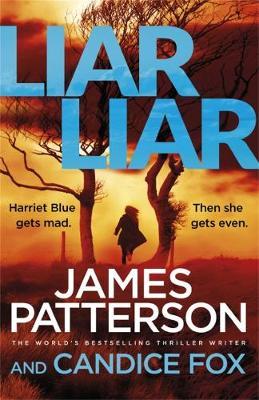 Liar Liar
Harriet Blue # 3
Detective Harriet Blue goes rogue in order to exact revenge on her brother's killer, in a heart-stopping cat-and-mouse race down Australia's south coast. But as she is chasing him, the cops are chasing her . . .
Harriet Blue – a detective with nothing more to lose – must decide whether or not to cross the ultimate line in the third explosive thriller in James Patterson's bestselling Australian series.
Detective Harriet Blue is clear about two things. Regan Banks deserves to die. And she'll be the one to pull the trigger.
But Regan – the vicious serial killer responsible for destroying her brother's life – has gone to ground.
Suddenly, her phone rings. It's him. Regan.
'Catch me if you can,' he tells her.
Harriet needs to find this killing machine fast, even if the cost is her own life. So she follows him down the Australian south coast with only one thing on her mind.
Revenge is coming, and her name is Harriet Blue …
About the Contributor
Sarah is the Editor of The Booktopian Blog and Senior Content Producer at Booktopia, where she enjoys unleashing the full capacity of her bookish obsession. She enjoys sword-fighting, time-travel, rare jewel collecting and competitive yodeling. She also leads a very rich fantasy life. An avid reader and book reviewer, Sarah is filled with boundless enthusiasm for the written word! She also has a slight tendency to overuse exclamation points!!!!!
Follow Sarah: Twitter