Walkley-winning journalist Trent Dalton puts pen to paper to write his first novel, Boy Swallows Universe, a powerful coming-of-age story. One by one, here at Booktopia, we have fallen under the spell of this magical debut novel, shooting to the top of many of our 'highly recommended' lists. Plus, it has to be said, the cover is to die for!
We were all delighted when Trent came by to chat with us about his journey of turning his childhood experiences into Boy Swallows Universe.
"Boy Swallows Universe is pretty deeply inspired by my own life," explains Dalton. "It's a real coming of age tale, set in the Queensland criminal underworld."
Dalton experienced a fairly unconventional childhood. Raised with and around criminals, he explains how he is still trying to answer all those questions that arose for him in his early years. Enter Boy Swallows Universe, a way for Trent Dalton to work through the confusion of his past.
"Whatever I was going to write, I had to get this out of my system." – Trent Dalton
"My earliest memory," says Dalton. "I'm sitting on a couch, I'm probably 4 or 5 years old … and I look to my left and there's this guy with red hair, he's wearing a Jackie Howe singlet, he's got tats all over him. I turn to him and say 'I love you, Dad'. He turns back to me and says 'I love you too mate but I'm not your dad.' That guy, as I later discovered, had more than one foot in Queensland's criminal underworld. On paper, that guy's life would read like a series of misdemeanors and crimes. What you would never get from that guy's life is the wisdom and care and compassion and the things he taught me and my brothers. I was really fascinated with that. This whole book, all of those concepts come from me questioning how could that guy be so beautiful, and how could I love that guy so much and yet he is this other person?"
Writing Boy Swallows Universe was Dalton's way of mythologising his past – it became the romanticised view of his childhood.
"Eli Bell will take you with him on his unfathomable journey – his coming-of-age meets survival story – one that will defy logic and utterly astonish you. It's exhilarating, funny, heartbreaking, horrifying and all-throughout uncompromising. It's a book without comparison that Australia, and the world, will fall in love with." – Ben Hunter.
Read Ben's full review here.
We're not the only ones who have fallen for Boy Swallows Universe either!
"Trent Dalton is the most extraordinary writer – a rare talent. A major new voice on the Australian literary scene has arrived." – Nikki Gemmell, author of After

"An astonishing achievement. Dalton is a breath of fresh air – raw, honest, funny, moving, he has created a novel of the most surprising and addictive nature. Unputdownable." – Australian actor David Wenham

"I couldn't stop reading from the moment I started, and I still can barely speak for the beauty of it. Trent Dalton has done something very special here, writing with grace, from his own broken heart." – Caroline Overington, author of The Ones You Trust
This is a special and unforgettable debut novel full of emotion and insight, humour and beauty. Listen to John Purcell and Ben Hunter interview Trent Dalton for The Booktopia Podcast below: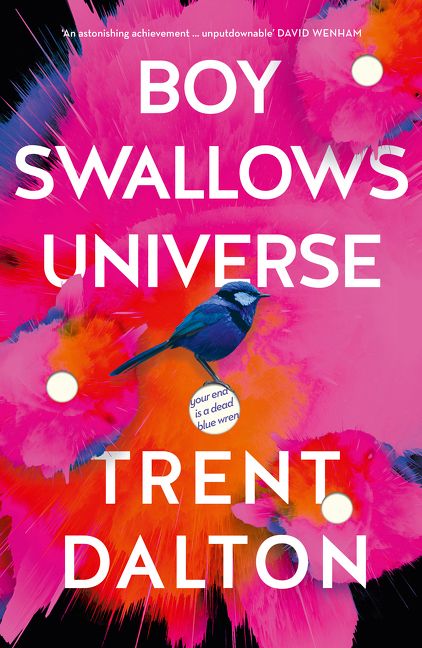 Boy Swallows Universe
Brisbane, 1983: A lost father, a mute brother, a mum in jail, a heroin dealer for a stepfather and a notorious crim for a babysitter. It's not as if Eli's life isn't complicated enough already. He's just trying to follow his heart, learning what it takes to be a good man, but life just keeps throwing obstacles in the way - not least of which is Tytus Broz, legendary Brisbane drug dealer.
But Eli's life is about to get a whole lot more serious. He's about to fall in love. And, oh yeah, he has to break into Boggo Road Gaol on Christmas Day, to save his mum.
A story of brotherhood, true love and the most unlikely of friendships, Boy Swallows Universewill be the most heartbreaking, joyous and exhilarating novel you will read all year.
About the Contributor
Before entering the exciting world of books, Bronwyn served in the Royal Australian Air Force, travelled extensively and worked (still does!) as a barista on the weekends. Books are her true passion. Bronwyn's debut fantasy novel Relic is coming out in 2019 with indie publishing house Talem Press. They are to publish her entire trilogy called The Relic Trilogy. In her spare time, Bronwyn writes, reads and enjoys keeping fit (which she undoes by eating loads of chocolate) with Martial Arts and personal training. She can't answer what her favourite book is but she has a soft spot for Peter Pan (J.M Barrie), Outlander (Diana Gabaldon), Stardust (Neil Gaiman), The Illuminae Files (Jay Kristoff and Amie Kaufman) and Six of Crows (Leigh Bardugo). Fantasy, sci-fi and YA make up the majority of her bookshelves.