Just a few short years ago, Jessica Townsend was an unpublished author. Now, her magical debut novel Nevermoor: The Trials of Morrigan Crow is a bestseller around the world. It has stolen the hearts of children and adults alike, not to mention how obsessed the book industry has become with it. We saw just how loved this book is on the night of the ABIAs (The Australian Book Industry Awards) in 2018, where Jessica took home three awards for Nevermoor.


Nevermoor won The Matt Richell Award for New Writer of the Year, Book of the Year for Younger Children (ages 7-12) and the Gold ABIA Book of the Year Award. I had the pleasure of speaking with Jessica after all three wins and the joy of watching her excitement – and disbelief – grow with every win.
"I'm completely thrilled and delighted and kind of shocked because the people in that category are so talented and wonderful and I'm such a fan of them," said Jess. "It feels really weird and very exciting. I don't even know what to say."
While we excitedly await the next instalment in this magical series, here is a list of eight books we recommend you read if you, like us, loved Nevermoor.
---
The Wizards of Once
by Cressida Cowell
Review by Tracey Mills
Cressida Cowell, author of the How To Train Your Dragon series, returns with an utterly engrossing new adventure full of wizards and warriors, giants and werewolves, sprites and magical spoons!
After so much success, I was a little sceptical picking up The Wizards of Once. Could Cressida Cowell possibly give us another series as good as How To Train Your Dragon? I had to find out. And guess what? I actually liked The Wizards of Once even more!
In this world, warriors and wizards are mortal enemies, witches have (possibly) been exterminated, and magical creatures are hunted by the warriors…
Read the full review here.
---
Accidental Heroes: The Rogues
by Lian Tanner
If you loved the strangeness of the city of Nevermoor then you're going to love the Strong-hold of Berren – where time has stopped and no one can leave!
This is a world where it is disloyal to believe in magic but our two protagonists – Duckling and Pummel – must learn to use the magic that no one else believes in!
Duckling's devious grandfather, Lord Rump, uses the two youngsters in what he promises is his very last scheme. Duckling and Pummel have no idea they're about to become vital in a plot to kill the heir to the Faithful Throne.
Find out more about Accidental Heroes.
---
Aru Shah and the End of Time
by Roshani Chokshi
This is an epic coming-of-age story for our kick-ass protagonist Aru Shah – the girl who doesn't fit in. She's always been on the outside and has always made up fantastical stories to fit in.
Only now she's really in one! When Aru's schoolmates dare her to prove that a mystical object – the Lamp of Bharata – is really cursed, she thinks there must be no harm in lighting it, right? Wrong!
Rookie mistake.
She unwittingly frees the Sleeper, an ancient demon whose duty it is to awaken the God of Destruction and it is up to Aru to save everyone!
Read more on Aru Shah and the End of Time.
---
The Iron Trial
The Magisterium Series: Book 1
by Holly Black and Cassandra Clare
Holly Black and Cassandra Clare are both global bestselling authors in their own rights! When the two teamed up to write The Magisterium Series, a few of us were jumping for joy.
We loved watching Morrigan endure her trials in Nevermoor and now we get to see Callum Hunt pass the Iron Trial and enter the Magisterium… something he definitely didn't want. Even though he tried his best to do his worst in the Iron Trial, he was just too good!
Now he must enter the Magisterium – a place both sensational and sinister – and Call's biggest trial is yet to come.
Find out more about The Iron Trial.
---
A Most Magical Girl
by Karen Foxlee
If you love stories of young girls thrust into magical worlds and daring trials, then this is for you! Annabel Grey is primed and ready for the life of a proper young lady in Victorian England. But when her mother disappears, Annabel is put in the care of two eccentric aunts.
Magic? Who ever heard of such a thing?
Potions, flying broomsticks, wizards and quests! These are not the things a young lady of proper birth become involved in, alas Annabel has little choice. Annabel is pitted against another young witch, Kitty, to rescue the sacred Moreover Wand from the dangerous underworld that lies beneath London…
Find out more about A Most Magical Girl.
---
The Extremely Inconvenient Adventures of Bronte Mettlestone
by Jaclyn Moriarty
It's time for an adventure! Think A Series of Unfortunate Events, without the sad ending. Instead you have sassy and adventurous Bronte Mettlestone as your heroine!
Bronte's aunts – all of them – are a delight and if you love quirky side characters (much like Jupiter in Nevermoor) then you'll love this tale of pirates, dragons, cruise ships and rockstars.
"An absolute sparkling delight of a story! Whisperers, water sprites, spellbinders and faery-cross stitch; this book is brimming with bright new magic … just perfect." – Karen Foxlee, author of A Most Magical Girl
Find out more about The Extremely Inconvenient Adventures of Bronte Mettlestone.
---
Jane Doe and the Cradle of all Worlds
by Jeremy Lachlan
She's a young girl with a heavy burden. As a baby, she appeared out of nowhere in the arms of her father and since then has been labelled 'cursed'. According to the townsfolk of Bluehaven, Jane Doe – as she's so named – is to blame for every little thing that goes wrong in their town.
When Jane's father disappears – lost in a place between worlds – it is up to Jane to not only save her father but to also save the people who have ridiculed her her whole life.
We were lucky enough to meet author Jeremy Lachlan just a few days ago to chat about his debut novel. "When I went into it, I wanted to make it as big and bold and brash as I could so I just filled it with all of my favourite things, like booby traps and carnivorous forests and runaway trains," said Jeremy. "At the heart of the story it's just a girl wanting to save her dad." 
Find out more about Jane Doe and the Cradle of all Worlds.
---
Just like Morrigan Crow in Nevermoor, Alice is an outcast. Her pale skin and milk-white hair make her different in a world brimming with colour and magic. She is a 'blank canvas' in a world where colour and magic are one in the same, so there must be something wrong with her.
That's what the people of Ferenwood assume, at least.
Since the disappearance of her father, Alice is even more determined to prove herself and her own magical abilities. To do so, she has to travel into the mythical, dangerous land of Furthermore – with her annoying sidekick Oliver – and use her wits and skills to prove herself once and for all.
Find out more about Futhermore.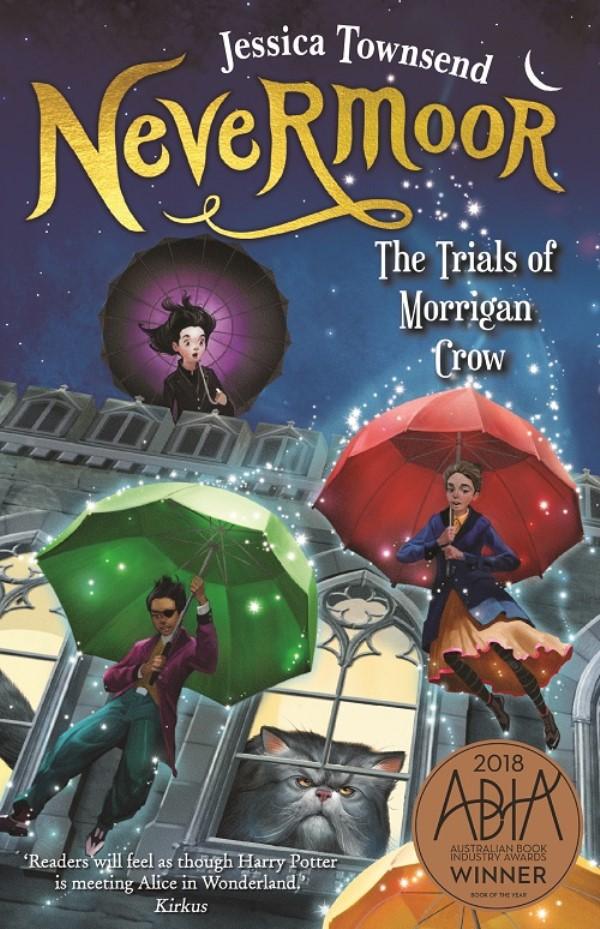 Nevermoor
The Trials of Morrigan Crow
Morrigan Crow is cursed. Born on an unlucky day, she is blamed for all local misfortunes, from hailstorms to heart attacks - and, worst of all, the curse means that Morrigan is doomed to die at midnight on Eventide.
But as Morrigan awaits her fate, a strange and remarkable man named Jupiter North appears. Chased by black-smoke hounds and shadowy hunters on horseback, he whisks her away into the safety of a secret, magical city called Nevermoor...
About the Contributor
Before entering the exciting world of books, Bronwyn served in the Royal Australian Air Force, travelled extensively and worked (still does!) as a barista on the weekends. Books are her true passion. Bronwyn's debut fantasy novel Relic is coming out in 2019 with indie publishing house Talem Press. They are to publish her entire trilogy called The Relic Trilogy. In her spare time, Bronwyn writes, reads and enjoys keeping fit (which she undoes by eating loads of chocolate) with Martial Arts and personal training. She can't answer what her favourite book is but she has a soft spot for Peter Pan (J.M Barrie), Outlander (Diana Gabaldon), Stardust (Neil Gaiman), The Illuminae Files (Jay Kristoff and Amie Kaufman) and Six of Crows (Leigh Bardugo). Fantasy, sci-fi and YA make up the majority of her bookshelves.