We devour a lot of books here at Booktopia – it's both our job and our pleasure. But there was something about Into the Night by Sarah Bailey that hooked us from the get go. It's no surprise, off the success of her first novel The Dark Lake that we find ourselves, once again, happily lost in another thrilling read starring Detective Sergeant Gemma Woodstock.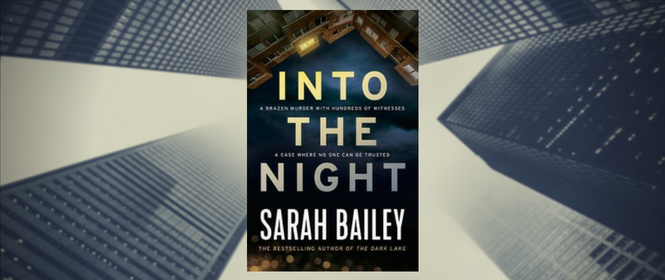 "I talk a lot about how I like to devour books, but this time I think a book has devoured me! I was completely transfixed by Into the Night, to the point that I felt totally consumed." – Booktopia's Sarah McDuling
Sarah Bailey's acclaimed debut novel The Dark Lake was a bestseller around the globe and now she has brought us a riveting new Gemma Woodstock thriller with Into the Night.
"It's a bit of a coming of age story," says Sarah on her protagonist Gemma Woodstock. "An adult coming of age. It's the growing up she never got to do when she was younger."
Detective Sergeant Gemma Woodstock is our brilliant and troubled protagonist and we follow Gemma through both The Dark Lake and Into the Night. "There are so many reasons why I love these books," says Booktopia's Sarah McDuling. "But the main one is because the protagonist, Gemma Woodstock, is just such a masterpiece! I love being in her head, it's such a dark and troubled place. People talk a lot about the stereotype of the hardboiled detective – damaged and hard-living, burdened by a dark past etc. Honestly, I love it. It's a description that fits so many of my favourite fictional people and I think a character like Gemma Woodstock is the perfect example of how a good writer is able to play with the tropes and create something amazing. Gemma is a genuinely enthralling and utterly authentic character. Flawed and messy and devastatingly human… she feels so real to me!"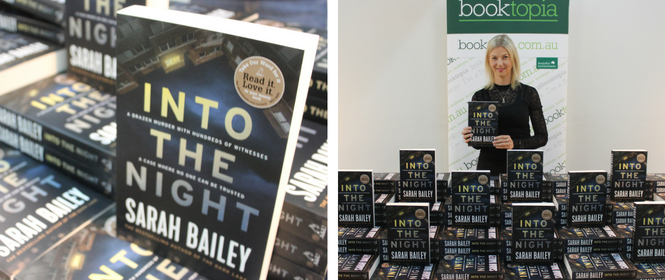 It was such a pleasure to have author Sarah Bailey back in for a visit, where she spoke with us about the fear of putting pen to paper again coming off the back of her bestseller The Dark Lake. "There's an underlying faith that I've done it before therefore I can do it again, somehow." says Sarah. "The kind of crime I like to read is complicated and it's not just plot-driven, it's got a lot of character stuff as well, so I didn't want to skimp on that. I wanted to make sure her [Gemma's] character was developed properly."
If you're a fan of Jane Harper, Candice Fox and Dervla McTiernan, then trust us when we say that you'll want to add Sarah Bailey to your bookshelf.
Read Sarah McDuling's full review here and listen to our podcast interview with Sarah Bailey below: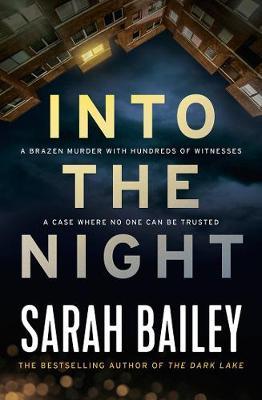 Into the Night
Sarah Bailey's acclaimed debut novel The Dark Lake was a bestseller around the world and Bailey's taut and suspenseful storytelling earned her fitting comparisons with Gillian Flynn and Paula Hawkins.
Into the Night is her stunning new crime novel featuring the troubled and brilliant Detective Sergeant Gemma Woodstock. This time Gemma finds herself lost and alone in the city, broken-hearted by the decisions she's had to make. Her new workplace is a minefield and the partner she has been assigned is uncommunicative and often hostile. When a homeless man is murdered and Gemma is put on the case, she can't help feeling a connection with the victim and the lonely and isolated life he led despite being in the middle of a bustling city...
About the Contributor
Bronwyn Eley is new to the book industry, having previously served in the Royal Australian Air Force & even spent some time as a barista until entering the exciting world of Booktopia. Books are her true passion. Bronwyn writes in her spare time, often has her face buried in a book and enjoys keeping fit (which she undoes by eating loads of chocolate) with Martial Arts and personal training. She can't answer what her favourite book is but she has a soft spot for The Host (Stephanie Meyer), Peter Pan (J.M Barrie) & Outlander (Diana Gabaldon). Fantasy, sci-fi and YA make up the majority of her bookshelves.