Kate Forsyth, one of Australia's favourite novelists and the author of books including The Impossible Quest series, Bitter Greens, The Wild Girl and The Beast's Garden, continues her blog with us, giving her verdict on the best books she read in May 2018.
---
Force of Nature
by Jane Harper
I really enjoyed Australian author Jane Harper's debut crime novel, The Dry, and so was eager to see what she came up with for her second novel.
The premise is intriguing.
Five women go on a hike. Only four return.
Federal agent Aaron Falk (the detective-hero of The Dry) is called in to help search for the missing woman, Alice Russell, and determine the truth of her disappearance. Falk was one of the last people Alice tried to call on her mobile phone, and so local police have asked for his help. He and his partner, Carmen Cooper, are investigating possible money laundering by Alice's employers and she was their secret mole at the company.
The story alternates between Falk's point-of-view, as he follows a bewildering and contradictory set of clues, and flashbacks to the women's hike into the bush and the series of events that led to Alice's vanishing. This parallel narrative, unusual in contemporary crime novels, creates a sense of slow creeping tension.
The claustrophobic atmosphere of the rain-drenched wilderness adds greatly to the suspense. Jane Harper is particularly good at setting, I feel, and I was glad that she did not replicate the hot, parched landscape of The Dry but explored a different Australian landscape.
The psychological drama being played out among the five women, the series of mistakes and misunderstandings that led inexorably to tragedy, and the highly charged pace all make Force of Nature riveting reading.
---
Love & Hunger: Thoughts on the Gift of Food
by Charlotte Wood
Charlotte Wood is best known as the Stella-award-winning author of The Natural Way of Things, but she is also a brilliant cook and food writer. For quite a few years, she wrote a food blog called 'How to Shuck an Oyster' in which philosophical musings on the importance of food and eating were mixed with helpful tips on how to be a better cook.
Love & Hunger grew out of this blog, and is a warm, wise, personal and practical collection of essays, recipes and cooking advice. Charlotte shares her own discovery of the art of cooking, gives guidance on how to be a good host, offers shrewd insights into the causes of picky eating, mediates on the fear of death in the disgust of offal, and brings me to tears discussing the best way to cook for people who are ill and dying.
I love to cook myself, and relish reading books about food and cooking. It is rare, however, to find one written with such intelligence, sensitivity, and skill. There is not a sentence in the whole book that is not beautifully constructed, and not an essay which does not enlighten and inspire. Love & Hunger is a book to be read in a single gulp, and then returned to again and again for savouring.
---
The Tattooist of Auschwitz
by Heather Morris
The Tattooist of Auschwitz is inspired by the true story of Lale and Gita Sokolov, two Slovakian Jews who met and fell in love in Auschwitz.
Lale's first sight of Gita was her thin pale arm, held out to him so he could tattoo her prisoner number upon it. She was No 36902. Lale was the camp's tätowierer or tattooist, and every day he inscribed the camp's dehumanising set of numbers upon the skin of his fellow inmates.
In time, Lale and Gita would escape the camp, somehow miraculously find each other, and marry and move to Australia, where Lale would tell his story to author Heather Morris. It is an astonishing saga of love, resistance and survival, and proof that the Holocaust still has many more stories to be heard.
Heather Morris originally wrote this book as a screenplay, and it shows. The writing is spare and blunt, with a colloquial tone that may be inspired by Lale's own voice. The atrocities of Auschwitz are described with detachment, as if Lale's mind has seen so many horrors it can no longer feel any pain. This emotional distance made it difficult for me to connect with the characters and the story as much as I wanted to; I did not feel the urgency of dramatic tension or wrenching of the heartstrings that I expected.
However, the simplicity and reserve of the narrative voice rings true. Many Holocaust survivors find their story difficult to tell, and language breaks down under such a heavy burden of memory.
And the book is as much about hope and courage and escape as it is about heartbreak and brutality and imprisonment. Lale and Gita Sokolov's extraordinary story deserved to be told, and its message of love triumphing over cruelty is one that should never be forgotten.
---
An extraordinary, savage, and surreal novel by a young British debut author, Peach is quite unlike any novel I've read in a long time.
A young woman named Peach stumbles home, blood trickling down her leg, language shattering to pieces in her head: 'Thick stick sticky sticking wet ragged wool winding round the wounds, stitching the sliced skin together as I walk, scraping my mittened hands against the wall. Rough red bricks ripping the wool. Ripping the skin. Rough red skin. Rough red head.'
There is a sense that whatever has happened to Peach has been so traumatic, so destructive, that her very sense of the world has been broken open and rendered inchoate.
She makes it home, and stitches herself closed. Normal life seems abnormal. Her parents are oblivious, self-obsessed, sex-fixated. All Peach's perceptions seem preoccupied by thoughts of food. Her baby brother is jelly: 'his jelly body jiggles.' Her boyfriend Green is a tree: 'He kisses my mouth and I taste twigs. His brown eyes take root in mine.' Her teacher Mr Custard is, unsurprisingly, 'yellow goop'. Her attacker is a sausage, and his lingering 'smell of rotting pig meat' overwhelms her.
In an interview with The Sydney Morning Herald, Emma Glass said she wanted to create a 'sensory experience' by focusing on language rather than a conventional plot. In this she has succeeded. The staccato sentences, relentless repetition, and adroit word play create an intense, raw and visceral tone. Nothing and no-one seems real. Peach has staggered into a nightmarish and absurdist world. 'Everything that was up is down. Gravity is gone.'
It is not an easy book to read, because of this intensity. I kept having to put the book down, to try and settle my stomach and my mind, only to pick it up again, troubled but riveted. Her stream-of-consciousness style reminds me of James Joyce, William Faulkner, Toni Morrison and Arundhati Roy. It is written in language cracked by violence and cruelty. As Emma Glass said herself, it is 'the language of ordeal'.
A tour-de-force in experimental writing, Peach is bold, surprising, and unsettling. Not for the weak-stomached.
---
The Jade Lily
by Kirsty Manning
I flew off to China on a research trip last month, and so Kirsty Manning's new book arrived with perfect timing to pack and take with me.
A parallel narrative moving between Australia and China, and modern day and the 1930s, The Jade Lily is a rich and evocative story of family secrets and love.
In 2016, Alexandra returns to Australia to be with her grandparents, Romy and Wilhelm, in the final weeks of her grandfather's life. As she spends time with her grieving grandmother, Alexandra begins to wonder about some of the hidden mysteries of the past. Alexandra's mother was adopted in China after the war, but Romy has never wanted to talk about why a young Western couple should bring home a Chinese baby at such a tumultuous time.
The narrative then moves to Romy's point-of-view in 1938, when she and her parents are forced to flee Vienna after Kristallnacht brings violence and tragedy into their lives. Unable to find asylum anywhere, the family finds their way to Shanghai, the 'Paris of the East', the only place offering still visas to Jewish refugees.
Shanghai is strange and exotic to Romy's bewildered eyes, but it is not long before her father, a doctor, finds work, and Romy begins to make friends with the beautiful Chinese girl next door, Li Ho, and her dreamy artistic brother Jian.
Meanwhile, in modern times, Alexandra has moved to Shanghai with her work and is taking the opportunity to research her mother's true identity. Every avenue of enquiry ends in a dead end, but she too makes new friends, among them a handsome landscape designer who creates extaordinary gardens mingling Eastern and Western traditions.
As with Kirsty Manning's first book, The Midsummer Garden, a great deal of the pleasure of reading The Jade Lily comes from the lush sensuality of her descriptions of food, cooking, gardens and healing herbs. The air of Shanghai is redolent with spices, Romy learns to make chrysanthemum tea, and Alexandra discovers the delicious local cuisine while strolling through crowded markets hung with red lanterns inscribed in gold. The two Shanghais – one modern and cosmopolitan, the other old and filled with fascinating traditions – are both brought to vivid and compelling life. Utterly sumptuous.
---
Women of the Silk
by Gail Tsukiyama
A slim volume of interconnected stories about young women working in a silk factory in China in the 1930s, Women of the Silk begins when a young girl, Pei, is sold by her father and goes to learn the craft of weaving silk. Heartbroken and alone, Pei eventually makes friends and settles into her new life.
The work is hard and poorly paid, and most of Pei's income is sent to her family. She finds a sisterhood of women, who all have their own stories of cruelty and loss to tell. The years pass, and Pei grows up. China is beginning to change, and the women of the silk change with it. They go on strike for better wages and working conditions, and some fall in love or die. Then the Japanese invade China in 1937, and Pei and her friends must try and escape.
A story as beautiful and delicate as the silk the girls spin, Gail Tsukiyama's novel gives a glimpse into the lives of young women struggling to survive in a culture that does not value them. The result is slow and elegiac and unforgettable.
---
Snow Flower & the Secret Fan
by Lisa See
This extraordinary novel was first pubished in 2005, and gained a great deal of attention at the time, becoming a New York Times bestseller and being made into a movie. It was a book I always meant to read, but never picked up, until my own trip to China this month encouraged me to give it a go (I always like to read books set in the country to which I am travelling.)
It is an absolutely riveting read, telling the story of a long friendship between two Chinese women in the nineteenth century. At the age of seven, Lily is paired with another girl of the same age named Snow Flower. Their relationship is one of laotongs or sworn sisters, with a signed contract between them akin to that of marriage. "A laotong relationship is made by choice for the purpose of emotional companionship and eternal fidelity. A marriage is not made by choice and has only one purpose – to have sons." Snow Flower introduces herself to Lily by sending her a silk fan on which she's painted a poem in nu shu, a secret language written only by Chinese women so they can communicate without men knowing.
The two girls have their feet bound on the same day, and their shared agony knot their lives together even more closely. This chapter is one of the most powerful and heartrending in the book, and dissects an appalling cultural practise that literally crippled girls so that they were kept closely constrained within the house and family. Not banned in China until 1912, foot-binding today seems barbaric but Snow Flower & the Secret Fan shows how deeply entrenched it was in some sections of Chinese culture. This unflinching honesty and historical accuracy is one of the great strengths of the novel, and truly transports the reader back in time.
As the years pass, Lily and Snow Flower continue to write their clandestine language on the fan, recording their hopes and dreams and fears and failures. Both have marriages arranged for them, both have children, and both carry secrets that will ultimately damage their deep bond.
Intense friendship between women is not often depicted in fiction, and that alone makes Snow Flower and the Secret Fan remarkable. I was also utterly immersed in the world of nineteenth century China, and its fascinating beliefs and customs. I feel I learned so much, and understood an aspect of human life that had always been closed to me before. This is what great historical fiction does for its readers – it teaches and illuminates as well as engaging and diverting. Haunting, heartbreaking and enthralling, Snow Flower and the Secret Fan is utterly brilliant in every sense of the word.
---
The Valley of Amazement
by Amy Tan
I went to see Amy Tan speak at the Sydney Writers Festival a few years ago, and bought The Valley of Amazement then. It was her first book in eight years and, like many of her earlier works such as The Joy Luck Club and The Kitchen God's Wife, was inspired by her own Chinese heritage.
At almost 600 pages, the book is not a light read and this may explain why it sat on my to-be-read bookshelf for four years without ever being picked up. Every year, as the Sydney Writers' Festival approaches once more, I try and read any books I bought there in previous years so that I don't feel so guilty about buying another dozen or so. My own trip to China, and my desire to read novels set there, moved The Valley of Amazement to the top of the pile.
Spanning more than forty years, The Valley of Amazement is a sweeping, evocative family epic that tells the story of a half-Chinese, half-American girl who is kidnapped and sold into a Shanghai courtesan's house at the tender age of fourteen. Unable to escape, she is trained in the ancient art of seduction before her virginity is sold to the highest bidder. Strong-willed, impetuous, and determined, Violet becomes one of the city's top courtesans before she falls in love with a rich American. He is trapped in a loveless marriage, but he and Violet make a life for themselves in Shanghai and have a daughter together.
Tragedy and drama follow in a long chain of events, as Violet's life is affected by betrayal, revolution and war. The most pivotal moments in 20th century Chinese history are brought to life on the page, from the dissolution of the imperial dynasty to the rise of the Republic. Some of Violet's adventures seem contrived merely for the chance to examine another aspect of Chinese culture and society, but Amy Tan's writing style is so engaging this is easily forgiven.
At her session at the Sydney Writers Festival, which moved me to buy the book, Amy Tan explained that she was inspired to write The Valley of Amazement after seeing a photograph of Shanghai courtesans in a book. She realised that the costumes worn by the courtesans was identical to an outfit worn by her grandmother. She later discovered that no 'respectable' woman would ever have gone to a Western photographic studio. She began to wonder if her grandmother had once been a courtesan, and what her life would have been like. Although she was never able to discover the truth, that moment of wondering became the impetus for writing her novel.
Amy Tan's depiction of the life of a Shanghai courtesan world is colourful, bawdy, funny, and heartbreaking. I was at times furious at both Violet and her mother for their stupidity in trusting bad men so easily, but then also uneasily aware that I may well have made the same mistakes, given the circumstances. Violet's longing for love and freedom is surely universal, and China in the early 20th century was not an easy place to be a woman.
---
I am a big fan of the British crime dramas, 'Vera' and 'Shetland', both of which are inspired by the work of writer Ann Cleeves, and yet I had never read one of her books. Being in the mood for an atmospheric murder mystery, I grabbed a copy of Raven Black at the airport.
The story begins with two drunken teenage girls knocking on the door of a lonely old man at midnight on a bitterly cold New Year's Eve. The following day one of the girls is found dead, within sight of the old man's house. The tightly knit community of the island of Shetland remembers another girl who went missing many years before, also within sight of Magnus Tait's house. Suspicions flare and tensions mount. Inspector Jimmy Perez – who despite his name comes from a long line of Shetland islanders – begins to investigate the girl's death and uncovers long buried secrets that change his understanding of everything to do with the murder.
I remembered the TV show inspired by this book vividly, and so I knew right from the beginning who the murderer was. Discovering the culprit is not the only pleasure in reading a tightly plotted murder mystery, though. The bare, brooding atmosphere of the Shetland islands, the sharply drawn characters, the masterly laying of clues and red herrings, and a warm and sympathetic protagonist in Jimmy Perez all contributed to a very enjoyable few hours of reading. I'll be reading more by Ann Cleeves.
---
Kate Forsyth wrote her first novel aged seven and has now sold more than a million books worldwide. Her most recent book, Beauty in Thorns, is a reimagining of Sleeping Beauty set amongst the passions and scandals of the Pre-Raphaelites. Other novels for adults include Bitter Greens, which won the 2015 American Library Association award for Best Historical Fiction; and The Wild Girl, which was named the Most Memorable Love Story of 2013.
Kate's books for children include the collection of feminist fairy-tale retellings, Vasilisa the Wise & Other Tales of Brave Young Women, illustrated by Lorena Carrington, and The Impossible Quest fantasy series which has been optioned for a film. Named one of Australia's Favourite 15 Novelists, Kate has a BA in literature, a MA in creative writing and a doctorate in fairy tale studies, and is also an accredited master storyteller with the Australian Guild of Storytellers. She is a direct descendant of Charlotte Waring Atkinson, the author of the first book for children ever published in Australia.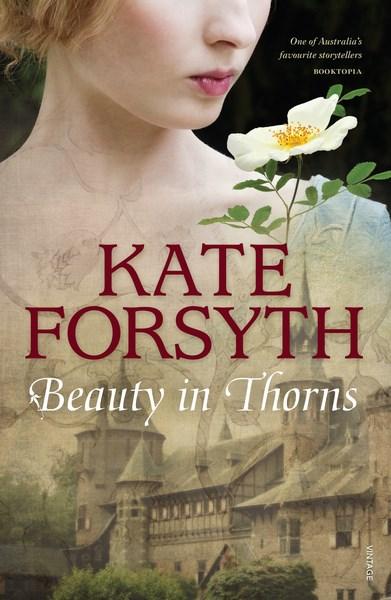 Beauty in Thorns
A spellbinding reimagining of 'Sleeping Beauty' set amongst the wild bohemian circle of Pre-Raphaelite artists and poets.
The Pre-Raphaelites were determined to liberate art and love from the shackles of convention.
Ned Burne-Jones had never had a painting lesson and his family wanted him to be a parson. Only young Georgie Macdonald – the daughter of a Methodist minister – understood. She put aside her own dreams to support him, only to be confronted by many years of gossip and scandal.
Dante Gabriel Rossetti was smitten with his favourite model, Lizzie Siddal. She wanted to be an artist herself, but was seduced by the irresistible lure of laudanum.
William Morris fell head-over-heels for a 'stunner' from the slums, Janey Burden. Discovered by Ned, married to William, she embarked on a passionate affair with Gabriel that led inexorably to tragedy.
Margot Burne-Jones had become her father's muse. He painted her as Briar Rose, the focus of his most renowned series of paintings, based on the fairy-tale that haunted him all his life. Yet Margot longed to be awakened to love.
Bringing to life the dramatic true story of love, obsession and heartbreak that lies behind the Victorian era's most famous paintings, Beauty in Thorns is the story of awakenings of all kinds.
About the Contributor