If you haven't yet met Mr Wolf, Mr Piranha, Mr Snake and Mr Shark – we're pleased to introduce this fantastic and hilarious band of bad guys from bestselling children's author Aaron Blabey. Each year we happily welcome Aaron back inside the walls of Booktopia for a visit to discuss his latest creation. However, things have changed for Aaron. Escalated, if you will. Become gargantuan, even!
His excruciatingly funny, witty and joyful series The Bad Guys has been picked up by the folk in tinsel town! DreamWorks Animation has announced The Bad Guys animated film is in development and our friend Aaron is one of the executive producers. His books are as popular as ever and Aaron spoke to us about how he's "never been so happy".
"For ten years, the only person who cared whether or not my books existed was me," says Aaron. "Now with The Bad Guys and Pig and Thelma… knowing there are kids waiting for the next instalment is… drop the microphone. Boom. That's it. Done. That's the coolest thing ever."
Aaron's passion for his stories and his loveable – sometimes unloveable – characters is clear to us and all his fans. As you can imagine, he is in high demand, as kids, teachers and even adults everywhere are lining up to have a chat to the man who brought them these amazing stories.
"I've never had a bad session talking to kids, it's always fun and easy." – Aaron
Have a listen to our latest chat with Aaron about The Bad Guys, his upcoming film adaptation and the life he's always wanted: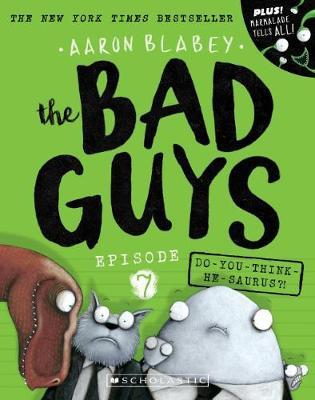 Do-you-think-he-saurus?!
The Bad Guys Episode 7
The dawn of time! Nothing on earth could rival the terrifying power of the dinosaurs. Except maybe that wolf over there...Yeah, the one standing next to the snake and the shark and that other sardiney-looking thing.
Huh?!
This is all wrong. This is all bad. This is all awesome. Its time to get your Jurassic on, baby. It's time... For the Bad Guys Episode 7!
About the Contributor
Bronwyn Eley is new to the book industry, having previously served in the Royal Australian Air Force & even spent some time as a barista until entering the exciting world of Booktopia. Books are her true passion. Bronwyn writes in her spare time, often has her face buried in a book and enjoys keeping fit (which she undoes by eating loads of chocolate) with Martial Arts and personal training. She can't answer what her favourite book is but she has a soft spot for The Host (Stephanie Meyer), Peter Pan (J.M Barrie) & Outlander (Diana Gabaldon). Fantasy, sci-fi and YA make up the majority of her bookshelves.