You can breathe now. Victoria Aveyard's War Storm is finally here and fans, like so many of us in the office, can now get their hands on a copy of this epic conclusion to the Red Queen series.
The series follows protagonist Mare Barrow in Red Queen, the first in the series, in a world divided by blood – red or silver. The Reds are commoners, ruled by a Silver elite in possession of god-like superpowers. Of course, our Mare is no ordinary Red. Despite her commoner blood, she possess a kick-ass power of her own. Fearful of what this could mean for them, the Silvers embrace her as their long-lost Silver princess and engage her to a Silver prince.
Threatened much?
We won't say any more, instead we implore those of you who haven't read it yet to get yourselves a copy of all four books – Red Queen, Glass Sword, King's Cage and – finally – War Storm.
While you're here, check out this little message from the author herself:
We're a little obsessed with YA here at Booktopia, so we thought we'd run through a few more young adult books Bron and Tanaya are itching to get their hands on in the coming months:
---
Bron's Picks
---
Smoke in the Sun
by Renée Ahdieh
I read the first in this series – Flame in the Mist – last year and was immediately obsessed with the adventures of Hattori Mariko. When she narrowly escapes her own murder, Mariko decides to dress as a boy and infiltrate the very clan who tried to smoke her. Bold. Reminiscent of Mulan, this is a series you won't want to miss. I cannot wait for Smoke in the Sun and this powerhouse protagonist.
Synopsis:
After Okami is captured in the Jukai forest, Mariko has no choice – to rescue him, she must return to Inako and face the dangers that have been waiting for her in the Heian Castle. She tricks her brother, Kenshin, and betrothed, Raiden, into thinking she was being held by the Black Clan against her will, playing the part of the dutiful bride-to-be to infiltrate the emperor's ranks and uncover the truth behind the betrayal that almost left her dead… Read more.
---
Bridge of Clay
by Markus Zusak
I don't think I need to say more than this: it's a new Markus Zusak! *falls over*
For those of you who read and loved The Book Thief, you will know what I mean when I say this man knows how to rip out your heart, stomp on it and yet make you crave more and more and more. I'm not sure what to expect from Bridge of Clay – apart from an incredible story – but it's sure to be fantastic.
Synopsis:
An unforgettable and sweeping family saga from Markus Zusak, the storyteller who gave us the extraordinary bestseller The Book Thief. Bridge of Clay is about a boy who is caught in the current – of destroying everything he has, to become all he needs to be. He's a boy in search of greatness, as a cure for memory and tragedy… Read more.
---
Eve of Man
by Giovanna & Tom Fletcher
Review by Bronwyn Eley
The second I read the description of this book – I was hooked! The best part? Eve of Man did not disappoint. Welcome to a bleak reality where, for the last fifty years, only boys have been born. No girls. Until Eve, their saviour. She is whisked away to a high tower filled with ageing women – her 'mothers' – until she comes of age and can bear girls of her own. At least, that's the hope. A hope that burns in every single person on the planet.
Everything is on track and Eve is set to meet three potential 'partners' to start a family with. Enter Bram, the son of genius Dr Isaac Wells, who works closely with Eve. He is her best friend. Her confidant. Her soulmate. Only Eve doesn't know this. Bram has never actually met Eve in person. Instead, Bram interacts with Eve as a hologram called Holly. Read Bron's full review here.
---
Tanaya's Picks
---
Warcross was one of my favourite YA books of 2017. It was everything I love in a book, with interesting and likable characters, a phenomenal and fun world, a slow-burning romance that I shipped so hard, and lovely, descriptive writing. This book also had an intense ending, and I am desperate to get my hands on Wildcard to find out what will happen next!
Synopsis:
Return to the immersive, action-packed world of Warcross in this thrilling sequel from #1 New York Times bestselling author Marie Lu
Emika Chen barely made it out of the Warcross Championships alive. Now that she knows the truth behind Hideo's new NeuroLink algorithm, she can no longer trust the one person she's always looked up to, who she once thought was on her side… Read more.
Of Sarah J. Maas' two series, Throne of Glass has always been my favourite. From the very first book I was enamoured by the characters and the world, and the thought of this beloved series finally coming to an end has me both excited and sad at the same time. I cannot wait for Kingdom of Ash, and I know for sure that this book is probably going to ruin me when I do finally get to read it.
Synopsis:
Captured by the Queen of the Fae, Aelin is trapped inside an iron box in a secret location, with seemingly no hope for escape. As she endures months of torture, her friends scatter to different fates. Without Aelin to protect them, soldier Aedion and shapeshifter Lysandra need to defend their homeland at all costs. Also left to forge their own paths in order to change history are Chaol, the witch Manon, and the golden boy Dorian while Aelin 's mate, the fae male Rowan, searches the world over for his lost love… Read more.
This is an upcoming YA release about a group of four teens who befriend their favourite author, Fatima Ro. They adore her, trust her, and tell her all their secrets only to discover with the release of Fatima's next book one year later, that all their secrets ended up in the book.
The premise alone had me super excited to read this, and when a copy landed on my desk I dropped everything to devour it. The narrative is told in a few really interesting ways that just worked so well together and always had me questioning what the truth was. I loved trying to piece together the mysterious elements and just overall was happy this met all my expectations.
Although I've already read All of This is True, I'm so excited for this to come out so I can see what everyone else thinks of it! Read more.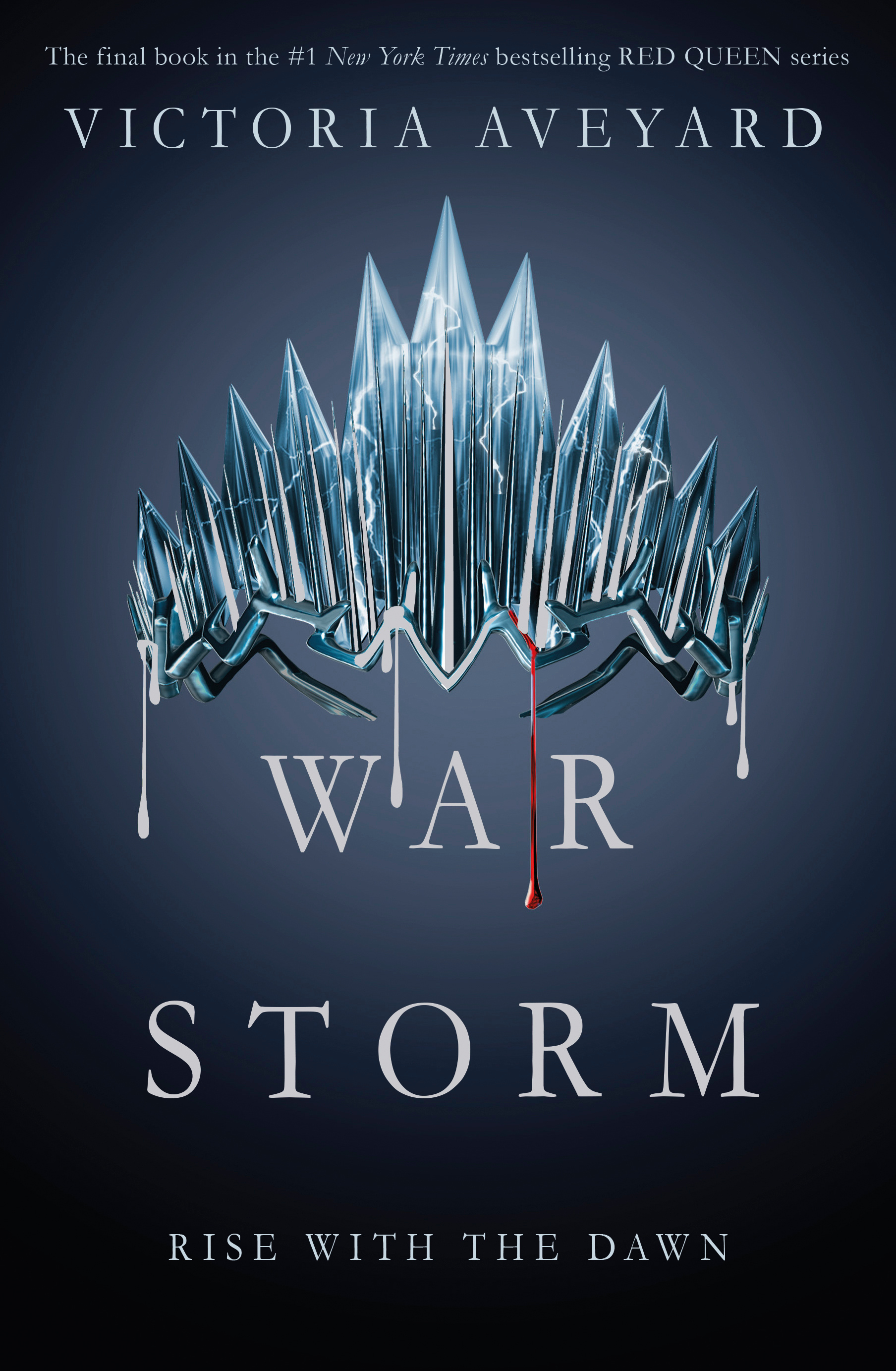 War Storm
Red Queen Series: Book 4
Mare Barrow learned this all too well when Cal's betrayal nearly destroyed her. Now determined to protect her heart-and secure freedom for Reds and newbloods like her-Mare resolves to overthrow the kingdom of Norta once and for all . . . starting with the crown on Maven's head.
But no battle is won alone, and before the Reds may rise as one, Mare must side with the boy who broke her heart in order to defeat the boy who almost broke her. Cal's powerful Silver allies, alongside Mare and the Scarlet Guard, prove a formidable force. But Maven is driven by an obsession so deep, he will stop at nothing to have Mare as his own again, even if it means demolish everything - and everyone - in his path...
About the Contributor
Before entering the exciting world of books, Bronwyn served in the Royal Australian Air Force, travelled extensively and worked (still does!) as a barista on the weekends. Books are her true passion. Bronwyn's debut fantasy novel Relic is coming out in 2019 with indie publishing house Talem Press. They are to publish her entire trilogy called The Relic Trilogy. In her spare time, Bronwyn writes, reads and enjoys keeping fit (which she undoes by eating loads of chocolate) with Martial Arts and personal training. She can't answer what her favourite book is but she has a soft spot for Peter Pan (J.M Barrie), Outlander (Diana Gabaldon), Stardust (Neil Gaiman), The Illuminae Files (Jay Kristoff and Amie Kaufman) and Six of Crows (Leigh Bardugo). Fantasy, sci-fi and YA make up the majority of her bookshelves.