Rosie Walsh answers the Booktopia Guru's Ten Terrifying Questions
Rosie Walsh lives in Bristol with her partner and their son. Under the pseudonym Lucy Robinson, Rosie blogged for Marie Claire about love and dating, and published four novels in the UK. Ghosted is her first novel under her own name, and will be published in over thirty languages.
Ever found yourself waiting for a call that didn't come? Fretting over what you did wrong? Doubting so much? Then Rosie Walsh's Ghosted is the book for you, especially if you're looking for some mystery.
Rosie now answers the Booktopia Guru's Ten Terrifying Questions.
---
When asked about Rosie Walsh's early years
1. To begin with why don't you tell us a little bit about yourself – where were you born? Raised? Schooled?
Hello Booktopia. My name is Rosie Walsh and I'm from the South West of England – specifically, a very beautiful rural area called the Cotswolds, which provides the setting for Ghosted.  I lived in a village called Box (no joke.) I was raised in a house with several animals, a constantly out-of-tune piano, and literally thousands of books.
 2. What did you want to be when you were twelve, eighteen and thirty? And why?
When I was twelve, I was certain I was to be an actress. I had been a big fish in a small pond in the local kids' drama scene for a long time, and my ego knew no bounds. By eighteen, the situation had gotten much worse. I set off to university to study Literature and Theatre, but, really, I wasn't there for the academic study – I was there to perform. It was at this point that I discovered a) what it means to be a talented actor and that b) I was not one. So I buried myself in books, plays and poetry, and reconnected with my first love – words. I didn't actually want to be a writer, though, until I hit thirty and was approached by an editor who loved a blog I was writing. Was I interested in writing a book, she asked? I said, probably not. But I soon changed my mind, and started writing shortly after. I haven't stopped since.
3. What strongly held belief did you have at eighteen that you do not have now?  
The belief held, sadly, by so many teenage girls: that I was not good enough. Socially, aesthetically, intellectually, the lot.
Rosie Walsh on her inspirations
4. What were three works of art – book or painting or piece of music, etc – you can now say, had a great effect on you and influenced your own development as a writer?
La Boheme, Puccini's famous opera, directly contributed to the story of my third novel, The Unfinished Symphony of You and Me. (My first four novels were written under a pseudonym; Lucy Robinson.)
Tom Stoppard's stage play Arcadia remains the most perfect and beautiful piece of writing I've ever encountered, although I think the only contribution it has made to my own writing has been to engender feelings of moderate to severe inferiority.
And, while it is probably not something I'd enjoy so much as an adult, Gone With The Wind enthralled me, over and over again, as a teenager, and taught me just how potent and powerful a truly epic love story could be.
5. Considering the innumerable artistic avenues open to you, why did you choose to write a novel?  
I was heavily involved in music, theatre and dance from a young age, but it was the written word that was my life blood. Had I not written a novel I think I would have spent the rest of my days crafting elaborate, beautifully put-together emails, text messages, letters. I find writing addictive, no matter what the medium. The need to construct a sentence as perfectly as possible is an instinct as fundamental as drawing breath. 
Rosie Walsh on her writing
6. Please tell us about your latest novel.
Ghosted is about a woman called Sarah, who believes that in Eddie she has found the love of her life. Then Eddie – without warning, or explanation, disappears. Sarah's friends are convinced she has been ghosted, but she is quite certain there is a weightier reason. And so begins her quest to find him.
Ghosted is in parts a mystery, an epic love story, and also a story about grief, about mental health, forgiveness and hope.
7. What do you hope people take away with them after reading your work? 
During the long and slightly bloody process of editing this novel, my editor said to me that although she loved the earlier draft of this book, and would happily publish it tomorrow – exactly as it was – she felt certain that it could become a 'wow' book. The sort of book that left readers feeling breathless, the sort of book they had to call their friend about for an urgent debrief. I thought this to be a wonderful ambition, and so I made yet another set of huge cuts. I'm so very glad I did. Hopefully, it worked!
8. Whom do you most admire in the realm of writing and why? 
I admire anyone who's finished a novel, no matter how good or bad. Writing is tough; really tough at times. I know novelists who've completed thirty novels, and they tell me it still isn't easy! It takes a good deal of tenacity and courage to get to the end of a book, and I am impressed by anyone who manages it.  
9. Many artists set themselves very ambitious goals. What are yours?   
I have never set out to write a bestseller – I only ever set out to write each book to the very best of my ability. If the result is a thumping great read, then brilliant. If it turns out to be a bestseller – even better! But I think I'd drive myself quite mad if I was writing to a specific goal. I'm a dangerous perfectionist.  
10. What advice do you give aspiring writers?
The advice I give to aspiring writers is always the same, and it's the only piece of advice that was given to me: write a book. Just write a book! I don't believe anyone can 'practice' or 'polish' their writing through short stories, or blogs, or copywriting, or any other type of writing. If you want to write novels, the only way of practicing is to write a novel. Be prepared to make all sorts of mistakes, and to find it incredibly hard, at times. Be prepared to have no idea what you're doing, or how to solve your plot problems. Be prepared to lie awake wondering how to finish that same stupid chapter you've been writing for three months . . . But don't worry about any of these problems. They are how we learn. 
I don't believe it's necessary to enrol in a creative writing course, although I can understand why people do. What I do think is necessary, though, is feedback. Join a small writing group, or, like me, get yourself a writing partner. Exchange manuscripts regularly and prepare yourself for negative feedback. Be open to it, even if it's coming from someone who writes a different sort of book to yours. But above all – in case I didn't mention it before – WRITE A BOOK!
Thank you for playing!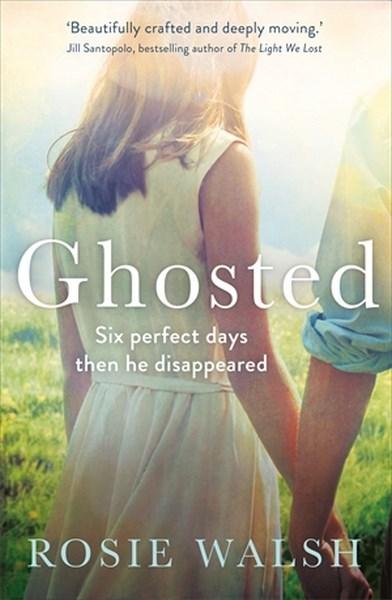 Ghosted
If you've ever found yourself waiting for a call that didn't come, Ghosted by Rosie Walsh is the book for you. Imagine you meet a man, spend six glorious days together, and fall in love. And it's mutual: you've never been so certain of anything.
So when he leaves for a long-booked holiday and promises to call from the airport, you have no cause to doubt him. But he doesn't call. Your friends tell you to forget him, but you know they're wrong: something must have happened; there must be a reason for his silence.
What do you do when you finally discover you're right? That there is a reason - and that reason is the one thing you didn't share with each other? The truth.
About the Contributor