Kate Wild is an award-winning investigative journalist from the ABC. Waiting for Elijah is her debut non-fiction narrative piece, her six-year investigation into the death of young Elijah Holcombe.
Kate now answers the Booktopia Guru's Ten Terrifying Questions.
---
Kate Wild on her early years
1. To begin with why don't you tell us a little bit about yourself – where were you born? Raised? Schooled?
I was born in a small town called Warren, in Central Western NSW.
I grew up on a large property where my parents grew wheat and ran sheep. My sister and I used to ride our pushbikes to our mailbox on the main road about a kilometre away, to catch the school bus. I think the greatest number of kids enrolled at Quambone Public School when I was there was about 40, from kindergarten to year 6. When it was time for high school, all of the kids in my family (2 boys, 2 girls) went to boarding school. So I moved to Sydney to live with other girls from all over the state at 12, and returned to Warren every school holidays.
2. What did you want to be when you were twelve, eighteen and thirty? And why?
At 12 I think I was pretty set on being a dog breeder. We usually had about 4 working sheep dogs on our property at any given time and there were at least 3 litters of pups born every year. I loved our dogs and spent a lot of time playing with them when I was a kid, so breeding dogs seemed like a good choice.
I think by 18 I'd started to consider journalism. A very sophisticated and worldly girl (I thought) a few years ahead of me had become a journalist when she left school. I think she was the one who first sparked the idea for me. I was completely hopeless at maths but loved English and public speaking, and I figured choosing a profession that used the things I loved was probably a good way to have a happy life.
At 30 I'd been a working journalist for about 6 years. I loved the work – meeting people, researching their lives, travelling, learning constantly. But I wasn't completely convinced it was where I was meant to be. So I quit my job and went to NIDA to study theatre directing for a year.
3. What strongly held belief did you have at eighteen that you do not have now?
That the happiness only  'one true love' can deliver is out there, waiting to be found.
It's bollocks. Love is more of a choice than we realise, plus it's not enough on its own. Respect and kindness, and sharing a vision of a life are far more lasting foundations than whirlwind attraction (though there's nothing wrong with whirlwind attraction). We need to choose to love people who are good for us. Trust me – I learnt the hard way!
Kate Wild on her inspirations
4. What were three big events – in the family circle or on the world stage or in your reading life, for example – you can now say, had a great effect on you and influenced you in your career path?
I recently re-read A Little Princess by Frances Hodgson Burnett, which I first read in primary school. I hadn't realised until this re-reading, how much I internalised the main character's approach to life, on that first reading. I'm a Capricorn, so perhaps I felt simpatico with Sarah Crewe's classically stoic approach to the things that happen to her when she's sent away to school aged 7 or so. Re-reading the book was like slipping back into the skin I inhabited at that age, and watching myself internalise those values – it was profound.
Another event that had a strong impact on my life and career choices was a short speech given by a man whose name and position I don't think I ever knew, who presented awards at a public speaking competition when I was about 15. I still think about his message regularly. He said that as young women whose education afforded them a voice, we had a responsibility to speak out for people who did not have a voice. People who, for whatever reason, needed to be heard but were not listened to. That ethic still drives my journalism every day. The Tampa incident in 2001, when the Australian government refused to allow 433 asylum seekers rescued at sea by a Norwegian freighter, to land in Australia, was the event that politicised me at 28. I was shocked by such a blatant lack of compassion expressed on an institutional level by the country's leadership. It opened my (naïve) eyes to a level of cynicism that has, unfortunately, continued to drive the majority of Australian politics since.
Quite coincidently, I was asked to work on a factual computer game called Escape from Woomera, a couple of years after the Tampa incident. The game took the real life experiences of asylum seekers in Australian detention camps and tasked the gamer with getting out of detention using only the means available to real-life asylum seekers. The federal government was outraged by the game, which was funded by a grant from the Australia Council. In retaliation, the federal government cut a swathe through the Council's funding the next year. Escape from Woomera was an instructive lesson in advocating for people who did not have a voice, and a sobering lesson in the use and misuse of power at very high levels.
5. Considering the innumerable electronic media avenues open to you – blogs, online newspapers, TV, radio, etc – why have you chosen to write a book?
Because the story of Elijah's Holcombe's shooting by Senior Constable Andrew Rich opens out questions that only a book has the time and space to address properly. It is a story with so many layers; I wanted to give it the space it needed.
Newspapers, blogs, TV and radio programs are great at delivering certain types of stories but they don't have room to explore the nuances that Elijah and Andrew's story needed.
Kate Wild on her writing
6. Please tell us about your latest book…
Waiting for Elijah is a non-fiction narrative. It examines the circumstances surrounding the fatal police shooting of a 24-year-old, mentally ill man, Elijah Holcombe, in the country town of Armidale NSW, in 2009.
I came across Elijah's story when I worked at Four Corners on the ABC. One of the reporters, Quentin McDermott was interested in the number of fatal police shootings of mentally ill people in Australia. I worked as a researcher on Quentin's program and through that became close to Elijah's family. I discovered Elijah's upbringing and family were a replica of my own.
When Elijah's father gave me his blessing to write a book about Elijah's shooting, the caveat was that it must not be a witch-hunt of the police officer who shot him, Senior Constable Andrew Rich. The Holcombes' incredible compassion for Rich, who felt he had no choice but to shoot, differentiated them from most people in their situation – they were determined to see Elijah's name cleared, but not by scapegoating the officer who had shot him.
In the process of writing Elijah's story – a period of seven years in total – I experienced a severe bout of clinical depression, which has happened to me 3 or 4 times since adolescence. The episode lasted for around two years, in which time I attended coroner's and court hearings on Elijah's case and tried to speak with Andrew Rich.
While my own story only appears occasionally in the book, Waiting for Elijah is the story of coming to terms with mental illness on a micro level for me, for Elijah, and the Holcombes, and on a macro level for society, including institutions like the police force and legal system.
7. If your work could change one thing in this world – what would it be?
I would like my work to help people really see each other. I try to give people avenues to look more deeply at what has shaped the people and events around them; particularly the things they fear.
I really believe that understanding can undo most of our fears. If I can help people relate to someone or something they are frightened of, and build a bridge they can approach each other on, I feel like I'm making a contribution.
8. Whom do you most admire and why?
I really admire people who work very hard, very quietly, beavering away on what matters to them, to make their values concrete in the world. People who use their art, their work, their service to others, and the care and kindness they practise on the way, to create meaning in the world. Sue Spencer, my former executive producer at 4 Corners is one. Sharon O'Neill, a wonderful producer at the ABC is another one. Always calm in a crisis, always kind, and utterly brilliant at her job. The idea that to be successful you have to tread on heads along the way really irks me. People like Sue and Sharon are proof, to me, that that adage is untrue.
I also admire people who take life by the ears and run without any appearance of fear. I'm not one of those people, but I'm inspired by their example – I constantly wish I was better at taking risks, so I need people like this in my world to remind me to take the leap.
9. Many people set themselves very ambitious goals. What are yours?
To write another couple of books in the next ten years. To use my journalism to tell important stories that help people see and understand the world from new perspectives. To nourish my marriage, my daughter, and my friendships, to be kind and forgiving and less judgemental.
10. What advice do you give aspiring writers?
The only thing that matters is to get the writing done. If you want to write, write. Don't wait for someone to give you permission; don't wait for 'a sign' to start. The words will not come out on the page the same as they feel and sound in your head – not in the first draft. Writing is re-writing. Get what's in your head on the page, get it all out – then start working on what's on the page. Some days (maybe most days) you will feel crappy – it doesn't mean the work is not good, and it doesn't mean that you can't do this. Pushing through the yuck is a test – you have to keep going. That is what makes a writer. Keep going.
Thank you Kate!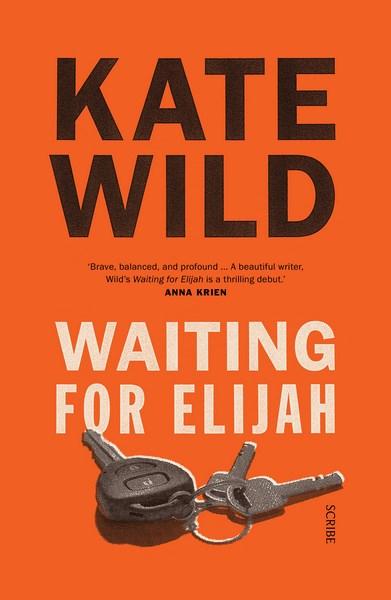 Waiting for Elijah
In 2009, in the NSW country town of Armidale, a mentally ill young man is shot dead by a police officer. Senior Constable Andrew Rich claims he 'had no choice' other than to shoot 24-year-old Elijah Holcombe — Elijah had run at him roaring with a knife, he tells police.
Written with clear-eyed compassion and a compelling narrative drive, Waiting for Elijah is an account of a tragedy that didn't have to happen. It is also an intense, forensic deconstruction of the extended legal proceedings that followed, and a heartbreaking portrait of a family's grief.
About the Contributor