Exactly
by Simon Winchester
Review by Robert O'Hearn
Oh, how I love the return of Simon Winchester! He is such an enthusiastic storyteller, and his love of language and ideas is contagious. Loyal readers will know a Winchester book is a journey with many an engaging diversion, and where an explanation of a scientific principle may end up explaining a great deal about us crazy humans along the way. Ostensibly a history of precision engineering, Exactly is really a kind of love story to the idea of human-made perfection, of achieving with material form that which rivals nature.
The characters in this highly enjoyable tale are the obsessive perfectionists who relentlessly seek ultra-precision in machining to ever-lower tolerances. This is a ripping narrative full of quirky polymaths, rival inventions and eureka breakthroughs, telling of a pursuit that has become less about problem-solving than of controlling physics itself. Winchester is always engaging, and the anecdotes about Rolls Royce are worth the price alone. I love this kind of book, and I'm no machine nerd.
You need no strong interest in engineering for this ride, because Winchester will deftly shows you all you need, with examples from cannons to quantum computing. You may never look at screws or padlocks or clocks the same way again after this. A riveting read? Yes, exactly.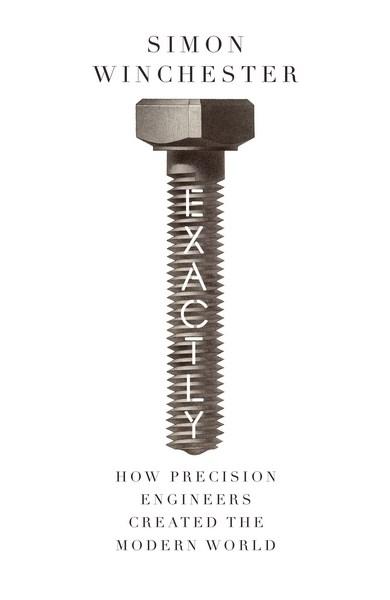 Exactly
How Precision Engineers Created the Modern World
Best-selling author Simon Winchester maps the amazing trajectory of the fathers of engineering. The lives of Wilkinson, Whitworth, Maudslay, Bramah, and Ramsden are interwoven with anecdotes such as the invention of the Rolls-Royce and Thomas Jefferson's innovations, offering a fascinating narrative about the men who shaped today's world. Through stories of their trials and tribulations, Exactly celebrates the memorable men who shaped today's world through their early innovation in engineering.
Simon Winchester chronicles the genesis of precision by shining a light on the quintet of pioneers who enabled us to see as far as the moon and as close as the Higgs boson through their unparalleled work of minutiae.
About the Contributor