Two years and four days after journalist Michelle McNamara's untimely death, there has been a development in the case she devoted herself to solving. Her book, I'll Be Gone in the Dark: One Woman's Obsessive Search for the Golden State Killer, is definitely the most powerful book I've read this year.  In it, she wrote passionately and eloquently about her obsession with the case of the Golden State Killer. In fact, it was Michelle McNamara who first coined the term "Golden State Killer" – a name that has since been adopted by the media.
And now, after eluding capture for over 40 years, an arrest has finally been made in this long unsolved case. Joseph James DeAngelo, 72, has been revealed as the suspected Golden State Killer – the man responsible for at least 12 murders and 48 rapes in California from 1976 to 1986.
Joseph James DeAngelo is a former policeman who was fired from the Auburn Police Department in 1979. The arrest was made on the basis of DNA evidence and although he was not one of the leads that Michelle McNamara investigated in her book – there is no doubt that her meticulous research, zealous passion and poignant writing has played a vital role in reviving interest in this case.  
The first thing I thought of when I read about Joseph James DeAngelo's arrest was Michelle McNamara  – in particular the letter that she wrote to the killer whose identity she would never know. The letter predicts the day the killer would be caught with chilling accuracy, saying "One day soon, you'll hear a car pull up to your curb, an engine cut out. You'll hear footsteps coming up your front walk."
It's been a few weeks since I read I'll be Gone in the Dark, but these words still give me chills – even more so now than the first time I read them. Reading this book was an incredibly emotional and deeply disturbing experience for me – one I will be revisiting very shortly. I always knew this was a book that I'd read more than once, I just never imagined I would want to re-read it again so soon. In the light of recent events, you can be damn sure I will be picking it up tonight!
I ended my review for I'll be Gone in the Dark with the words "It's books like this one that keep interest in unsolved cases alive so that one day the truth may be brought to light". Words really cannot express how relieved I am to see this come to pass.
Overall, I think Patton Oswalt's tweet to his late wife really sums things up perfectly:
"I think you got him, Michelle." #IllBeGoneInTheDark #MichelleMcNamara #GoldenStateKiller https://t.co/sfI4ugGvzk

— Patton Oswalt (@pattonoswalt) April 25, 2018
It is so upsetting to think that Michelle McNamara will never know the identity of The Golden State Killer, or see him brought to justice. However, as anyone who has read her book can attest, she always knew that this day would come.
---
I'll Be Gone In The Dark
by Michelle McNamara
Review by Sarah McDuling
This was a very emotional and bittersweet read. We know, going into this book, that the case of the Golden State Killer remains unsolved. Furthermore, the knowledge of the author's untimely death makes this all the more poignant.
I'll be Gone in the Dark is an incredibly in-depth, utterly compelling investigation of the serial rapist and murderer who has become known as the Golden State Killer (also known as the Original Night Stalker, the East Area Rapist and the Diamond Knot Killer). Active from the mid 1970s till the mid 1980s, he committed fifty sexual assaults and at least ten murders. He has never been apprehended.
Thirty years after the last murder, journalist Michelle McNamara (creator of the website TrueCrimeDiary.com) decided to immerse herself in the case of The Golden State Killer and do everything possible to finally uncover his identity. Sadly, the case remains unsolved and Michelle tragically passed away in 2016. Her book was finished with help from her colleagues.
True crime can be difficult to read. Everything in me revolts from the subject matter and yet I am often drawn to these books, almost against my will. That said, I will stop reading a true crime book at the very first hint of exploitative or salacious writing. When I read these books, I really need the author to approach the subject with deference and care and I want to feel as though the victims are treated with utmost respect and empathy. As far as I'm concerned, I'll be Gone in the Dark is a perfect example of how true crime books should be written.
I have not been this engrossed, or as emotionally invested, in a true crime novel since I read The Fact of a Body by Alexandria Marzano-Lesnevich. Of course this is partly due to the detailed research… but I think the true emotional impact of I'll be Gone in the Dark is owed to the author's deeply personal writing style. In many ways this book is a memoir as much as a true crime account.
Michelle McNamara is so present in this book – her unwavering dedication to the case and her deep empathy for the victims is palpable on every page. So much heart and humanity went into the research and writing of this book.
With a foreword from bestselling author Gillian Flynn and a heartfelt afterward from actor Patton Oswalt (Michelle McNamara's husband) this is a very powerful book. I can't honestly say that I enjoyed reading it – one doesn't really enjoy this kind of book – but I'm very glad to have read it and feel as though it's a book that needed to be written. It's books like this one that keep interest in unsolved cases alive so that one day the truth may be brought to light.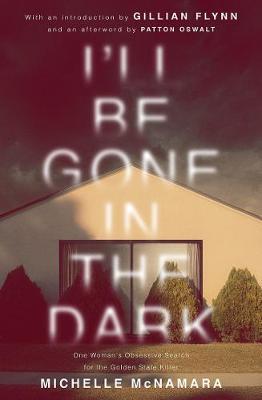 I'll be Gone in the Dark
With introduction by Gillian Flynn, a compelling true crime account of the Golden State Killer - the elusive serial rapist turned murderer who terrorised California for over a decade - from Michelle McNamara, the gifted journalist who died tragically while investigating the case.
I'll Be Gone in the Dark - the masterpiece McNamara was writing at the time of her sudden death - offers an atmospheric snapshot of a moment in American history and a chilling account of a criminal mastermind and the wreckage he left behind. It is also a portrait of a woman's obsession and her unflagging pursuit of the truth. Framed by an introduction by Gillian Flynn and an afterword by her husband, Patton Oswalt, the book was completed by Michelle's lead researcher and a close colleague. Utterly original and compelling, it is destined to become a true crime classic - and may at last unmask the Golden State Killer.
About the Contributor
Sarah McDuling is Booktopia's Senior Content Producer and Editor of The Booktopian Blog. She has been in the bookselling game for almost a decade and a dedicated booklover since birth (potentially longer). At her happiest when reading a book, Sarah also enjoys talking/writing/tweeting about books. In her spare time, she often likes to buy a lot of books and take photographs of books. You can follow her on Twitter and Instragram @sarahmcduling
Follow Sarah: Twitter