George R.R. Martin will publish a new Game of Thrones book this year!!!
Now that I have your attention, allow me to explain further. The new book, which will be published in November, will not be The Winds of Winter (the long awaited sixth book in the Song of Ice and Fire series).
For many people, this news may be considered somewhat …. disappointing. But to any enraged fans out there currently gnashing their teeth and pulling out their hair, I have two words for you. And those words are …
FIRE!
and
BLOOD!
Yep, that's right! The title of the new book will be Fire and Blood. It will be set 300 years before the Song of Ice and Fire series and it will detail the conquest that ultimately united the Seven Kingdoms of Westeros under Targaryen rule.
Here's what the man himself has to say about his upcoming book…
"No, winter is not coming… not in 2018, at least. You're going to have to keep waiting for THE WINDS OF WINTER. You will, however, be able to return to Westeros this year," said George R. R. Martin.
"I do want to stress… indeed, I want to shout… that FIRE & BLOOD is not a novel. This is not a traditional narrative and was never intended to be… let's call this one 'imaginary history' instead. The essential point being the 'history' part. I love reading popular histories myself, and that's what I was aiming for here… As for me, I'm returning once again to THE WINDS OF WINTER."
So there you have it! We may not be getting The Winds of Winter just yet (fingers crossed for next year?) but what we are getting is 640 pages of the notoriously kickass, occasionally incestuous and oftimes insane Targaryen family! And also dragons. There will be dragons! Plus the book will contain over 75 completely new black and white Illustrations by artist Doug Wheatley. For example, check out the below image of Queen Rhaenys riding Meraxes!
Fire and Blood will be published on November 20th, which is amazing news because it will help us all deal with the fact that there will be no new season of Game of Thrones to watch until 2019. If you have been wondering how to cope with the loooong wait until season 8, wonder no more.
Fire and Blood is coming!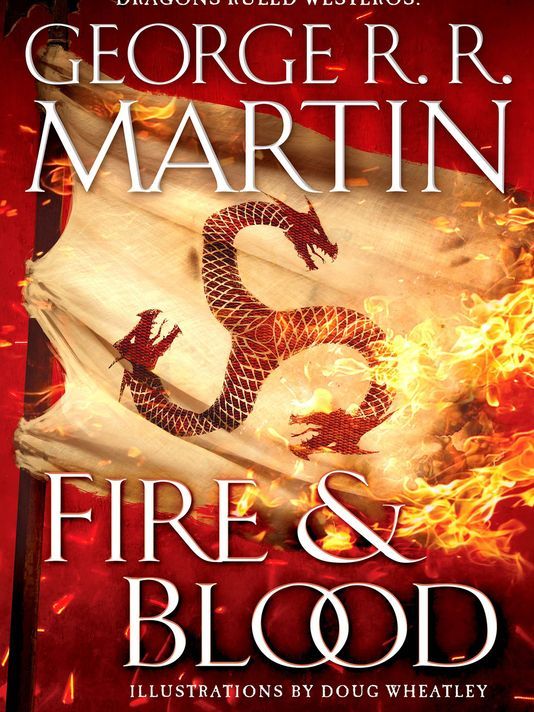 Fire and Blood
Unravelling events that led to A Song of Ice and Fire, Fire and Blood is the first volume of the definitive two-part history of the Targaryens in Westeros. Revealing long-buried secrets and untold lasting enmity, it sets the scene for the heart-stopping series conclusion, The Winds of Winter.
300 years before the events of A Song of Ice and Fire, long before the schism that set the houses of Westeros at each other's throats, one house ruled supreme and indomitable. House Targaryen, the house of the last remaining dragonlords.
About the Contributor
Sarah McDuling is Booktopia's Senior Content Producer and Editor of The Booktopian Blog. She has been in the bookselling game for almost a decade and a dedicated booklover since birth (potentially longer). At her happiest when reading a book, Sarah also enjoys talking/writing/tweeting about books. In her spare time, she often likes to buy a lot of books and take photographs of books. You can follow her on Twitter and Instragram @sarahmcduling
Follow Sarah: Twitter