The Liar's Girl
by Catherine Ryan Howard
Review by Bronwyn Eley
How often did I shudder while reading this book? A lot. Catherine Ryan Howard knows just how to get us – much like the serial killer in The Liar's Girl. I must say, it will probably be a while until I can walk past a canal (or any body of water) without imagining the horrible fate of the girls in The Liar's Girl.
Our protagonist is a young woman called Alison who, for the last ten years, has been haunted by the fact that the notorious Canal Killer of Dublin turned out to be her boyfriend Will. He was her first love and now, ten years later, he is still paying for the five murders to which he confessed.
What's really sad, however, is that Alison has been in a sort-of prison herself, one made of regret, pain and fear. Unable to fully move on from the impact of finding out the love of her life was a serial killer, Alison spends her time denying what happened by lying to her new friends and forming a less-than-full life in a whole new country. That is, until the killings start up again in the very same canal. Alison is sucked back into the horror of these senseless and cold murders when Dublin's police force begs for her help in preventing more murders. How? Well, that's the cruel part. They ask her to go see Will and find out what he might know!
What happens when she finally arrives back in Dublin after all these years is for you to find out! Howard so perfectly plays on the fears of any young woman who has ever crossed the street to avoid walking past a dodgy looking man or who has ever wished they had enough money to get a taxi home rather than walk alone by the side of a dark and lonely black-watered canal at night…
Perfect for fans of Lisa Gardner, Karen Rose and Chelsea Cain.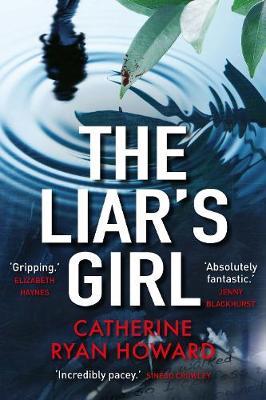 The Liar's Girl
Her first love confessed to five murders. But the truth was so much worse.
Dublin's notorious Canal Killer is ten years into his life sentence when the body of a young woman is fished out of the Grand Canal. Though detectives suspect a copy-cat is emulating the crimes Will Hurley confessed to as a teen, they must turn to Ireland's most prolific serial killer for help. Will admits he has the information the cops need, but will only give it to one person - the girl he was dating when he committed his horrific crimes...
About the Contributor
Before entering the exciting world of books, Bronwyn served in the Royal Australian Air Force, travelled extensively and worked (still does!) as a barista on the weekends. Books are her true passion. Bronwyn's debut fantasy novel Relic is coming out in 2019 with indie publishing house Talem Press. They are to publish her entire trilogy called The Relic Trilogy. In her spare time, Bronwyn writes, reads and enjoys keeping fit (which she undoes by eating loads of chocolate) with Martial Arts and personal training. She can't answer what her favourite book is but she has a soft spot for Peter Pan (J.M Barrie), Outlander (Diana Gabaldon), Stardust (Neil Gaiman), The Illuminae Files (Jay Kristoff and Amie Kaufman) and Six of Crows (Leigh Bardugo). Fantasy, sci-fi and YA make up the majority of her bookshelves.