Kirsty Manning on The Jade Lily
Ideas for The Jade Lily began when I took my three small children on a holiday to Shanghai. My husband had been away working in Europe and I wanted to shake my domestic routine of school runs and sporting matches to visit somewhere I'd never been. At the time, I was a freelance journalist specialising in features, food and travel and so I thought China would give me enough stories to see me through a term or two.
Like Alexandra—the contemporary protagonist of The Jade Lily—my first encounter with Shanghai was an explosive love affair. The city captivated me with its lights, spices, laneways, markets, tables of writhing fish and frogs and stately European buildings lining the Bund. We were fascinated by elderly people playing mahjong and taking their morning Tai Chi exercises in Fuxing Park as their grandchildren wove between them. In a slew of new shopping centres you could buy the latest Gucci dress or drive away a Tesla, yet just a few steps away birds hung in cages from trees and hawkers sold lychees and melons on blue canvas sheets.
We braved the crowds at Yu Garden in Shanghai and queued with other tourists in the bazaar for our first taste of a giant xiao long bao—the delicate pleated dumpling filled with a thumb of minced meat or vegetables floating in soup. We later learned to look where the locals ducked into tiny holes in the wall for their morning dumpling fix. We hunted dumplings like some people chase the perfect coffee.
A keen gardener, I was excited to explore the famous historic gardens in the water town of Suzhou – thirty minutes from Shanghai.  I bundled the kids onto a fast-train, then stepped from this modern engineering machine into a medieval town made of narrow streets, canals and ancient buildings with hooked roofs. We walked the Humble Administrator's Gardens and Master of Nets, admiring the cultivated rock gardens, pebble paths and series of lakes with water lilies. These deceptive, simple gardens forced me to focus and change perspective. To slow down. I was introduced to Confucian philosophies of order and balance and the Taoist teachings of simplicity and restraint.
With each step, I took the humidity and inspiration deep into my lungs. I'd dreamed of writing a novel since I was my children's age, yet with each passing year it was tumbling further down my to-do list. But here beside a lake bobbing with fat pink lilies, peering through an ancient Moon Gate, I started to contemplate what my life as a writer might look like.
Back in Shanghai—and nearing the end of our funds—I arranged for us to cram into a small hotel room in the cheaper part of Shanghai known as Hongkou (formerly Hongkew). Enroute to a shop selling lemon iced tea, I noticed a rusted Star of David inset into a red doorway.
What was this symbol doing in the middle of an old longtang laneway?
A visit to the nearby Shanghai Jewish Refugees Museum revealed that Shanghai had opened its doors to over 20,000 refugees fleeing Europe, at a time when no other country—including my own—would.
Today, millions of people are seeking refuge and still our borders and hearts remain closed. It's a universal, heartbreaking story. Why haven't the lessons of history taught us to treat people better?
Ideas for The Jade Lily started to bloom. I started to think about friendship and loyalties, the price of love and the power of war. How hardship and courage can shape us. How does being a refugee – being stateless – shape identity? The unexpected bargains that are made when we make our own rules. What does it mean to be generous as a person? And as country? What is our duty? 
---
Recipe from Chapter 55 of The Jade Lily
Amah's Master Stock
2 Leipzig jars of water

Heavy pour soy sauce

Heavy pour Shao Xing wine

Handful yellow rock sugar, crushed

1/3 hand cup ginger, sliced

4 garlic cloves, crushed

Green (spring) onions, washed and trimmed

Spoon sesame oil

4 star anise

2 cassia bark

1 cinnamon stick

3 pieces dried mandarin rind or orange rind

Handful of mixed mushrooms (dried is better)

Sichuan pepper 
In The Jade Lily, Romy would take her master stock out of the freezer and defrost it, before poaching chicken breasts in the broth before slicing them over rice.
I often put a whole organic chicken to cook in a crockpot with this precious master stock to simmer with fresh greens like spring onion. Add steamed greens and rice to serve. 
Click on the link, for an idea of how to cook Kirsty's favourite comfort dish: Mapo Duofu (or Mapo Tofu).
Thank you Kirsty!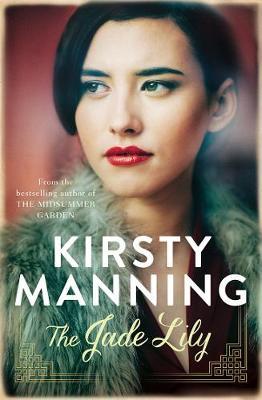 The Jade Lily
The Jade Lily is a sweeping story of friendship, loyalty, love and identity from the popular author of The Midsummer Garden.
In 2016, fleeing London with a broken heart, Alexandra returns to Australia to be with her grandparents, Romy and Wilhelm, when her grandfather is dying. With only weeks left together, her grandparents begin to reveal the family mysteries they have kept secret for more than half a century...
About the Contributor