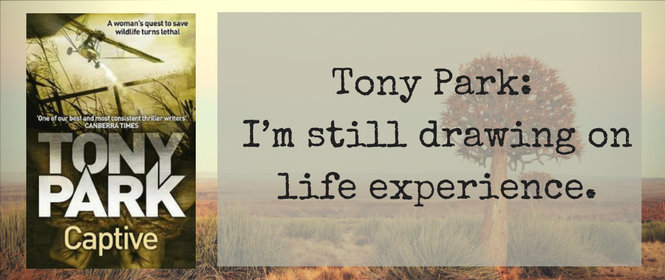 "I have found my place to write about," says Tony Park, author of Far Horizon, Ivory, African Sky, Safari and now Captive. Not to mention the rest!
Tony and his wife Nicola divide their time between their homeland Australia and wild and beautiful Africa, where they own a home on the border of the Kruger National Park. Tony is the author of fifteen novels, is a Major in the Australian Army Reserve and escorts many of his avid readers on safaris in Africa. It's no surprise then, with such a life, that Tony's stories are thrilling and captivating.
"I'm still drawing on life experience." – Tony
"Write about what you love and write the sort of book that you want to read." Tony told us, which is something he's taken to heart.
Back in 1995, Tony and Nicola went on their first holiday to Africa. They assumed it would be their one and only trip but something hooked them. They were never able to look back, continually visiting Africa time and time again. Tony derives a lot of inspiration from the fascinating people he meets in Africa, as well as unusual stories from the country. Six months of every year, they live in the African bush where Tony spends his time writing his next book. What a life!
Listen to our full interview with Tony below: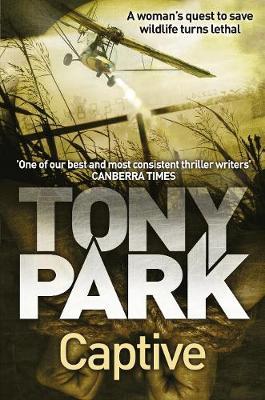 Captive
A very eager - and rather naive - Australian lawyer Kerry Maxwell flies into South Africa to volunteer at a wildlife orphanage run by notorious vet, Graham Baird.
Graham is as jaded and reckless as Kerry is law-abiding and optimistic. When Kerry arrives at the animal sanctuary it's to the news that Graham is imprisoned in Mozambique following a shootout with elephant poachers. In the gunfight he killed the brother of corrupt politician and poaching kingpin Fidel Costa...
About the Contributor
Bronwyn Eley is new to the book industry, having previously served in the Royal Australian Air Force & even spent some time as a barista until entering the exciting world of Booktopia. Books are her true passion. Bronwyn writes in her spare time, often has her face buried in a book and enjoys keeping fit (which she undoes by eating loads of chocolate) with Martial Arts and personal training. She can't answer what her favourite book is but she has a soft spot for The Host (Stephanie Meyer), Peter Pan (J.M Barrie) & Outlander (Diana Gabaldon). Fantasy, sci-fi and YA make up the majority of her bookshelves.