Kate Forsyth, one of Australia's favourite novelists and the author of books including The Impossible Quest series, Bitter Greens, The Wild Girl and The Beast's Garden, continues her blog with us, giving her verdict on the best books she read in March 2018.
---
The Lace Weaver
by Lauren Chater
A heart-wrenching novel of love, war and resistance set in Estonia in the 1940s, The Lace Weaver tells the story of two very different young women and their struggle to survive in a country caught between two of the greatest evils of the 20th century: Stalin's Red Army and Hitler's Third Reich.
The story begins in 1941, when Estonia is under Russian rule and suffering brutality, hunger mass murders and deportations. Kati and her parents are doing the best they can by keeping their heads down and doing as they are told. Kati quietly rebels by keeping her beloved grandmother's lace weaving circle alive, with a group of women meeting in secret to make the exquisite lace shawls that Estonia is famous for. The lace patterns become a repeating motif throughout the book, with each section named after one of the designs: Wolf's Paw, Ring Pattern, Peacock's Tails, Spider Stitch, Ash Pattern, and so on. I really love this aspect of the book, as the patterns became symbols for what the characters endured.
Meanwhile, in Moscow, another young woman named Lydia is living a life of ease and privilege with the bejewelled cage of the Stalinist elite. She longs to escape, however, as she gradually becomes aware of the cruelty of the Russian dictatorship. Eventually, she and her old nurse Olga escape to Estonia, only to be caught up in that country's struggle for liberation.
For the oppressed Estonians, the news that Hitler's forces are marching towards them brings hope and jubilation. It is not long, however, before they realise that they have exchanged one cruel regime for another. And Kati and Lydia are caught in the maelstrom, struggling just to survive.
This is a novel of love and war, heartbreak and hope, and the bonds between women, delicate as lace and yet as unbreakable as steel. Powerful, subtle and beautifully written and composed. Learn more.
---
The Lost Flowers of Alice Hart
by Holly Ringland
An astonishingly assured debut, The Lost Flowers of Alice Hart is a story of love, loss, betrayal and the redemptive power of storytelling. It is both heart-breaking and life-affirming.
A coming-of-age story with a vividly evocative Australian setting, this novel follows the story of Alice Hart who must learn to escape the shadows of an abusive father in order to build a life for herself.
At the age of nine, Alice suffers the tragic loss of her mother and baby brother. She is taken from her seaside home to live with her grandmother, June, who grows bush flowers and takes in battered and abused women so they can heal in peace. June has developed a secret language of Australian native flowers, to help say the things that are too hard to speak aloud.
Mute and damaged, Alice slowly begins to recover from the wounds of her past, but there are too many secrets, too many shadows. Hurt and betrayed, Alice flees the flower farm and heads into the hot red heart of the Australian desert. She begins to rebuild her life once again, and falls recklessly and dangerously in love.
Sensitive, sympathetic, and vulnerable, Alice is like so many young women, struggling to make sense of their life, wanting to love and be loved but hurt by the danger of feeling so deeply, and needing to find their own voice so they can finally speak up and tell their story. Her journey is one that feels so familiar, and yet is uniquely and powerfully her own.
The Australian landscape, and its strange and beautiful flora, also has a potent presence in the novel. I absolutely loved the use of the secret language of flowers, and how it helped those inarticulate with pain and grief find a way to speak out, tell their story and so find release and healing. The sparkling waters and deep dragging undertow of the seashore, the dull green-grey of the bush with its hidden beauties only visible to those who take the time to see, and the extraordinary fierce grandeur of the red heart of Australia were evoked with such clarity and intimacy, I could feel the heat on my skin, taste the dust on my tongue, smell the tang of eucalyptus and salt in the air.
The Lost Flowers of Alice Hart is beautiful, powerful, intense, and tender, a book to shake your heart and bring a lump to your throat. Learn more.
---
The Paris Seamstress
by Natasha Lester
A dual-timeline novel that moves between the 1940s and contemporary times, The Paris Seamstress is a gorgeously rich and romantic novel about young women finding their way in the world.
The story begins with Estella Bissette, a young apprentice seamstress working with her mother at a fashion designer's atelier in Paris. Her metier is creating silk flowers, but she dreams of designing her own dresses and takes every opportunity to practise her craft. But the Nazis are closing on France, and no-one knows what the future will hold. One day Estella gets caught up in a mysterious errand that smacks of intrigue and resistance … and meets a handsome stranger. With her life in danger, she must flee France, and with her mother's help, gets a bunk on the SS Washington – the last American ship to leave French waters – with nothing more than a suitcase and a sewing machine.
The other narrative thread concerns Estelle's granddaughter Fabienne, who arrives in Manhattan from Sydney for a celebration of her famous ancestor's fashion designs. Fabienne is puzzled by some mystery in her grandmother's past which the recent death of her father has revealed to her, and wishes to question her … but Estella is elderly and frail, and talk of the past upsets her. At the gala event, Fabienne meets a handsome stranger … but her own life is full of problems and troubles, and it seems unlikely their paths will ever cross again.
From that point onwards, the two stories cross and part and cross again, full of sensual descriptions of fabulous clothes and evocative descriptions of Paris and New York, then and now. I loved the story of how determined Estella builds her career from nothing, despite obstacle after obstacle, and I empathised with sensitive Fabienne, trying to step out from her grandmother' shadow.
Much of the pleasure of this book is the wish-fulfillment fantasy it offers many women – the chance to imagine oneself in a swishy satin gown, drinking cocktails with high society in New York, flitting off to Paris on a whim and meeting the man of your dreams, inheriting palatial residences in two of the city's most glamorous and sophisticated cities, making a name for oneself with your talent and hard work. The secret at the heart of the novel is not one of those surprising, oh-my-god-I-never-saw-that-coming plot twists that leaves you gasping – it's more of a device to put the two women's journeys into motion. But both of those journeys are so beguiling, I didn't mind that at all.
And I just loved Estella's final words to her granddaughter:
'Be brave. Love well and fiercely. Be the woman I always knew you would be.'
These are wise and beautiful words indeed. Learn more. 
---
For me, the best crime novels are tense, evocative reads, set somewhere misty and atmospheric that raises the hairs on your skin, with characters who are complex and alive, who you cannot help caring about, and written in terse language that nonetheless has the power to haunt you with its beauty. I want to be moved by the characters' plight and gripped by the compulsion to know what happened, and I want to be genuinely surprised by the denouement.
It is, unsurprisingly, difficult to find all that in the one package. When I do find it, I tend to be very faithful to the author, reading every book of theirs I can find.
The Ruin, by Irish-born Australian-resident author Dervla McTiernan, gave me all that I wanted in a contemporary crime novel, but since it is her debut, I can't rush out and buy all of her backlist. I am, however, impatiently waiting for her next book.
The story is set in Ireland, a suitably misty and atmospheric setting for me. It begins with a young rookie policeman, Cormac Reilly, discovering the corpse of a drug addict in a cold and filthy ruin of a house. It seems clear enough that she died of a drug overdose. The real trouble is what to do with her two young children. Regretfully Cormac arranges for them to go into foster care, but something about the brother and sister haunt him. He never really forgets them.
Now, many years later, Cormac is back in Galway, after having taken a demotion in order to move with his girlfriend, who has taken a plum new job in the area. He is frustrated because his new commander gives him nothing but cold cases to work on, and he wants to get his teeth into something real.
Then a body is found floating in the freezing black waters of the river. It's a young man named Jack – and he is the little boy Cormac put into care so long ago. When the detective begins digging, he finds that Jack's death was not a suicide, as the police believe – and that the roots of the mystery lie in the death of Jack's mother so long ago.
I really loved the character of Cormac, who has troubles of his own but is not one of those drunk, damaged detectives that seem to have taken over so much of contemporary crime fiction lately (I am really tired of that trope, are you?) Cormac is clever, dogged, and wants to help people, and his love for his girlfriend and his willingness to make sacrifices for her makes him a very empathetic character.
Best of all, the dramatic tension in this novel never flags. I was absolutely riveted to the page, each new unexpected turn tightening the screw. And, no, I didn't guess the murderer!
The Ruin is world-class crime fiction, and Dervla McTiernan cannot write fast enough to please me. Learn more.
---
I've had an Advanced Reading Copy (ARC) of this book on my shelf for literally years, but had never found the time to read it (although I wanted to). Then the movie came out and I always like to read the book before I watch someone else's creative response to it. So the book jumped the queue and I finally got around to reading it.
It's a simple enough story.
August Pullman was born with a genetic disorder that resulted in a childhood of hospitals and operations. Despite this, he has been left with facial deformities that make many people who see him for the first time uncomfortable. He's been home-schooled, but his mother thinks it is time for him to go to a mainstream school. Auggie is reluctant. He is afraid of the other kids' horror and unkindness. But finally he agrees, even though he knows it will be an ordeal.
The first part of the book is told from his point-of-view, with succeeding sections told by his older sister, her boyfriend, and some of the other kids at school. This device allows us to see how Auggie's struggle to be accepted impacts on those around him. R.J. Palacio does a good job of creating different voices for her characters, though it is Auggie's point-of-view which is most memorable. Auggie is funny, brave, and caring. He just wants to be an ordinary kid, and yet those around him can't help but treat him differently.
R.J. Palacio has called her debut novel "a meditation on kindness", and this is the book's great strength. Wonder has been criticised for being over-sentimental and over-simplified, but you know what? I had a big lump in my throat when I finished it. It's true that this is a big, difficult and complex topic, and that – for people who suffer differences and disabilities – there is rarely any such happy ending. However, this is a book written for children, with a very important message about learning to live with empathy, compassion and thoughtfulness, and I believe that many child readers will find themselves fundamentally changed by reading it. Learn more. 
---
The Passengers
by Eleanor Limprecht
A young woman and her grandmother travel on a cruise together from the USA to Australia. For Sarah, it is a journey to the country of her birth, a place she has not seen since she left as a war bride in the 1940s. For Hannah, it is a chance to leave behind old hurts and discover a new land. Each tell their own story, in their own voices, each regretting mistakes they have made and people they have left behind.
Sarah's story begins as a girl on a diary farm in New South Wales. Times are hard, and her father sells the farm and moves his family to Sydney. Sarah is forced to leave her beloved cattle dog behind. She finds work, and reams of marriage, putting a white dress on layby. Sydney is full of American soldiers. There are fights and dances and flirtations. She falls in love and marries, and has just one night with her new husband before he is shipped out to Papua New Guinea. When the war ends, Sarah must leave her home and family and travel thousands of kilometres to a place she has never been, to live with a man she hardly knows.
As Sarah tells her story to her granddaughter, Hannah reveals some of her own secret vulnerabilities. Slowly the two stories echo and reflect each other, in clear lucid prose that glows with its own inner light. Learn more.
---
The Shepherd's Life: A Tale Of The Lake District
by James Rebanks
James Rebanks's family have been shepherds in the Lake District for many generations. Growing up on the land, learning his craft at his grandfather's knee, James has never wanted any other life. His long-ago ancestors would recognise the pattern of his days and seasons, even if they would not understand his Land-Rover or his Twitter feed, for the work of the shepherds on the fells and lake valleys has not changed in centuries. Lambs are born, crows circle, the hay must be harvested, the long snows endured.
A memoir of place as much as of a life, James Rebanks writes with great simplicity and warmth. He is a reader and lover of words as well as a shepherd, and that familiarity with the English language gives his prose a wonderful lilt and rhythm.
Like many people I have always been enchanted by the Lake District because of the great poets and writers that were inspired there – William Wordsworth and his sister Dorothy, Samuel Taylor Coleridge, Robert Southey, Beatrix Potter and Arthur Ransome. I made a pilgrimage there a few years ago, and wandered the green hills and tramped through the trees, imagining daffodils dancing and bunny rabbits frisking. I wish I had read this book before I went, as I now have a much deeper and more profound understanding of the landscape – its history, its way of life, and the people who life and work there. Learn more.
---
A Skinful of Shadows
by Frances Hardinge
Frances Hardinge is now officially my favourite writer for young adults. Her novel The Lie Tree was one of my best reads of 2016, and now she has enchanted me anew with A Skinful of Shadows which is just as dark, magical, intelligent and surprising.
Set during the English Civil War, one of my favourite historical periods, A Skinful of Shadows tells the story of Makepeace, a twelve-year old girl growing up in a Puritan community. Her mother locks her in a crypt on moonless nights, so that she can learn to fight ghosts. Makepeace begs her not to, but her mother is relentless. So Makepeace tries to break free. Her impetuous action leads to tragedy, and Makepeace finds herself a prisoner of the very people her mother had been trying to protect her from.
And Makepeace carries a dark and terrible secret inside her. She is possessed by the ghost of a bear.
A spellbinding and compelling tale of necromancers and cavaliers, hungry spirits and treasonous spies, A Skinful of Shadows thrums with magic, danger and intrigue. Makepeace is a wonderful heroine – clever, resourceful, compassionate and brave. And Bear, the wild fierce and unpredictable force within her, will just about break your heart. I am now eagerly hunting down Frances Hardinge's other books!  Learn more.
---
Kate Forsyth wrote her first novel aged seven and has now sold more than a million books worldwide. Her most recent book, Beauty in Thorns, is a reimagining of Sleeping Beauty set amongst the passions and scandals of the Pre-Raphaelites. Other novels for adults include Bitter Greens, which won the 2015 American Library Association award for Best Historical Fiction; and The Wild Girl, which was named the Most Memorable Love Story of 2013. Kate's books for children include the collection of feminist fairy-tale retellings Vasilisa the Wise & Other Tales of Brave Young Women, illustrated by Lorena Carrington, and The Impossible Quest fantasy series which has been optioned for a film. Named one of Australia's Favourite 15 Novelists, Kate has a BA in literature, a MA in creative writing and a doctorate in fairy tale studies, and is also an accredited master storyteller with the Australian Guild of Storytellers. She is a direct descendant of Charlotte Waring Atkinson, the author of the first book for children ever published in Australia.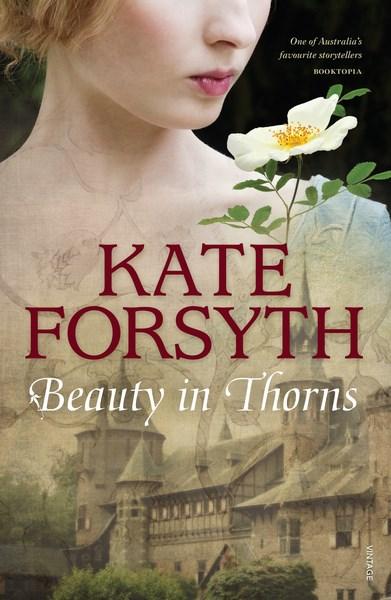 Beauty in Thorns
A spellbinding reimagining of 'Sleeping Beauty' set amongst the wild bohemian circle of Pre-Raphaelite artists and poets.
The Pre-Raphaelites were determined to liberate art and love from the shackles of convention.
Ned Burne-Jones had never had a painting lesson and his family wanted him to be a parson. Only young Georgie Macdonald – the daughter of a Methodist minister – understood. She put aside her own dreams to support him, only to be confronted by many years of gossip and scandal.
Dante Gabriel Rossetti was smitten with his favourite model, Lizzie Siddal. She wanted to be an artist herself...
About the Contributor