There are so many reasons why you have to read The Lost Flowers of Alice Hart by Holly Ringland. It's a stunning debut with beautiful imagery, powerful emotions and a memorable protagonist. But don't just take our word for it – a plethora of other authors have fallen over themselves reading this amazing book:
"An astonishingly assured debut, The Lost Flowers of Alice Hart is a story of love, loss, betrayal and the redemptive power of storytelling… both heartbreaking and life-affirming." – Kate Forsyth

"I loved this brave and beautiful book. Alice Hart has the strength and magic of an Australian wildflower in bloom." – Favel Parrett
Holly Ringland wanted to be a writer all her life – literally. She decided when she was three years old that this was going to be her path in life. From her own experiences and imagination came The Lost Flowers of Alice Hart.
"The thing about trauma and the shame, in particular, that goes with suffering violence from somebody else is the shame that you carry and it is so silencing," says Holly. "At three, I knew I wanted to write. I'm so grateful that it has happened but it's taken until I was 34 to put myself in the place where I was going to sit down and actually give this a go."
Holly says this was the hardest thing she has ever done, like picking a stitch in a jumper.
"Once you pull that thread, the whole thing will unravel." – Holly
"The heartache in this story is what makes Alice so beautiful," says Booktopia's Bronwyn. "She is determined, powerful and resilient. She charges into life, not letting her painful past smother her spirit."
We were lucky enough to meet the lovely Holly Ringland – who had the best reaction to seeing a huge pile of her books when she came to visit  – and sat down to interview her. Have a listen to the full interview below: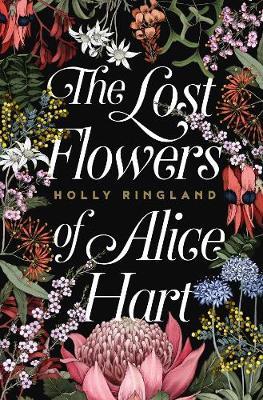 The Lost Flowers of Alice Hart
An enchanting and captivating novel, about how our untold stories haunt us - and the stories we tell ourselves in order to survive.
Spanning two decades, set between sugar cane fields by the sea, a native Australian flower farm, and a celestial crater in the central desert, The Lost Flowers of Alice Hart follows Alice's unforgettable journey, as she learns that the most powerful story she will ever possess is her own.
About the Contributor
Before entering the exciting world of books, Bronwyn served in the Royal Australian Air Force, travelled extensively and worked (still does!) as a barista on the weekends. Books are her true passion. Bronwyn's debut fantasy novel Relic is coming out in 2019 with indie publishing house Talem Press. They are to publish her entire trilogy called The Relic Trilogy. In her spare time, Bronwyn writes, reads and enjoys keeping fit (which she undoes by eating loads of chocolate) with Martial Arts and personal training. She can't answer what her favourite book is but she has a soft spot for Peter Pan (J.M Barrie), Outlander (Diana Gabaldon), Stardust (Neil Gaiman), The Illuminae Files (Jay Kristoff and Amie Kaufman) and Six of Crows (Leigh Bardugo). Fantasy, sci-fi and YA make up the majority of her bookshelves.