The Barefoot Investor by Scott Pape is Booktopia's highest selling book ever – 80,000 copies and counting!
Back in 2016 when Wiley was selling in a new book called The Barefoot Investor they were telling me that the book would be big but I don't think that any of us had any idea of just how successful this book would become. As we celebrate selling over 80,000 copies, I thought I would share some statistics on what has become an Australian publishing phenomenon!
More than 660,000 units sold in the Australian Market (Source – Bookscan)

Highest selling book in Australia for 2017!
In 2017 The Barefoot Investor held the No 1 spot in the Bookscan charts for more than 20 weeks!
So far in 2018 The Barefoot Investor continues to dominate – rarely being out of the No 1 spot in the Bookscan charts!
Highest selling Australian personal finance title ever!
Outsold popular favourites like Working Class Man and 91 Storey Treehouse in 2017!
Booktopia alone has sold over 80,000 copies and The Barefoot Investor has not left our Top 10 since it's publication in late 2016!
Check out what some of our customers are saying about this book!
"Reading this book was like having a spiritual experience – I am not religious but it was like the angels were singing and I could hear them. This book is the answer to our prayers." – customer review

"I wish this had been around in my 30's." – customer review

"This book has changed my life. Although finance is a fairly dry subject, the book is interesting and funny at times, with easy step-by-step instructions on how to set up your bank accounts in such a way so you get the most out of your money – including savings and splurge money." – customer review
So what's next for The Barefoot Investor and Scott Pape?
It has been announced that a new book covering personal finance for a much younger audience is coming from Harper Collins later this year. Keep an eye on our site for updates!
So if you have not yet grabbed a copy of the highest selling book in the country – grab a copy of The Barefoot Investor now and see what the rest of the country is reading! 
If you're already on board with The Barefoot Investor phenomenon, you're probably ready to gift this must-have book to friends and family, right?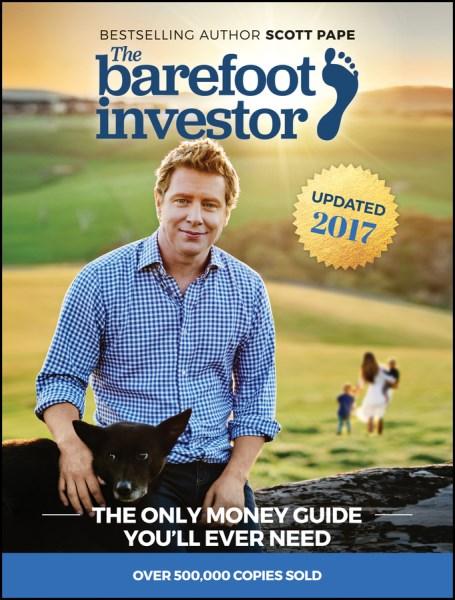 The Barefoot Investor
The Only Money Guide You'll Ever Need
This is the only money guide you'll ever need. That's a bold claim, given there are already thousands of finance books on the shelves.
So what makes this one different? Well, you won't be overwhelmed with a bunch of 'tips' … or a strict budget (that you won't follow).
You'll get a step-by-step formula: open this account, then do this; call this person, and say this; invest money here, and not there. All with a glass of wine in your hand.
This book will show you how to create an entire financial plan that is so simple you can sketch it on the back of a serviette … and you'll be able to manage your money in 10 minutes a week.
About the Contributor
Tracey's love of books started at a young age and has just increased over time and working in the industry. My absolute favourite thing to do is curl up with a cat, a cup of tea and most importantly a good book! I have too many favourite books to pick just one but love reading science fiction, fantasy, young adult, popular science and anything about animals/nature.