Raise your hand if you've ever introduced yourself to the dog before the owner? *raises both hands*
It's alright, we understand. 'Dogstagram' is a thing for a reason – dogs are cute and you'd be hard pressed to find someone who didn't agree. Enter Alex Cearns, a Perth based photographer dubbed "one of our greatest dog photographers in the world" by the UK's Dogs Today Magazine.
Don't believe us? Check out her new book Perfect Imperfection – purrrrrrfect for dog lovers everywhere. You can see Alex's passion for photography through her incredible photos and her images have been published extensively across both Australian and international media platforms. Her inspiring work with animals and photography has, over the years, seen her as the recipient of over 250 awards for photography, business and philanthropy.
It's no surprise that Alex has two rescue dogs and a rescue cat. Alex now answers the Booktopia Guru's Ten Terrifying Questions!
---
1. To begin with why don't you tell us a little bit about yourself?
I've loved animals for as long as I can remember. As an only child, my constant companions were my dogs, guinea pigs, horses, rabbits and bottle-fed lambs. I often helped my mother rescue and care for a wide array of injured joeys, birds and other creatures until they could be released back into their natural habitat.

Photography became a serious passion in 2006 when I discovered the scope of digital photography. I was hooked and spent every spare moment studying photographic literature, and practicing the craft on my own pets, those of friends and family, as well as farm animals and wildlife. I tried a few other genres such as landscapes and people, but animals enthralled me more than any other subject. Within a few years it became my full time career.
In addition to the continued growth of my business, philanthropy is a huge focus in my life. Since I started photographing animals I've worked with over 60 animal rescue charities, shelters and sanctuaries all over the globe.
My two aims through photography are:
1) To show, through images, how beautiful animals are, and
2) To support, promote, and endorse animal rescue organisations.
2. What did you want to be when you were twelve, eighteen and thirty? And why?
When I was 12 I wanted to be an astronomer as I was fascinated with space and planets. As I got older my interests slowly changed and I went off the idea when I realised how much study was involved.
At 18 I wanted to be a journalist, but half way through my final year of high school it was realised that I hadn't completed the necessary subjects to get into University. My options were to spend another 12 months doing extra subjects at home, or having a plan B. I went with the latter and having always wanted to help people, I joined the Police Service.
At 30 I started looking for my 'thing'. I thought maybe I would be a soccer player, but my dodgy knee soon put an end to that – plus I wasn't that skilled on the field. When I purchased a DSLR camera I soon realised that animals were my favourite subjects. I practised as much as I could (I still do), and the rest is history. I feel very lucky to have stumbled into photography and am so grateful that this is what I now do every day.
3. What strongly held belief did you have at eighteen that you do not have now?
When I was 18 I had lived in country towns for most of my life. I'd never experienced having to lock the car door, or secure the house when you went out. 
4. What were three big events you can now say had a great effect on you and influenced you in your career path?
There have been many amazing events over the course of my career, but three stand out. The first was partnering with Tamron Australia as their Super Performance Series Lens Ambassador. The second was collaborating with the global pyjama king  Peter Alexander, providing ongoing images for his sleep wear collections, and the third is my book deal with ABC Books for Perfect Imperfection – Dog portraits of resilience and love. All three partnerships are beyond my wildest dreams but show me that the sky really is the limit.
5. Considering the innumerable electronic media avenues open to you why have you chosen to write a book? Are they obsolete?
99% of the time I read non-fiction only, mostly natural history books on animals and science, and autobiographies. I often have a pile of books next to my bed, and read several at once until I commit to finishing one.
I'm an avid reader and despite my love of technology, I haven't converted to a digital book reader just yet. I don't think you can beat the feel of a book. They are tangible items I treasure and I don't think they will ever be replaceable.
6. Please tell us about your latest book…
My latest book Perfect Imperfection – Dog portraits of resilience and love showcases images and stories of 60 adorable canines who have overcome adversity. I've wanted to release this book for the past 8 years, ever since I photographed my first perfectly imperfect dog.
One of my most passionate aims as an animal photographer is to capture the adorable subtleties that make all creatures precious and unique. I love every dog I have the privilege of photographing, but those perceived as 'different' hold a special place in my heart. They have lost a leg, been born without eyes, or are still showing the scars of former abuse.
Most dogs with 'afflictions' don't dwell on them. They adapt to their bodies without complaint and they survive with determination. They push on, always, wanting to be included and involved in everything as much as they can, and as much as an able-bodied dog does.
The tenacity of dogs to overcome adversity never ceases to amaze me. They make the most out of life and from them I have learnt so much about always seeing the positive in every situation and never giving up.
Perfect Imperfection is testament to their zest for life.
7. If your work could change one thing in this world – what would it be?
I would simply wish for people to always go with kindness. For each other, animals and the environment. It's one thing that would change the world immensely and something we all have the power to do.
8. Whom do you most admire and why?

As a photographer, my greatest inspiration is the animal kingdom. I am most passionate about revealing the inherent, sentient beauty in all creatures. Animals are carefree, unaffected and without ego. I learn so much from observing them and being in their company.
I am also inspired by nature. To me nature is all about renewal, joy and the most wondrous spectrum of shapes, sizes, colours and textures. It's all food for the soul.
9. Many people set themselves very ambitious goals. What are yours?
Working with animals is a constant joy and I feel honoured and privileged that people trust me to photograph their beloved furry friends. I have three future goals. One is to continue to nurture the Houndstooth Studio core business by focusing on providing our clients with exceptionally high quality images, products and services.

My second goal is to continue to do whatever I can to promote and support effective animal rescue and conservation organisations. There are so many species that need help right now and so many great animal organisations that would benefit from additional assistance.

My third goal is to one day be interviewed by Ellen DeGeneres on her talk show, speaking about animal rescue and the value of disabled pets.
10. What advice do you give aspiring writers?
My advice to aspiring writers would be to first and foremost do it because you love it. Don't put pressure on yourself for it to be anything more than a joy. I really do believe that if you do what you love, and work hard, good things will follow. I wish this for everyone.   
Thanks for playing Alex!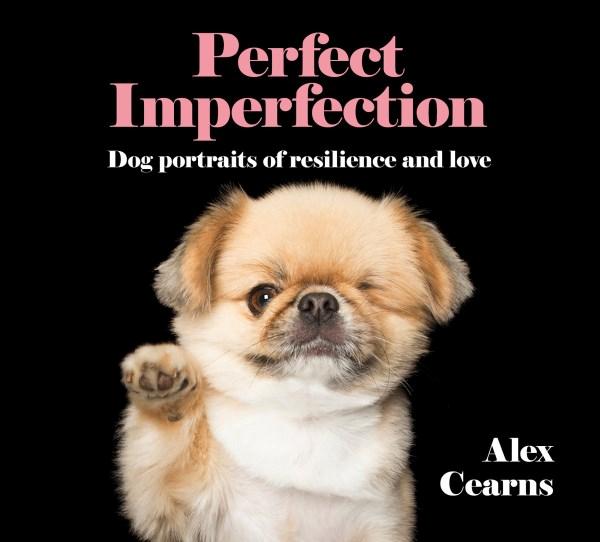 Perfect Imperfection
Dog Portraits Of Resilience And Love
In this inspiring portrayal of difference, Alex captures the intrinsic beauty and spirit; the sweetness, resilience and strength of 60 perfectly imperfect dogs. They adapt to their unique bodies without complaint, they survive with determination and they live with joy. The bond between these endearing doggos and their humans shines through - and sometimes they even save each other.
For anyone who's ever loved a dog...
About the Contributor