Those Other Women
by Nicola Moriarty
Review by Sarah McDuling
Super addictive, cleverly plotted and ridiculously relatable, Those Other Women by Nicola Moriarty is yet another captivating read from the wildly talented Moriarty family. I raced through this book in a single sitting and was genuinely upset when I had to part ways with the characters in the end. This is definitely one of those books where the characters begin to feel like your new best friends within the first few chapters.
Polly has never wanted children and believed that her husband felt the same way. It comes as quite a shock when she finds out her best friend and her husband are expecting a baby together. Deeply wounded and sick of having to defend her decision not to have kids, Polly and her new friend (the fun-loving and adamantly child free Annalise) start a Facebook Group for women like them – those who have decided against having children.

Meanwhile Frankie is a working mother of two who feels unfairly judged by stay-at-home mothers and bullied by the childless women at work who feel that mothers have an unfair advantage when it comes to flexible work hours. She is a member of a Facebook group for mothers and though she enjoys the support she gets from the online community, she often feels she is being criticised by other mothers.
Polly, Annalise and Frankie soon find themselves on opposite sides of a bitter online conflict that quickly spills over into real life. Secret vendettas, diabolical plots and double crossing agents abound as the dispute grows increasingly aggressive. It's mothers against non-mothers, stay-at-home mums against working mums, the deliberately child-free against the regrettably childless. Most of all, it's women against women!
The best thing about this book is that both side are right and both sides are wrong. There are no villains here – just misunderstandings and deep seated insecurities turning potential allies into enemies. And it is all so amazingly entertaining! Fraught with drama and intrigue, this book is literally impossible to put down.
Nicola Moriarty writes with such wit, insight and emotional depth. There is a playful sense of humour in her dialogue and an instantly endearing quality to her characters. She also has an amazing ability to inject drama and sinister suspense into ordinary social situations. Facebook groups become like feuding cabals in this tale of female friendship, betrayal and rivalry. A charity dinner becomes a tense battlefield in which sworn enemies collide. Office gossip carries the weight and gravitas of international espionage. It's awesome!
As always, it's really hard to discuss a book by any of the Moriarty sisters without also mentioning the other two sisters. When one family produces three such talented authors it's difficult not remark on the fact. It's like having a conversation about a Bronte novel – inevitably you end up talking about all three Bronte sisters. Those Other Women is actually the first Nicola Moriarty book I've read which is clearly a huge oversight. I've long been a fan of Liane Moriarty and Jaclyn Moriarty, so it should come as no surprise that I enjoyed this book so much. In this case, it's clear that all three Moriarty sisters are master storytellers.
Perfect for fans of all the above mentioned Moriartys as well as anyone who enjoys thoughtful, whip-smart and emotionally rich contemporary fiction. Learn more.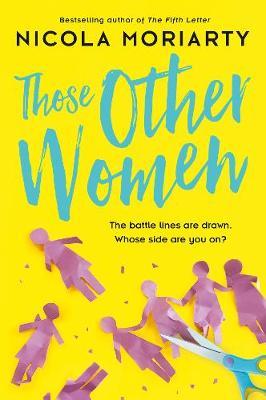 Those Other Women
Mums versus Non-Mums equals war.
A rivalry that was once harmless fun is about to spiral out of Poppy and Annalise's control.
Because one of their members is a wolf in sheep's clothing. And she has an agenda of her own...
About the Contributor
Sarah McDuling is Booktopia's Senior Content Producer and Editor of The Booktopian Blog. She has been in the bookselling game for almost a decade and a dedicated booklover since birth (potentially longer). At her happiest when reading a book, Sarah also enjoys talking/writing/tweeting about books. In her spare time, she often likes to buy a lot of books and take photographs of books. You can follow her on Twitter and Instragram @sarahmcduling
Follow Sarah: Twitter