Guest blog by Josephine Moon, author of Three Gold Coins
"Lara Foxleigh felt the slight tremor in her legs with every step through the narrow cobblestoned street and knew it wasn't just from the jet-lag; every moment since she'd arrived here yesterday had tested her confidence."
In 2016, I was working on a manuscript for my fourth book, which was about two sisters, Lara and Sunny Foxleigh. It was set in the Cotswolds, and it wasn't working. I did what any sensible author would do—I jumped on a plane and escaped to Italy!
On my first day there, I was walking with my sister through narrow, hectic, cobblestoned-streets in Rome on our way to the Trevi Fountain, when I spied an elderly man up ahead, struggling with his walking stick across the uneven ground. He was supported by a younger woman, but they didn't seem to fit together. He really captured my attention. I had dozens of unanswered questions about him. Who was he? Why was he struggling through this street? Who was the woman next to him? Did he need help? I was so captivated that I pulled out my phone and took a photo of him.
A week later, I was in Tuscany on a writing retreat.
"With the sky turning a gentle rose colour, she could pick out the details of the many properties that made up the bowl of the valley in front of her. From her vantage point up on the ridge, she could see a mustard-coloured villa to her right that loomed over its yellow fields, next to a white church with a bell tower. To her left, four white villas nestled close together, overlooking a slope planted with rows of green vines."
As a group, while we were sitting around a table in the shade of the trees next to a sixteenth century villa overlooking the valley below, my mind returned to the elderly man in Rome. He became the inspiration for the opening scene of Three Gold Coins. With the retreat group's encouragement, I let go of my Cotswolds story and plucked Lara and Sunny Foxleigh out of that narrative and transplanted them into this new one, set across Brisbane and Italy.
All of my novels are full of mouth-watering food scenes and this one is certainly no different, the sights, tastes and aromas of Italian food celebrated throughout. The landscape, the warmth of the family culture, the architecture, and a visit to a goat farm, all became glowing points of inspiration to further the development of the story.
Needless to say, I am so glad I went to Italy and found this story and I hope I get back there again one day soon. I suspect there are many more worthy stories in Italy just waiting to be uncovered.
---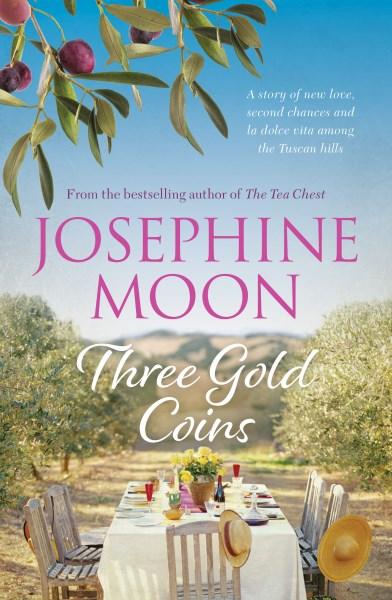 Three Gold Coins
For readers of Monica McInerney, Jojo Moyes, Fiona McIntosh and Rachael Johns, comes a deliciously complex novel of families, food, adversity, hope and love.
One coin for love, one for marriage, one to return to Rome.
Two days ago, Lara Foxleigh tossed three gold euros into the Trevi Fountain. Now, she is caring for a cranky old man and living in a picturesque villa, ...half a world away from her home and the concerns of her loving family.
Soon, it seems as if those wishes she made in Rome just might be coming true, and she may even be able...
About the Contributor