Obsidio by Amie Kaufman and Jay Kristoff
Review by Sarah McDuling
Obsidio is the final book in the Illuminae trilogy and oh my gosh, what a spectacular finale!!!!
I love this series so much, it's such a wild, crazy-amazing thrill ride of awesomeness. Every book is packed full of witty banter, lovable characters, a riveting plot that moves along at breakneck speed, and so much raw emotion that it's not unusual to find yourself laughing at the beginning of a chapter and then crying by the end. I did so much laugh/crying during Obsidio and can't wait to read it all over again!
Obsidio brings The Illuminae Files to an absolutely perfect and incredibly satisfying conclusion. The characters from previous books are all brought together on the planet of Kerenza, along with a cast of compelling new characters. Our two star-crossed heroes are Asha and Rhys, a couple with a complicated history who now find themselves on opposite sides of a violent conflict.
There are so many things to praise about this series. The creative narrative format provides a truly unique reading experience. The plot unfolds via a collection of emails, documents, diagrams, comic strips, IM chats, video transcriptions and sketches. It really feels as though you are being transported into a vividly imagined world. It's as though the reader becomes a fly on the wall, privy to private conversations between characters and top secret files. The result is a truly visceral storytelling event –  you don't just read these books. You live them. (I mean, hopefully you live. The death toll in this series is notoriously high!)
Punchy, poignant, high-octane, thoughtful, dynamic, hilarious, heartbreaking, and ridiculously entertaining – I cannot recommend this series enough. I could easily produce about a million more adjectives in praise of these books. And talk about a satisfying ending – I was so utterly blown away by Obsidio I felt like bursting into a round of applause when I got to the end.
Live a life worth dying for and read these books. Trust me, you will love every word. And every picture. And map. And diagram. And artwork. You'll love it all!! Learn more.
Read Tanaya's review of Obsidio here.
Listen to Booktopians Sarah, Bron and Tanaya chat with Amie Kaufman and Jay Kristoff about Obsidio below: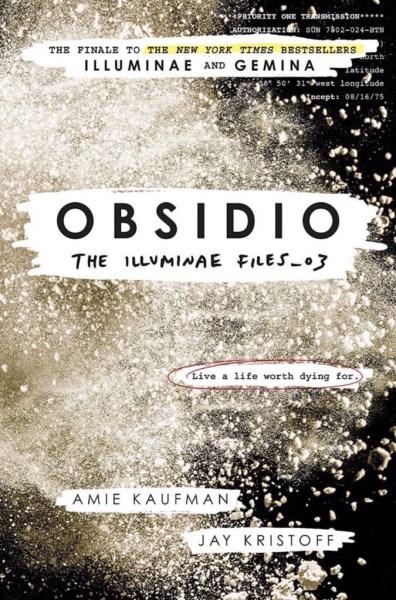 Obsidio
The Illuminae Files: Book 3
Kady, Ezra, Hanna and Nik narrowly escaped with their lives from the attacks on Heimdall station and now find themselves crammed with 2,000 refugees on the container ship, Mao. With the jump station destroyed and their resources scarce, the only option is to return to Kerenza--but who knows what they'll find seven months after the invasion?
Meanwhile, Kady's cousin, Asha, survived the initial BeiTech assault and has joined Kerenza's ragtag underground resistance. When Rhys--an old flame from Asha's past--reappears on Kerenza, the two find themselves on opposite sides of the conflict. With time running out, a final battle will be waged on land and in space, heroes will fall, and hearts will be broken.
About the Contributor
Bronwyn Eley is new to the book industry, having previously served in the Royal Australian Air Force & even spent some time as a barista until entering the exciting world of Booktopia. Books are her true passion. Bronwyn writes in her spare time, often has her face buried in a book and enjoys keeping fit (which she undoes by eating loads of chocolate) with Martial Arts and personal training. She can't answer what her favourite book is but she has a soft spot for The Host (Stephanie Meyer), Peter Pan (J.M Barrie) & Outlander (Diana Gabaldon). Fantasy, sci-fi and YA make up the majority of her bookshelves.