Kate Forsyth, one of Australia's favourite novelists and the author of books including The Impossible Quest series, Bitter Greens, The Wild Girl and The Beast's Garden, continues her blog with us, giving her verdict on the best books she read in February 2018.
---
Truly Madly Guilty
by Liane Moriarty
I am a big fan of Liane Moriarty's books, and was eager to read her latest exploration of the dark side of suburbia. She always has razor-sharp insights into contemporary life, cleverly wrought and suspenseful plots, and enough warmth to balance out the dark undertones. Truly Madly Guilty has a BBQ at its heart, with three couples torn apart by what happened that sunny afternoon. There is Clementine and Adam, a cellist and a marketing executive who have two gorgeous little girls. Erika went to school with Clementine and has to deal with a difficult mother who refuses to ever throw anything out. She and her husband Oliver cannot have children but lavish love on Clementine's daughters. Their neighbours, Tiffany and Vid, are rich, flamboyant and colourful, and their ten-year-old daughter Dakota has her nose in a book all the time. Something happens that day that shakes all their worlds… but Liane Moriarty skirts around the cataclysmic event, keeping the reader guessing. Love, sex, hurt, betrayal, unkindness, and misunderstandings abound. A great holiday read. Learn more.
---
The Secrets at Ocean's Edge
by Kali Napier
Set during the Great Depression, The Secrets at Ocean's Edge tells the story of Lily Hass and her daughter Girlie who have just moved to the small West Australian town of Dongarra, where Lily's husband Ernie hopes to kick-start a new business running a guest house. Both Lily and Girlie struggle to make new friends and adapt to their new home. Secrets from the past shadow their lives, and things are complicated by the arrival of Lily's brother, Tommy, who struggles to deal with shellshock from his experiences in the war. The narrative moves between these four points-of-view, allowing the reader a deeper knowledge of true events than any one of the characters. Themes addressed by the story include the casual racism of Australia in the 1930s, the horror of war, and the difficulties of holding a family together in tough times. Girlie was my favourite character – shy, unsure of herself, yet filled with compassion for others and a true desire to help. Simply and beautifully told, this is a poignant and memorable novel. Learn more.
---
Begone the Raggedy Witches
The Wild Magic Trilogy: Book 1
by Celine Kiernan
Celine Kiernan is an Irish writer, illustrator and animator best known for her wonderful Moorehawke fantasy series for young adults, which I read and loved many years ago. Begone the Raggedy Witches is aimed at a younger readership, but it shares the vivid and atmospheric world-building, the strong and empathetic characters, and the powerful plot engine which keeps the story whizzing along.
The story begins when Mup realises that their car is being followed home from the hospital by a troop of dark, raggedy, malevolent-looking witches. Her great-aunt has just died, and the raggedy witches want to seize Mup's mother Stella, who is the heir to the throne in a magical land that presses close against our own.
Celine Kiernan's writing is exquisite, but done with such a light hand it does not impede the progression of the plot at all: 'The witches were gone. That was certain. There was no taint or tincture of them to the night, no trace of them in light or shadow.'
The ghost of her great-aunt saves Mup's mother, although she is 'nothing but a silver outline… filled in with the night.' The witches then kidnap Mup's father, to set a trap for Stella. Mup sets out with her mother, baby brother and pet dog to save him. Yet the magical world is ruled by a cruel and terrifying witch – Mup's grandmother.
Mup is a delightful character. Funny, quirky, kind-hearted and brave, she stands up for what she thinks is right. After deciding to cross into the other world, she dresses herself in rainbow-striped tights, lime-green gumboots with frog faces, a pink tulle tutu, and an orange hat with rabbit ears. As Celine Kiernan writes: 'There was something about the witches – their cold, dark eyes, maybe, their fluttering black clothes – that made Mup want colours.'
The action hurtles along, with lots of surprising twists and revelations, culminating in a petrifying denouement with the queen, in which Mup triumphs because of her goodness and kindness and trust in the world.
This is the loveliest children's fantasy book I've read in a while, with a delightful heroine supported by memorable characters (including a tongue-tied raven who is really a boy), and the promise of more adventures to come. Wonderful in every sense of the word. Learn more.
---
Two Steps Forward
by Graeme Simsion, Anne Buist
A charming romantic comedy set on the Camino Trail, Two Steps Forward is told in alternating chapters between the voices of Martin, an engineer from Yorkshire, and Zoe, an artist from California. Both are struggling with hurt and bereavement in their lives. Martin is in the midst of a messy divorce, and trying to rebuild his relationship with his teenage daughter. Zoe's husband has recently died, leaving her exhausted in mind and body, and not sure how to go on in her life alone.
The couple first meet in Cluny, France, and each decide independently to walk the ancient pilgrims' way to Santiago in north-western Spain. Their paths cross and part and cross again, along with those of various eccentric and sometimes exasperating minor characters. The tone is light and amusing, with running jokes about Zoe's difficulty in eating vegan food in a country that adores its food, and Martin's struggle to learn to take advice. Along the way, however, deeper issues emerge. Each must learn a few lessons about life and their own inner demons before they are ready to embrace a relationship together. Their story is told in alternating chapters by this husband-and-wife writing team, with Graeme Simsion writing in the voice of mechanically-minded Martin, and Anne Bruist writing from the point-of-view of zany Zoe. This is the sort of book that you can easily imagine being filmed, with strong set pieces, gorgeous scenery, and lots of heart and humour.  Learn more.
---
The Sisters' Song
by Louisa Allan
A deeply moving examination of two sisters' entwined lives in Tasmania during the 1930s & '40s, The Sisters' Song is an assured debut from Western Australian writer Louise Allan.
The story begins in 1927, with two little girls shocked and grieving the death of their father. Ida is the elder of the sisters, and thought of as the 'bad' one, being outspoken and unruly. Nora, golden-haired and musical, is the 'good' one, always doing as she is told. The death of their father and the deep paralysing grief of their mother changes everything. The girls are sent to stay with their grandmother, who encourages Nora to sing. She is soon starring in the school musicals, while Ida feels left out and envious. Her jealousy causes a rift to widen between the sisters, and eventually Nora runs away to pursue her dream of being an opera singer.
Ida, meanwhile, falls in love and marries, but her longing for a child is cruelly denied as miscarriage follows miscarriage.
Then Nora returns, a child in her belly and her career in tatters. Married to a man she does not love, mother to children she does not want, she bitterly resents the mistake which destroyed her dreams. Ida, meanwhile, cannot help but feel that her golden sister has everything she ever wanted, and fails to appreciate it.
The story unwinds over the span of the two sisters' lives, as they struggle with the consequences of their choices. Love, grief, loss, betrayal, and the enduring love of the two sisters weave a heart-breaking story that lingers long in the memory. Learn more.
---
Magpie Murders
by Anthony Horowitz
A wonderfully intriguing murder mystery within a murder mystery, the structure of this latest offering by UK writer Anthony Horowitz is both boldly unconventional and fiendishly clever. The story begins when Susan Ryeland, an editor at a small London publisher, received the latest manuscript of their most successful author, Alan Conway.
Entitled Magpie Murders, the novel tells the story of the latest investigation by Conway's fictional detective, Atticus Pünd. He is a German-Greek Jew who has survived the Nazi death camps to make his living solving mysteries in small English villages. Atticus Pünd is clearly a homage to the detectives created by the queens of classic British crime such as Agatha Christie, Dorothy Sayers, and Ngaio Marsh, and the story that Susan Ryelands reads follows the pattern of these much beloved old-fashioned mysteries.
There's a manor house owned by a much-disliked local squire, a vicar who rides an ancient bicycle, a nosy parker who spies on her neighbours and writes all her observations down in a notebook, an antique dealer with a shady past, an under-appreciated artist supported by his adoring doctor-wife, and a pair of young lovers tainted by suspicion.
Then Susan reaches the end of the manuscript and realises the final chapter – with the traditional revelation of the murderer's identity – is missing.
And then the author turns up dead.
Susan must try and find the missing pages and solve the murder, the motive for which lies within the pages of the manuscript she has just read.
Like all murder mysteries, to say any more would be to spoil the story. But this is a cracker of a mystery, and a must-read for anyone who loves a good old-fashioned murder mystery with a twist. Learn more.
---
Before I Let You Go
by Kelly Rimmer
A contemporary family drama set in Alabama, Before I Let You Go is a powerful and heart-wrenching examination of the lives of two sisters and their shared love for a tiny baby. The story begins when Lexie Vidler – a doctor with a carefully built perfect life – hears her younger sister's voice for the first time in years. Annie is a heroin addict who has caused a great deal of harm to Lexie's life before. Lexie had sworn to have no more to do with her, but this time Annie is really in trouble. She's pregnant, and going into premature labour. But that's not the worst of it. Under Alabama's draconian 'chemical endangerment' laws, Annie could have her baby taken away from her and be sent to prison.
In her struggle to help Annie and her tiny, fragile baby, Lexie finds her own world spinning out-of-control. She may lose her job, her fiancé, her future. Annie has been ordered into rehab, and Lexis must look after her newborn child, who is undergoing her own terrible withdrawal from her mother's heroin use. Meanwhile, Annie struggles with her demons, born out of long-hidden secrets from their childhood living within a fundamentalist religious sect.
This is a fast-paced page-turner of a novel, written in spare straightforward prose that moves between Lexie's point-of-view and the journal that Annie writes while in therapy. The choices the sisters must make are agonising and heartbreaking, and so very relevant in the world in which we live. A humdinger of a novel. Learn more.
---
Saga Land
by Richard Fidler, Kari Gislason
I loved Richard Fidler's earlier book, Ghost Empire, about his journey to Constantinople with his son, which entwined travel writing with history and legend in a very personable and beguiling way. And I've been interested in Iceland and its astonishing sagas for quite some time. So, I was keen to read Saga Land from the second I heard about it.
Subtitled 'The Island Of Stories at the Edge of the World', Saga Land is the story of how ABC broadcaster Richard Fidler became friends with one of his guests, the author and academic Kári Gíslason. After his interview on Richard's show Conversations, the two stood chatting by the lift for more than an hour. They shared a deep interest in the sagas of Iceland – 'true tales… of blood feuds… dangerous women, and people who are compelled to kill the ones they love the most,' as the blurb describes these ancient and eerie stories.
Eventually Richard and Kári travelled together to Iceland, to explore the landscape and history and folklore of this bare fierce country. Kári was born in Iceland, but did not know his father or his father's other family until he was an adult. So, for him, the journey is a homecoming and a chance to explore his ancestral roots. For Richard, it's an adventure and a discovery.
Like Ghost Empire, the book weaves together memoir, travelogue, history and mythology, which is one of my favourite types of books to read. The memoir and travelogue sections of the book feel real and warm and intimate. The recountings of the ancient sagas are fresh and clear and simple, bringing them back to powerful and immediate life. And the history of Iceland is bloody and fascinating. I also really loved the photographs included in the book.
Usually I read non-fiction in small bites, squeezed in between my reading of novels. I read Saga Land in one big gulp. It was utterly mesmerising. Learn more.
---
Kate Forsyth wrote her first novel aged seven and has now sold more than a million books worldwide. Her most recent book, Beauty in Thorns, is a reimagining of Sleeping Beauty set amongst the passions and scandals of the Pre-Raphaelites. Other novels for adults include Bitter Greens, which won the 2015 American Library Association award for Best Historical Fiction; and The Wild Girl, which was named the Most Memorable Love Story of 2013. Kate's books for children include the collection of feminist fairy-tale retellings Vasilisa the Wise & Other Tales of Brave Young Women, illustrated by Lorena Carrington, and The Impossible Quest fantasy series which has been optioned for a film. Named one of Australia's Favourite 15 Novelists, Kate has a BA in literature, a MA in creative writing and a doctorate in fairy tale studies, and is also an accredited master storyteller with the Australian Guild of Storytellers. She is a direct descendant of Charlotte Waring Atkinson, the author of the first book for children ever published in Australia.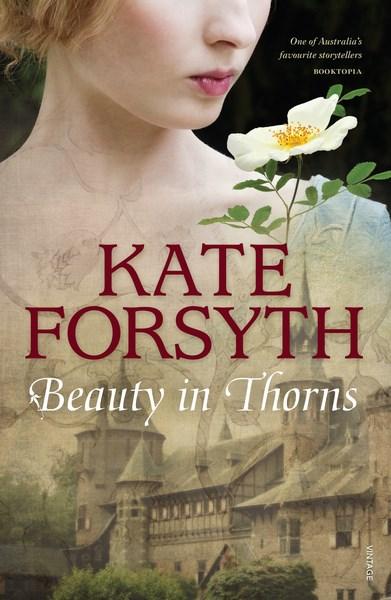 Beauty in Thorns
A spellbinding reimagining of 'Sleeping Beauty' set amongst the wild bohemian circle of Pre-Raphaelite artists and poets.
The Pre-Raphaelites were determined to liberate art and love from the shackles of convention.
Ned Burne-Jones had never had a painting lesson and his family wanted him to be a parson. Only young Georgie Macdonald – the daughter of a Methodist minister – understood. She put aside her own dreams to support him, only to be confronted by many years of gossip and scandal.
Dante Gabriel Rossetti was smitten with his favourite model, Lizzie Siddal. She wanted to be an artist herself...
About the Contributor