There's nothing quite like seeing your friends succeed doing something they love. Which is why, over the weekend, we had cause to celebrate. Booktopia's long-term friend and bestselling author, Aaron Blabey, had some amazing news. Aaron's The Bad Guys – Mr. Wolf, Mr. Snake, Mr. Shark, and Mr. Piranha – are going to be gracing the big screen soon!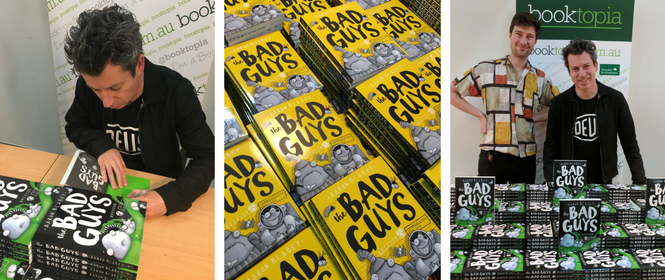 You may have heard of Aaron and his many incredible creations – from Pig the Pug and Thelma the Unicorn to Piranhas Don't Eat Bananas and, of course, The Bad Guys. There's just something about Aaron's humour that has stuck with us (and his many national and international fans) over the years.
The Bad Guys revolves around four 'bad' guys who might sound bad, look bad and even smell bad… but all they want is to be good! If you and your kids haven't yet read this hilarious series, get going now because by the time the movie comes out, they'll be itching for front-row seats, lots of popcorn and laugh-out-loud fun.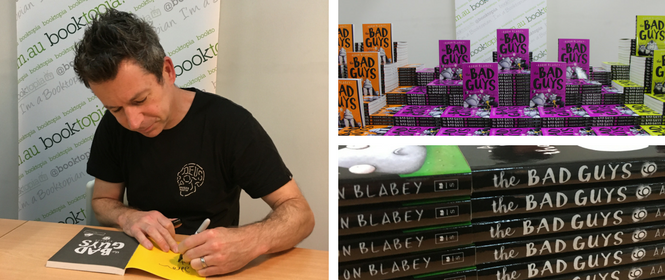 DreamWorks Animation has announced The Bad Guys animated film is in development with screenwriter Etan Cohen (of Tropic Thunder, Madagascar 2 and Men in Black 3) working on the film, and Aaron Blabey one of the executive producers.
No word yet on when the movie will be released, but you won't have to wait long to find out what the bad guys get up to next… the next instalment – The Bad Guys Episode 7: Do-you-think-he-saurus?! is due out in May.
Want to know a bit more about Aaron? Writers, readers and book-lovers everywhere will love hearing his inspiring story:
Watch the trailer for The Bad Guys below: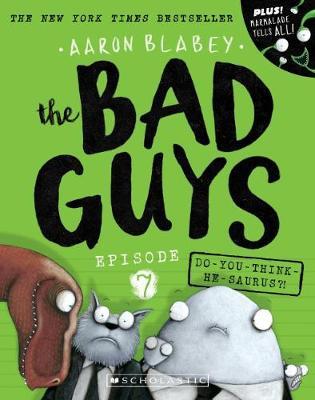 Episode 7: Do-you-think-he-saurus?!
The Bad Guys
The dawn of time! Nothing on earth could rival the terrifying power of the dinosaurs. Except maybe that wolf over there...Yeah, the one standing next to the snake and the shark and that other sardiney-looking thing.
Huh?!
This is all wrong. This is all bad. This is all awesome. Its time to get your jurassic on, baby. Its time... For the Bad Buys Episode 7!
About the Contributor
Bronwyn Eley is new to the book industry, having previously served in the Royal Australian Air Force & even spent some time as a barista until entering the exciting world of Booktopia. Books are her true passion. Bronwyn writes in her spare time, often has her face buried in a book and enjoys keeping fit (which she undoes by eating loads of chocolate) with Martial Arts and personal training. She can't answer what her favourite book is but she has a soft spot for The Host (Stephanie Meyer), Peter Pan (J.M Barrie) & Outlander (Diana Gabaldon). Fantasy, sci-fi and YA make up the majority of her bookshelves.