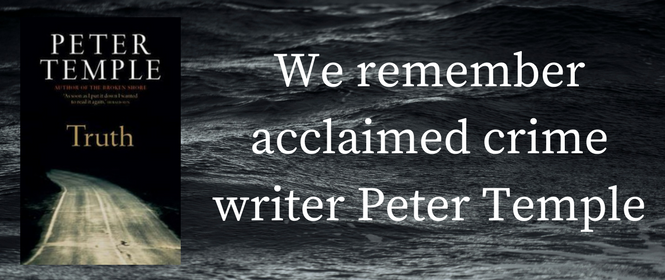 "As far as I am concerned, I write novels, and other people can do the labelling." – Peter Temple
This is the stand Peter Temple took when his novel Truth won the Miles Franklin award, generating a bit of contention over the fact that his 'crime novel' won Australia's most important literary award. But it cannot be denied that Peter Temple's work has been exemplary over the years.
The bestselling and multi-award-winning author has passed away at the age of 71, after a short battle with cancer. Peter died at his home in Ballarat, Melbourne, on Thursday March 8th, with his wife Anita and their son Nicholas at his side.
Once upon a time, Peter worked extensively as a journalist and editor for newspapers and magazines in many countries. Since making the change from journalist to writer, he has won five Ned Kelly Awards, the Duncan Lawrie Dagger award and the Miles Franklin Literary Award. He has left behind an incredible legacy of books that have been published in more than twenty countries.
Since Peter kept the news of his illness within the family, his passing has come as a shock for authors, publishers and fans around the world. It is believed that Temple was working on the third book in his current series, tentatively titled The Light on the Hill, that started with The Broken Shore (2005) and continued with the Miles Franklin award-winning Truth (2010). The question now remains of what will happen to this series, as well as his Jack Irish series, which has been made into a television series starring Guy Pearce.


My sincerest condolences to Peter Temple's family and friends. It's truly an honour to play one of your most beloved creations. Thank you for all the colourful characters you've introduced me to and the dark paths you've led me down. Respect and Peace PT…..xxx

— Guy Pearce (@TheGuyPearce) March 11, 2018
Temple's Melbourne-based publisher Michael Heyward (Text Publishing) has said that Peter Temple "was a defining writer for us."
About the Contributor
Bronwyn Eley is new to the book industry, having previously served in the Royal Australian Air Force & even spent some time as a barista until entering the exciting world of Booktopia. Books are her true passion. Bronwyn writes in her spare time, often has her face buried in a book and enjoys keeping fit (which she undoes by eating loads of chocolate) with Martial Arts and personal training. She can't answer what her favourite book is but she has a soft spot for The Host (Stephanie Meyer), Peter Pan (J.M Barrie) & Outlander (Diana Gabaldon). Fantasy, sci-fi and YA make up the majority of her bookshelves.