She's one of Australia's most natural and intelligent performers. Swinging fast and boldly between refined social satire and a guilty gorging on junk TV, you'd be hard pressed to find a more engaging, thought-provoking comedy experience. Of course we're talking about Nelly Thomas.
Having won the Triple J Raw Comedy competition in 2003, Nelly has spent her time ever since then not just as a comedian, but as a public speaker, health advocate and writer!
What Women Want was Nelly's first book and now she's back with Some Girls, showing girls everywhere that they can be whoever they want to be. Check out Nelly's guest blog post with us about Some Girls.
---
Reading with Girls
By Nelly Thomas
Conventional wisdom suggests that it's easier to get little girls to read than it is boys.
To be honest, I'm not sure why that is but it's pretty clear that girls generally read earlier and more frequently than boys. By adulthood, the stats even out but, in the early years, girls are often ahead of boys in this respect.
However, while I'd argue that reading rates among girls are great, I'd caution that what they're reading and how they're reading could do with closer examination.
There's been a wonderful explosion in "Girl Power" books over the last decade or so.
My favourites are books like Good Night Stories for Rebel Girls, The Paperbag Princess and The World's Worst Princess, and there are many others. There's A Mighty Girl and various campaigns to end gender-specific categorisation of children's books, and a push for kids' books to be more inclusive and diverse generally. However, any parent or carer of young children will still be struck by how entrenched rigid gender roles are in children's literature, even in 2018.
Many children's books still show boys being active, high-energy and physical and girls as appearance-focussed, gentle and cerebral-emotional. Of course there are kids who fit these stereotypes, but many don't and none do completely. We also know that these ideas can become self-fulfilling – that they're at least equally learned as they are innate.
What to do?
Well, if you're me and you've got a girl who doesn't confirm to gender stereotypes, you write her a book!
My youngest daughter started getting teased for her short hair and awesomeness – she's boisterous, loud and her favourite things include Hulk and Power Rangers – at about the age of 3.
After I recovered from my shock – IT'S THE TWENTY-FIRST CENTURY – I found a number of books for her, but almost all of them were for older kids who were literate. Instead of waiting for her to learn to read, I wrote Some Girls. It's a simple but beautiful picture book for kids 0-7 that aims to challenge gender and other stereotypes. There are girls in it who like pink and play with dolls, but there are also girls with short hair who like worms. There's a range of kids from different backgrounds and with different abilities. There are affirming messages, and the primary aim is to instil confidence in all girls, no matter who they are and what they like.
Of course, not everyone is going to write a book.
The other – much easier! – way to challenge rigid gender roles is to gently question stereotyping in your kids' books. If the book is The Magic Faraway Tree (my favourite book of all time) I share all the joy about the land of Do-As-You-Please and the excitement about Dame Washalot's water soaking the kids, but when the boys are assumed to be protectors and the girls followers, I ask why. If the kids show interest in the question, I explain that people used to think boys and girls had strict roles but that we don't anymore. If all the kids are white, able-bodied and so on, I note that too.
Similarly, if a boy is teased for crying or told to "toughen up", I say that ball boys cry and that no-one is tough all the time. If highly gendered language like "fireman" or "policeman" is used, I just edit it on the spot and say "firefighter" or "police officer". I don't necessarily go into why or even talk about it, I just change it as I read. If the pictures are all of men, I question it. I might say something like, "that's weird, there's no girls there" and then move on. Most the time, I do just enough to plant the seed.
To be clear, I allow my kids to read anything they want.
I don't scoff, dismiss or ban books that are highly stereotypical – but I do question them. This has the twin benefits of encouraging their reading but also developing the critical thinking skills they're going to need in the world.
How do you read with girls?
The same way you should read as an adult: will full-throated love and a very big question mark.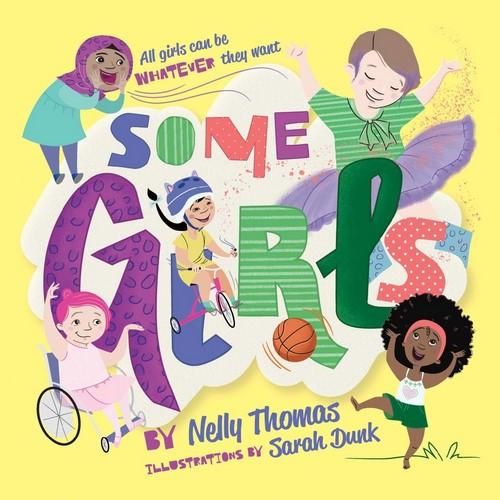 Some Girls
Some girls are good with cars and bikes. Some girls are good with art and kites. Some girls are good with puzzles and maths. And some girls are good with dolls and cats.
Some Girls is a story about how everyone is different and special in their own way. It's about knowing that you can do, and be, anything you want.
About the Contributor