The Booktopia Book Guru asks
Eleanor Limprecht
author of The Passengers

Six Sharp Questions
____________
1. Congratulations, you have a new book. What is it about and what does it mean to you?
The Passengers is about an Australian war bride, Sarah, who meets an American GI during WWII and falls in love. She marries and moves to the US to live with him. Sarah travels as a passenger on one of the Bride Ships which reunited Australian women with the American men they had married or were engaged to during WWII. The Passengers is also about Sarah's granddaughter, Hannah, as she accompanies her grandmother on a cruise returning to Australia for Sarah's first visit since 1946. During the trip, Sarah is telling Hannah the truth about why she left and how she fell in love. Hearing these stories, Hannah struggles with some truths of her own. The book unfolds as a dual narrative with two timelines: one historical and one contemporary.
This story means a lot to me, as I am from the United States and I moved to Australia when I fell in love with an Australian. When I heard the stories of war brides, I felt a strange kinship with them. I knew what it meant to give up your homeland for love, but I also realised how lucky I have been to have accessible international travel, email, Skype, and all of the other ways which let me keep in touch with my American family. We so frequently hear the male narrative of war, but for these women war was a different experience altogether and it wasn't one I had heard much about.
2. Time passes. Things change. What are the best moments that you have experienced in the past year or so?
Some of my best moments were from when I was researching for this book. Because part of it is set on a contemporary cruise ship and I have never been on a cruise, I took my nine-year-old daughter with me on a three-day cruise out of Sydney. I didn't realise, however, that shorter cruises are often treated as a 'booze-cruise' by some passengers, and I had to explain to my daughter some very immature adult behaviour!
My best research moment, however, was meeting and interviewing two war brides from Australia who live on the West Coast of the United States, Joann Patterson and Dorothy Pence Berry. I didn't tell either of their stories specifically in The Passengers, but they gave me so much of that realistic detail of the time and the emotional resonance of what it meant to leave their homelands behind. I still get goose bumps thinking about it. I also recognised in them that feeling of being split between two countries – completely at home in neither.
3. Do you have a favourite quote or passage you would be happy to share with us? It doesn't need to be deep but it would be great if it meant something to you.
This is from when Sarah is leaving Sydney, and captures that sense from other Australians – men particularly – that the war brides were betraying their country by marrying 'Yanks'. So the women had the sorrow of leaving and yet were also made to feel bad for the choice they had made.
"There were streamers stretched between the boat and the dock, and on the pier a band played 'Waltzing Matilda' and 'Now is the Hour.' All around us other girls were waving too, many of them in tears. I held out one arm to Dot and with the other blew her a kiss. The sun was beginning to set over the city when, after three deep blasts of the ship's horn, two sturdy small tugs began to pull us out to sea. Dockworkers in boats around us untied mooring lines and I heard a few of them calling out, 'You'll be sorry!' Brynn leaned over the railing and shouted, 'No I won't!' to the applause of the other brides and hoots from American sailors."
4. Writers have often been described as being difficult to live with. Do you conform to the stereotype or defy it? Please tell us a little about the day to day of your writing life.
I don't think I'm too difficult to live with, but I am scatterbrained and messy. Piles of books are everywhere in my house. My kids know that I will always spend money in a bookstore, so they only need wait until we're in one to say: 'I have nothing to read!'
I do let the dishes pile up when I'm in the midst of something, and we might have the most basic of dinners (thank you Old El Paso for your taco kits), but I find with the demands of life and other work like teaching, my writing comes in fits and spurts. I am not one of those 'I write every single day of my life' writers. It has to work within the space I have for it, which probably makes me less precious and more effective. That time at my desk I'm not sitting around waiting for the muse to find me, I'm off to find her.
5. Some writers claim not to be influenced by the needs of the marketplace, while others seem obsessed by it. How does the marketplace affect your writing?
I don't think about it while I'm writing. I think about putting one foot in front of the other. I don't even think about publication, because it would stop me from writing the way I would like to write (which is as though no one I know will ever read it).
6. Unlikely Scenario: You've been charged with civilising twenty ill-educated adolescents but you may take only five books with you. What do you take and why?
All of these books capture adolescence for me – the struggle to be your authentic self, regardless of what the group thinks. The realisation that your parents are hugely flawed. The difficulty of figuring out how to best exist in a world that seems at times to be unfathomably cruel.
Thank you for playing!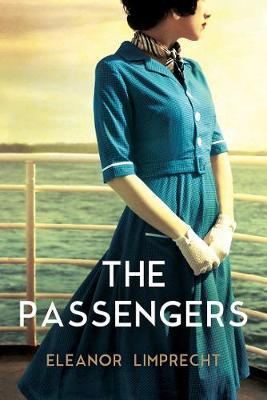 The Passengers
A war bride and her granddaughter are on a cruise from San Diego, California to Sydney, Australia. The grandmother, Sarah, was born in Australia and has not returned since she left in 1946, after she married an American serviceman during World War II and travelled to the US after the war on the 'Bride Ship' the USS Mariposa to start life with her new husband. During the journey back to the country of her birth, Sarah tells her granddaughter Hannah the story of her life...
About the Contributor