Are you a Martha May? Martha is a sheep in Excuse Me! who tries to hold in her farts. What is Excuse Me!, you ask? It's a new book by stand-up comedian and radio and television presenter Dave "Hughesy" Hughes and his wife Holly Ife. We've all experienced the panic when you need to let one rip but you're in an elevator or in a work meeting or next to your partner on the couch. But what if we didn't have to excuse ourselves at social events?
"Your farts are your friends and why deny your friends their desires?" – Dave
According to Dave farts should be accepted. Apart from funny stories about farting, Hughesy also tells us where the idea for the book came from, why they decided to write a picture book at all, and a possible second Martha May story. We certainly hope that this adorable book becomes a series that kids (and adults) will love for years to come. Because, let's be honest, who doesn't love a good fart story or joke every now and then?
There are a lot of lessons to be explored in the book as well. "I think Martha learns that there's a good balance between excellent manners and just letting one rip," says Holly.
"It's the longevity of books which is very special." – Dave and Holly
Listen to our full interview with Dave and Holly below: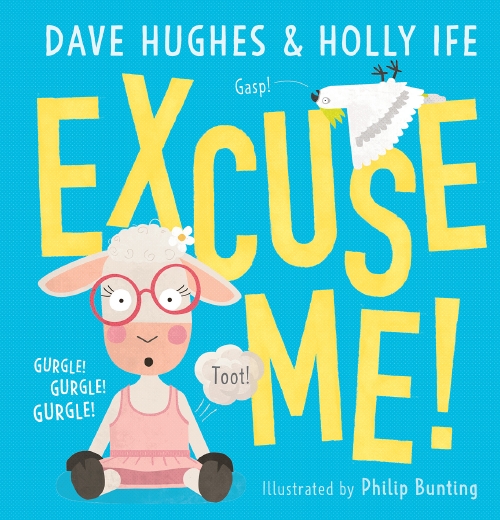 Excuse Me!
Martha May has marvellous manners. She always says please and thank you ... and she most certainly DOES NOT FART!
But what will happen on the day of the Baked Bean Bonanza?!
Catch a whiff of this hilarious tale about finally letting go, from Dave Hughes, Holly Ife and Philip Bunting.
About the Contributor