Guest post by Rachael Johns.
Growing up, although I loved reading Enid Blyton and then later The Babysitters Club series, I always wanted to be a primary school teacher. It wasn't until I was almost eighteen and suffering a severely broken heart that I turned to writing as a form of therapy/comfort, caught the bug and decided I wanted to be an author instead. It seemed a logical decision to abandon teaching and switch to a Bachelor of Arts in Writing.
I'm not one to dwell on the past and drown in regrets, but if I could change one thing in my past relating to my current career it would be that. While I'm sure writing degrees have improved in the twenty years since I began mine, you don't need a degree to be a published author and in some ways I think it can be a hindrance.
This year my eleventh full-length novel released in print in Australia and New Zealand and I have another ten books available digitally. Most of my books have been bestsellers and I regularly get emails from readers telling me how much reading my books has impacted them (in a good way), but I only just scraped through the honours component of my writing degree.
You see, I was writing what other people were telling me to write, not what I felt in my heart. My university lecturers were passionate about books and words – but not the same ones I was. They wanted their students to write the kind of stories that might one day win the Man Booker prize; I wanted to write the next Bridget Jones's Diary! And these two things were, sadly, not compatible.
For this reason, I spent years trying to write what I call a weird combination of literary chick-lit and thus all my attempts to submit manuscripts to publishers were rejected. In hindsight I can see that the books I was writing not only weren't marketable because they didn't fit a specific genre, but I didn't love writing them so how could I expect anyone else to love reading them?
It wasn't until I finally stumbled upon the Romance Writers of Australia (RWA) organisation, almost ten years after starting to write, that I gave myself permission to stop trying to write the book I thought I should be and follow my heart. The books that gave me the most joy were those about relationships – both romantic ones and also those between friends, family, etc – so I finally switched my focus to these kinds of books and set to learning how to write them instead.
It still didn't happen overnight – there was a lot I needed to learn before I was ready for publication. I believe those years were my writing apprenticeship, just like a plumber or electrician needs to do one to be qualified. But that apprenticeship did not happen at university for me because that's not where writers are created. Writers are born on the laps of parents who are readers, in the classrooms of passionate and encouraging school teachers, and in libraries and bookshops. Writers grow by talking and listening to other more experienced authors, through craft-specific workshops offered through writers' centres and organisations like RWA, but most importantly they grow through reading.
To be a writer, you must first be a reader – that is the biggest and most important prerequisite for this career – and you must also be prepared to put in the hard yards. I have a cupboard full of rejected manuscripts, but each one taught me something and helped me grow as a writer. It would have been so easy to have listened to the lecturer who almost failed my honours story and chosen an alternative 'easier' career path, but I'm glad I didn't.
Becoming an author isn't like becoming a teacher or a doctor. There isn't one specific pathway you must follow, because even if you do choose to do a writing degree and pass with flying colours, there's no guarantee of publication or a contract at the end of it. The key to getting published is not a Bachelor degree but a passion for story and the drive to achieve a dream.
My advice to aspiring authors? Read lots, work hard and believe in your dreams.
We talk with Rachael Johns about her new book The Greatest Gift. Listen to our interview here: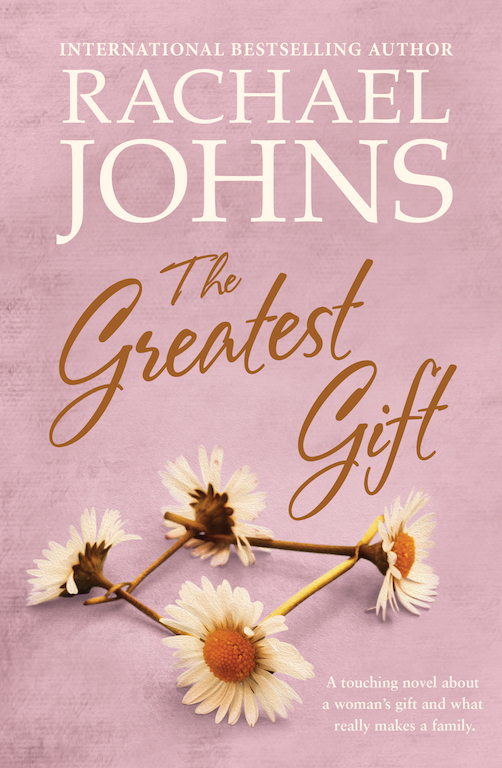 The Greatest Gift
Mother: Female parent of a child.
Mum: The woman who nurtures, raises and loves a child.
Radio host Harper Drummond lives for her career. Every day she meets fascinating people doing extraordinary things, but has begun to wonder whether there could be something more for her out there. She's financially secure, happily married to Samuel and has a great group of friends — what more could she want? It's only when she interviews one special couple that she starts to think about whether she could make a different kind of contribution...
About the Contributor