To write about a story of survival must be incredibly difficult, but Jelena Dokic has shown us once again her courage and spirit by taking us on her own journey in Unbreakable. Jelena talks to us about her feelings around the book and what has happened since.
"As hard as those subjects are, I think it's necessary." – Jelena
Once a refugee in Australia, Jelena went on to become No. 4 on the tennis court. Everyone was in awe of her but they didn't see the abuse at the hands of her father. It has come as a shock to us all, but for her a weight has been lifted and she is incredibly overwhelmed by Australia's support. Jelena felt that now was the time and whilst the process was cathartic, she has also been able to set the record straight.
"It was very draining… now that it's out, I feel like a weight has been lifted off my shoulders and I've wanted to talk about this for a while." – Jelena
We were incredibly lucky to have Jelena come by Booktopia for a chat and to us she is now even more Unbreakable.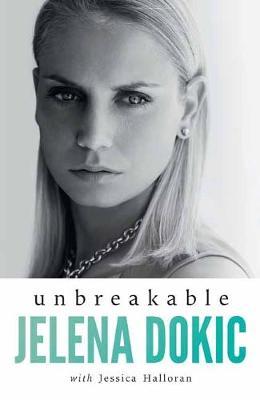 Unbreakable
This is a story of Jelena Dokic's survival. How she survived as a refugee, twice. How she survived on the tennis court to become world No. 4. But, most importantly, how she survived her father, Damir Dokic, the tennis dad from hell.
From war-torn Yugoslavia to Sydney to Wimbledon, she narrates her hellish ascent to becoming one of the best tennis players in the women's game, and her heart-breaking fall from the top. Her gutsy honesty will leave you in awe. Her fight back from darkness will uplift you. Most of all, Jelena's will to survive will inspire you.
About the Contributor