In 2017, Kerri-Anne Kennerley was inducted into the Logies Hall of Fame for her vibrant and enduring television career that has spanned over 50 years. And Kerri-Anne isn't done yet. Actress, singer and Australian TV personality, Kerri-Anne is a home-grown household name. She is the queen of television. But behind the glamour of a public life is a private woman. And a survivor.
Enter A Bold Life, Kerri-Anne's powerful and honest memoir about a young girl who chased her dream of being a cabaret star to New York, only to find herself stranded in a violent marriage to a dangerous drug addict. As a woman, Kerri-Anne's drive didn't waver and she built a remarkable 50-year career in one of the most male-dominated industries of all. Her name is synonymous with some of the most iconic moments in Australian TV history. Writing about such a life brought both highs and lows for the TV-star.
"Parts of it were a lot of fun and parts of it were agony." – Kerri-Anne
It's been a long, hard road for Kerri-Anne, on and off the screen. A Bold Life draws a spotlight onto some of her personal crises over the years, all of which she has handled with dignity and grace. She's reflected on a lifetime's memories, good and bad.
"I had the opportunity to go back." – Kerri-Anne
If you're wanting an extraordinary and inspiring read, or know someone who would devour one, grab a copy of Kerri-Anne's story A Bold Life. In the meantime, have a listen to our interview with Kerri-Anne about her life, her story and her new book: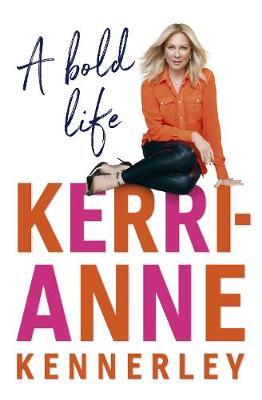 A Bold Life
Kerri-Anne Kennerley is Australia's queen of television. But behind the glamour of a public life is a private woman. And a survivor.
Honest, fabulous, powerful and poignant, this is Kerri-Anne Kennerley's own extraordinary and inspiring story of A Bold Life.
About the Contributor
Before entering the exciting world of books, Bronwyn served in the Royal Australian Air Force, travelled extensively and worked (still does!) as a barista on the weekends. Books are her true passion. Bronwyn's debut fantasy novel Relic is coming out in 2019 with indie publishing house Talem Press. They are to publish her entire trilogy called The Relic Trilogy. In her spare time, Bronwyn writes, reads and enjoys keeping fit (which she undoes by eating loads of chocolate) with Martial Arts and personal training. She can't answer what her favourite book is but she has a soft spot for Peter Pan (J.M Barrie), Outlander (Diana Gabaldon), Stardust (Neil Gaiman), The Illuminae Files (Jay Kristoff and Amie Kaufman) and Six of Crows (Leigh Bardugo). Fantasy, sci-fi and YA make up the majority of her bookshelves.