Warning – Elly Awesome's book will overhaul your life and make it totally awesome! For those who haven't heard of her, Elly is a vlogger, TV presenter, tech-head, taste-tester and Australia's #1 ambassador for awesome. It's no surprise then that she's ready for the coming holiday season with her new book How To Feel Awesome Every Day. Cure holiday boredom and brighten your day with this jam-packed book of fun, including journal pages, advice, D.I.Ys, recipes and rad activities.
Elly now gives us her top ten holiday boredom buster ideas.
By Elly Awesome
Nearly every parent right now is probably gearing up for the summer holidays. It's the most hectic time of year, yet also one of the most exciting. Festive celebrations are in order, the kids will be on holidays, so there's plenty of fun family time and cool catch-ups with friends and relatives on the horizon. BUT there's also the S word… SHOPPING. Or to be more specific, CHRISTMAS SHOPPING!
I wish we could all count the amount of presents we need to buy on one hand (or even both hands) but unfortunately that's rarely the case. My to-do list is out the door, and I've been dreading fighting the shopping crowds and the self-loathing I'll feel when I inevitably decide to leave all my important Christmas shopping to the last minute. But that's not even the end of it. My next concern is finding the perfect gift for each person on my list! Can someone please HELP ME!?
Ok, I admit, this blog piece was all a ploy to let you know that I have actually found (slash created) the perfect gift for the youngsters in your life. It's my book, How to Feel Awesome Every Day! This summer holidays, never hear the phrase 'I'm BORED' again! My book is the ultimate boredom buster for your tweens and teens.
It's filled with tons of fun summer holiday ideas such as easy D.I.Ys and recipes, drawing and colouring-in pages and plenty of options to get kids active and outdoors (or keep them cool and occupied indoors). There are even words of advice and life lessons for kids – in the kind of language they'll actually understand! Everything in the book has been handpicked by me to ensure that your kids can have fun on their own, with friends or even as a family. With 192 pages of carefully collated awesomeness, why not consider the gift that keeps on giving this Christmas – How to Feel Awesome Every Day.
Elly Awesome's Top Ten Holiday Boredom Busters!
Whip up a watermelon frosty in four easy steps
Make a jar of happiness to capture the awesome moments in your life
Put together a super-awesome summer playlist and share it with your friends
Build a kite – then go outside and fly it
Kickstart the new year with an awesome morning exercise routine
Get totally zen by creating a miniature desktop garden
Satisfy your snack cravings by making some ridiculously rad rice bar treats
Learn how to make an awesome video
Plan the ultimate movie night with friends or family
Surprise your BFF with a personalised phone case
Hint: You can find how-tos for all these activities (and many more) in my book How to Feel Awesome Every Day!
Thanks for the tips Elly!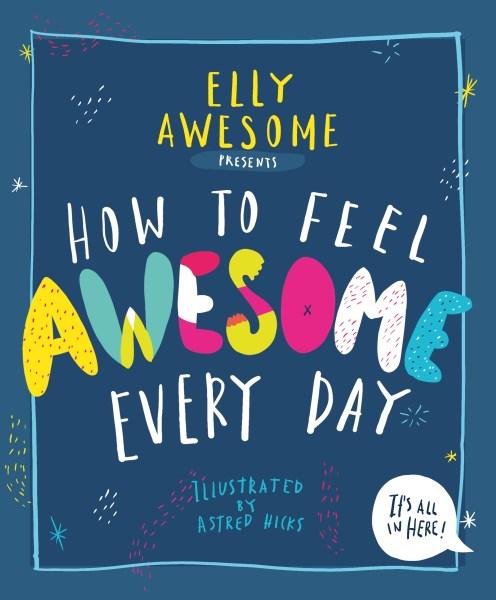 How to Feel Awesome Every Day
Warning- Reading this book will overhaul your life and turn it totally awesome!
We are all awesome in our own way but sometimes we need a little pep talk, some inspiration and a nudge in the right direction. Find out how to turn daily challenges into awesome experiences that will cure your boredom and brighten your day. Jam-packed with journal pages, advice, D.I.Ys, recipes and all sorts of rad activities - How To Feel Awesome Every Day is your one-stop guide to good times.
Elly Awesome is a vlogger, TV presenter, tech head, taste tester and Australia's #1 ambassador for awesome.
About the Contributor
Bronwyn Eley is new to the book industry, having previously served in the Royal Australian Air Force & even spent some time as a barista until entering the exciting world of Booktopia. Books are her true passion. Bronwyn writes in her spare time, often has her face buried in a book and enjoys keeping fit (which she undoes by eating loads of chocolate) with Martial Arts and personal training. She can't answer what her favourite book is but she has a soft spot for The Host (Stephanie Meyer), Peter Pan (J.M Barrie) & Outlander (Diana Gabaldon). Fantasy, sci-fi and YA make up the majority of her bookshelves.