Australia's favourite storyteller is back to enchant us with her latest novel The Red Coast, and readers will be delighted to return to the red earth of the Kimberley.
"Certain places just lodge in your heart." – Di Morrissey
Passion. Resilience. Resistance. All with soaring blue skies above and dusty red earth beneath in The Red Coast. Over twenty years and many, many bestsellers later, Di still gives every book her all. She always visits the places where her books are set to talk to the locals and absorb the history, culture and ambience of the location. Because of this, readers are transported into the worlds created by Di and The Red Coast is no exception.
But that's not all. Apart from her skilful storytelling and powerful protagonists, Di weaves important topics into all her stories. The Red Coast sees a town torn apart, divided over a proposed mining development. Rifts run deep as friends, families and lovers are faced with a battle that could irrevocably change their lives.
Listen to our interview with Di about her latest novel: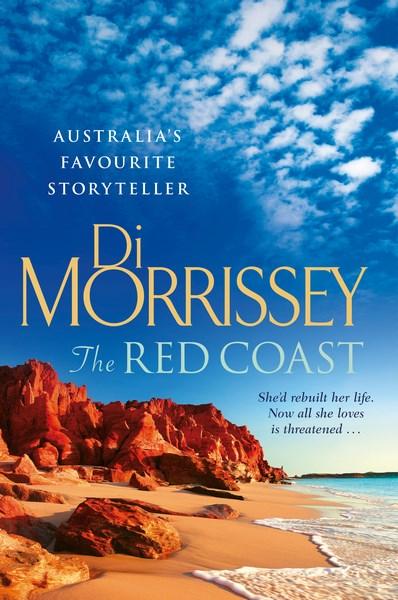 The Red Coast
In The Red Coast, Di Morrissey returns to the red earth of the Kimberley with a passionate story of resistance and resilience under its soaring blue skies.
After the upheaval which separated Jacqui Bouchard from her beloved son, she has finally settled in Broome, a magical remote town on the northwest coast of Australia. But when a proposed mining development is unveiled, the town begins to tear itself apart. Rifts run deep, as friends, families and lovers are faced with a battle that could change their lives irrevocably.
As everyone takes sides, Jacqui confronts her own dilemma - to stay or leave? Who to trust? . . . Who to love?
About the Contributor
Before entering the exciting world of books, Bronwyn served in the Royal Australian Air Force, travelled extensively and worked (still does!) as a barista on the weekends. Books are her true passion. Bronwyn's debut fantasy novel Relic is coming out in 2019 with indie publishing house Talem Press. They are to publish her entire trilogy called The Relic Trilogy. In her spare time, Bronwyn writes, reads and enjoys keeping fit (which she undoes by eating loads of chocolate) with Martial Arts and personal training. She can't answer what her favourite book is but she has a soft spot for Peter Pan (J.M Barrie), Outlander (Diana Gabaldon), Stardust (Neil Gaiman), The Illuminae Files (Jay Kristoff and Amie Kaufman) and Six of Crows (Leigh Bardugo). Fantasy, sci-fi and YA make up the majority of her bookshelves.