Renegades by Marissa Meyer
Review by Tanaya Lowden
Marissa Meyer is an established and well loved young adult author. Her Lunar Chronicles series is a fun twist on beloved stories (I mean, cyborg fairytale retellings set in space. Who wouldn't want that?). Renegades is the first in Meyer's newest series, and is one of the best YA books I've read this year. In fact, it's even my favourite Marissa Meyer book ever, and that's a difficult conclusion to come to with so many wonderful books of hers to choose from.
Renegades is a story about superheroes and villains. Told in a dual perspective from Nova and Adrian, she wants vengeance and he wants justice.
There isn't much I didn't like about this book. The characters are fun, interesting and likeable. The world building is incredibly detailed and well fleshed out. The plot is fast-paced and filled with all the things that make a great YA read. And I loved the relationships between the main and side characters. Marissa Meyer's books have a particular feeling to them – one of joy, adventure and excitement – and Renegades is no different.
I often find that in books where the characters have powers, it can be quite difficult to be original. The same powers are always showing up, and it can make it difficult to bring something new to the genre. I praise Marissa Meyer, for she actually created some refreshing powers. Adrian's in particular is my favourite. He can bring things he draws to life, and he uses this to give himself additional powers by tattooing himself with symbols to represent other powers.
Something else I also really liked is that this book made me think about the ethical outcomes of superpowers. The standard good vs. evil argument is brought into question, but with an interesting take. The good guys and the bad guys both perform some very questionable actions. While the good guys are praised, the bad guys are frowned upon, and it made me think about how just because someone is perceived as good, it doesn't mean their actions should be excused.
This book also makes you think about if there are people with powers to save the day, society get used to relying on these people and learn over time to not do things themselves. I have not read this perspective in a superhero book before, and really enjoyed getting to see how this was developed throughout the book.
Renegades is a definite must-read for all. The only bad thing about this book is that there is now a long wait for the sequel!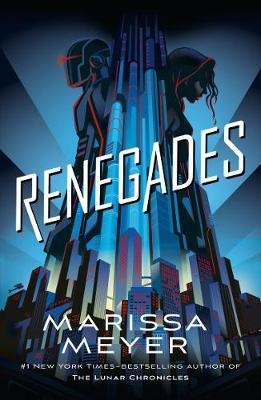 Renegades
Secret Identities.
Extraordinary Powers.
She wants vengeance. He wants justice.
New from Marissa Meyer, author of the #1 New York Times-bestselling series The Lunar Chronicles, comes a high-stakes world of adventure, passion, danger and betrayal.
The Renegades are a syndicate of prodigies - humans with extraordinary abilities - who emerged from the ruins of a crumbled society and established peace and order where chaos reigned. As champions of justice, they remain a symbol...
About the Contributor
Tanaya has been a lover of books for as long as she can remember. Now, her book collection is a little out of control, mostly consisting of YA fiction and pretty hardcovers. When she's not reading, she spends a lot of her time taking photos of books for her bookstagram account, @prettypagesblog. She also has a love of Disneyland, bullet journaling and cats.
Follow Tanaya: Twitter