Mother: Female parent of a child
Mum: The woman who nurtures, raises and loves a child
An important distinction that bestselling author Rachael Johns explores in her latest novel The Greatest Gift. This is a poignant, heartwarming story about two women: one who wants nothing else than to be a mum, and one who never wanted to be a mother. The Greatest Gift explores egg donation, motherhood, what happens when things go right and what happens when things go wrong.
"It really made me analyse: what are the right and wrong reasons for having children?" – Rachael
"They deal with real life issues that affect all of us." – Rachael
You may have come across one of Rachael's previous books, including The Art of Keeping Secrets, The Patterson Girls and Talk of the Town. As for her latest, it really is 'the greatest gift' for anyone looking to explore the fascinating and sometimes heartbreaking topic of what it really means to be a family.
We had a great chat with Rachael about her new novel. Listen to the full interview here: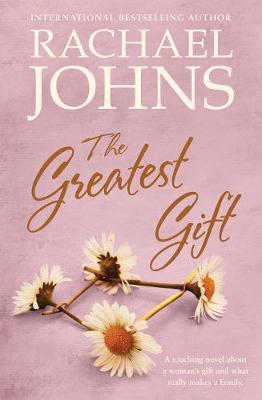 The Greatest Gift
Mother: Female parent of a child
Mum: The woman who nurtures, raises and loves a child
Radio host Harper Drummond lives for her career. Every day she meets fascinating people doing extraordinary things, but has begun to wonder whether there could something more for her out there. She's financially secure, happily married to Samuel and has a great group of friends — what more could she want? It's only when she interviews one special couple that she starts to think about whether she could make a different kind of contribution...
About the Contributor
Before entering the exciting world of books, Bronwyn served in the Royal Australian Air Force, travelled extensively and worked (still does!) as a barista on the weekends. Books are her true passion. Bronwyn's debut fantasy novel Relic is coming out in 2019 with indie publishing house Talem Press. They are to publish her entire trilogy called The Relic Trilogy. In her spare time, Bronwyn writes, reads and enjoys keeping fit (which she undoes by eating loads of chocolate) with Martial Arts and personal training. She can't answer what her favourite book is but she has a soft spot for Peter Pan (J.M Barrie), Outlander (Diana Gabaldon), Stardust (Neil Gaiman), The Illuminae Files (Jay Kristoff and Amie Kaufman) and Six of Crows (Leigh Bardugo). Fantasy, sci-fi and YA make up the majority of her bookshelves.