He's Australia's very own working class man. Rocker. Singer. Songwriter. Cold Chisel. These are just a few of the things that come to mind when someone mentions Jimmy Barnes. In case you hadn't heard, you can now add author to his list of incredible talents. Last year, Jimmy came out with Working Class Boy, a raw, gritty, compassionate, surprising and darkly funny memoir about his childhood. Dreams fulfilled and dashed, Jimmy rose to become the incredible man he is today.
Dubbed a 'memoir of running away', Jimmy's first book was a massive bestseller. Now he's back with the sequel, Working Class Man, named after his massive 1980s hit song. Two books were essential as his is a story too extraordinary for just one book.
"This trauma as a child nearly killed me as an adult." – Jimmy



This is the real deal, people. Jimmy's honesty is searingly painful at times, revealing how childhood trauma ignited and propelled Australia's greatest rock'n'roll story. There's a whole lot of inspiration in there too. Even if you think you're running out of time, it's never too late.
Listen to our interview with Jimmy on Working Class Man:
"I think the whole process was enlightening… I got a lot off off my chest… I felt like I could start to move forward."- Jimmy
Haven't got around to reading Jimmy's story? Then have a listen to our interview with Jimmy from 2016 on the first memoir Working Class Boy: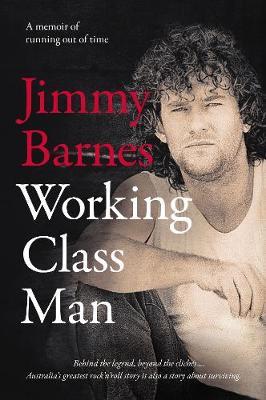 Working Class Man
A memoir of running out of time
The sequel to the number 1 bestseller Working Class Boy
It's a life too big and a story too extraordinary for just one book. Jimmy Barnes has lived many lives - from Glaswegian migrant kid to iconic front man, from solo superstar to proud father of his own musical clan. In this hugely anticipated sequel to his critically acclaimed bestseller, Working Class Boy, Jimmy picks up the story of his life as he leaves Adelaide in the back of an old truck with a then unknown band called Cold Chisel...
About the Contributor
Before entering the exciting world of books, Bronwyn served in the Royal Australian Air Force, travelled extensively and worked (still does!) as a barista on the weekends. Books are her true passion. Bronwyn's debut fantasy novel Relic is coming out in 2019 with indie publishing house Talem Press. They are to publish her entire trilogy called The Relic Trilogy. In her spare time, Bronwyn writes, reads and enjoys keeping fit (which she undoes by eating loads of chocolate) with Martial Arts and personal training. She can't answer what her favourite book is but she has a soft spot for Peter Pan (J.M Barrie), Outlander (Diana Gabaldon), Stardust (Neil Gaiman), The Illuminae Files (Jay Kristoff and Amie Kaufman) and Six of Crows (Leigh Bardugo). Fantasy, sci-fi and YA make up the majority of her bookshelves.