By Graeme Simsion
In November of this year, I'll be donating my Australian book royalties to the 'Movember' men's health campaign.
I'm hoping that men in particular—and the people who love them—will support us by buying one or more of my books and spreading the word.
I'm doing this for two reasons:
Mental health is a huge issue—one that will touch most of us directly or indirectly at some time. Through my 'Rosie' books, featuring a character on the autism spectrum, I've come into contact with many individuals (predominantly male) who are only a step or two away from being able to build careers, extend their relationships and live fuller lives. If we can find and fund the right interventions and support, we can help them to take those steps.
Mental illness can affect any of us—men or women—but we know that men are more likely to commit suicide or violence towards others. My wife, Anne Buist, has done great work as Chair of Women's Mental Health at the University of Melbourne. It makes sense to similarly target some of our effort towards men.
The second reason is that I'm on a mission to get men to read more novels. Any publisher will tell you that they sell fiction mainly to women, and choose what they publish accordingly.
There's research to suggest that reading fiction is good for psychological health—understanding others, building empathy in particular—and that can only be a good thing.
But, more selfishly, I like to write books that men will want to read, with relatable male characters. It's hard to keep doing that when publishers explain that 'the way to get a man to read a novel is to sell it to his wife' and complain that 'our female readers won't like…' It's lovely that married couples share books (even if only in one direction) but men should be making some of their own decisions, and authors shouldn't be writing with a gatekeeper in mind.
So, November/Movember. If you're a man reading this, you're already engaged with books and I apologise if the preceding seemed patronising. But please buy a book and pass the word on to some of your male friends who may not be regular readers. If you're a woman (which seems statistically likely), I'd ask you to buy one of my books and give it to a man in your life without reading it first—with, of course, the rider that you've already made a contribution to men's health.
Here are your four choices (my data modelling books don't count). All have been bestsellers (except Two Steps Forward—just out, too early to tell). If you don't fold the page corners then, in the unfortunate event that you don't like your choice (or don't need to re-read), you've got a Christmas present for a colleague or mate.
The Rosie Project. Comedy, safe choice. 3.5 million copies sold in about forty languages. Socially awkward male hero seeks perfect woman. Men who have recommended this book include Bill Gates, Nicholas Kristof, Alan Carr, Tim Ferguson.
The Rosie Effect. Sequel, comedy. Same socially awkward man tries to hold his marriage together as he faces fatherhood. Another Bill Gates recommendation, but read the first one first.


The Best of Adam Sharp. My personal favourite and one that men (overall) have responded better to than women, though Toni Collette loved it enough to option it for a movie. Most common criticism: too much sex, drinking and (mainly '60s and '70s) music. If that doesn't sound like a negative, this one's for you.
Two Steps Forward. Just out, a collaboration with my wife, Anne. An engineer (male, divorced, cynical) and a recent widow (spiritual, vegetarian, impulsive) set out to walk the Camino de Santiago, for different reasons. I wrote the male character. If you've ever contemplated walking the Camino, or are up for personal renewal, no further thought needed.



Thanks in advance. I'm hoping I can get some men reading novels again, and the rest reading one extra. And that we can raise a heap for men's health.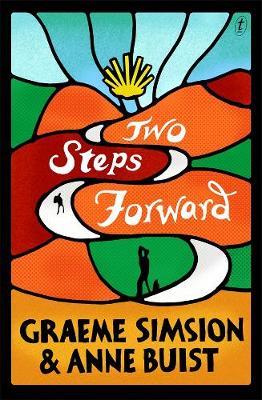 Two Steps Forward
Zoe, a sometime artist, is from California. Martin, an engineer, is from Yorkshire. Both have ended up in picturesque Cluny, in central France. Both are struggling to come to terms with their recent past - for Zoe, the death of her husband; for Martin, a messy divorce.
Looking to make a new start, each sets out alone to walk two thousand kilometres from Cluny to Santiago, in northwestern Spain, in the footsteps of pilgrims who have walked the Camino - the Way - for centuries. The Camino changes you, it's said. It's a chance to find a new version of yourself. But can these two very different people find each other?
About the Contributor