Saga Land by Richard Fidler and Kari Gislason
Review by Ben Hunter
I'm always looking for Christmas books for my dad to read that can safely carry him outside of his safe Rankin/Patterson/Connelly/Robotham zone. Now there's nothing wrong with gobbling up a Bosch or a Rebus, I love crime and suspense, particularly over the holidays, but when it comes to literary gobbling my dad approaches the task as an amnesic sleep-eater would. It's not uncommon for him to have finished a full novel in a night's reading.
When quizzed about opinions and takeaways from his reading, he's often at a loss to remember what these lightning reads are even about. It's not that he's a fool, he just reads this stuff at such a pace that committing events or ideas from the novels to memory is too much of an ask. Reading crime for Dad, I think, is like going for an evening stroll or a drive across town to clear one's head. It's a refreshing pursuit, but rarely a memorable one. He either likes the book or he doesn't and often when he doesn't it's because he's forgotten that he's already read the thing.
Dad's parents, now octogenarians, are similar, if not as voracious as Dad in their reading. Now overwhelmed by this prose amnesia and it's subsequent deja vu, they consult an alphabetised notebook of all their previously read books before checking anything out of Penrith library. The notebook sits beside the TV guide on the side table between their armchairs and if often picked up, consulted and waved at me for emphasis in the course of a Saturday Afternoon visit. Buying for them is another kettle of fish.
This Christmas, I'm giving Dad Richard Fidler and Kari Gislason's Saga Land, a book I've just read and loved. I remember passing on a well-worn copy of Ghost Empire, Fidler's travel memoir and history of Byzantium, to Dad and seeing him delight in the thing. Dad doesn't read a lot of non-fiction (unless you count car magazines) but when he does, he raves about his findings for weeks. In Saga Land, I'm sure he'll find more than enough to rave about.
Fidler's new book pairs him with Kari Gislason, a close friend and academic who shares with him a passion for the Icelandic sagas but also has a whole family in Iceland with which he's recently been reunited. Together, the two friends travel right across the far-away volcanic island retelling the great sagas from where they were first began – tales of legendary settlers and the Nordic pantheon in blood feuds and violent rivalries set against an unforgiving landscape. But it's also a journey into the modern history of an island nation and into Kari Gislason's own great family mystery.
In short, this thing will get my dad talking for a long time to come.
The book is also beautiful. Look at it!




Merry Christmas, Dad, if you're reading.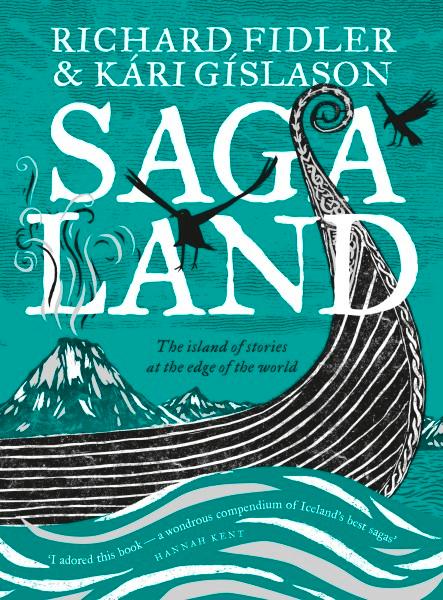 Saga Land
A gripping blend of family mystery, contemporary stories and the beautiful and bloody Viking tales, set against the starkly stunning landscape of Iceland.
Broadcaster Richard Fidler and author Kari Gíslason are good friends. They share a deep attachment to the sagas of Iceland - the true stories of the first Viking families who settled on that remote island in the Middle Ages. These are tales of blood feuds, of dangerous women, and people who are compelled to kill the ones they love the most. The sagas are among the greatest stories ever written, but the identity of their authors is largely unknown...
About the Contributor
Tanaya has been a lover of books for as long as she can remember. Now, her book collection is a little out of control, mostly consisting of YA fiction and pretty hardcovers. When she's not reading, she spends a lot of her time taking photos of books for her bookstagram account, @prettypagesblog. She also has a love of Disneyland, bullet journaling and cats.
Follow Tanaya: Twitter