After signing a huge pile of her new book, The Tea Gardens, Fiona McIntosh sits down to talk with Booktopia's John Purcell about her latest achievement. John wants to know all and learn things about tea he never thought he would. When Fiona says that for her, it's all about the audience and whether or not they're enjoying it, we realise just how true that is for her.
Each of Fiona's books comes with an incredible amount of research and this time was no exception. From England's seaside town of Brighton to India's slums of Calcutta and the breathtaking Himalayan mountains, Fiona has seen it all and put an incredible amount of depth into her story.
"It's a fabulous playground to move into to actually write a story, there's a lot of culture clash going on, there's a lot of push back from the Indians wanting their independence." – Fiona
"I've got to create a world for the reader to topple into… in order to do that, you need to put your feet down in those places and then scratch the surface and try go back through the decades and understand what the atmosphere would have been like." – Fiona 
Of course, Fiona's story wouldn't be complete without a powerful and inspiring lead female character. Readers will follow spirited doctor Isla Fenwick on her pursuit for passion. Determined to work at the coalface of medicine in India before committing to life as a dutiful wife, Isla will be asked to pay the ultimate price for her passions.
The Tea Gardens is for anyone who loves tea, incredible settings, exploring new cultures, heroic and heartbreaking characters and, of course, life-long Fiona fans!
Listen to Fiona's full interview with John here: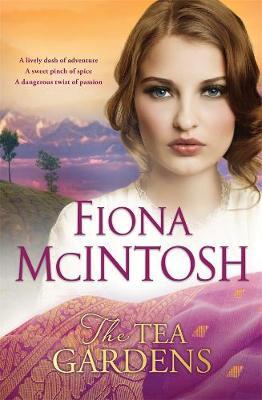 The Tea Gardens
A heartbreaking story about the pursuit of passion by the bestselling author of The Chocolate Tin.
Spirited doctor Isla Fenwick is determined to work at the coalface of medicine in India before committing to life as a dutiful wife. With hopes of making a difference in the world, she sails to Calcutta to set up a midwifery clinic. There she will be forced to question her beliefs, her professionalism and her romantic loyalties.
On a desperate rescue mission to save the one person who needs her the most, she travels into the foothills of the Himalayas to a tea plantation outside Darjeeling. At the roof of the world...
About the Contributor
Before entering the exciting world of books, Bronwyn served in the Royal Australian Air Force, travelled extensively and worked (still does!) as a barista on the weekends. Books are her true passion. Bronwyn's debut fantasy novel Relic is coming out in 2019 with indie publishing house Talem Press. They are to publish her entire trilogy called The Relic Trilogy. In her spare time, Bronwyn writes, reads and enjoys keeping fit (which she undoes by eating loads of chocolate) with Martial Arts and personal training. She can't answer what her favourite book is but she has a soft spot for Peter Pan (J.M Barrie), Outlander (Diana Gabaldon), Stardust (Neil Gaiman), The Illuminae Files (Jay Kristoff and Amie Kaufman) and Six of Crows (Leigh Bardugo). Fantasy, sci-fi and YA make up the majority of her bookshelves.