If you're looking for a great adventure the kids will love, John Flanagan is not only a household name but one of our favourite go-to fantasy authors. Best-known for his Ranger's Apprentice series, John continued to bring his fans what they wanted in the Brotherband series. Now John is back with book seven, The Caldera.
"In a playground when they're getting together a team for basketball or cricket, there's always a few kids left out, who aren't wanted. They're my Brotherband. They're the ones who are left out. That's where the Brotherband began." – John
The world of John Flanagan is a magical one, a place kids (and adults!) come back to time and time again. With strong and relatable characters, epic adventures and quick wit, it's no surprise John's books are popular around the world. John Flanagan's Ranger's Apprentice series began when John wanted to encourage his twelve-year-old son, Michael to enjoy reading. Michael was just like how John describes the Brotherband, a small boy with bigger friends. John wanted to show his son that heroes weren't necessarily big and muscular.
"Heroes come in all shapes and sizes." – John
Listen to our full interview with John Flanagan about The Caldera!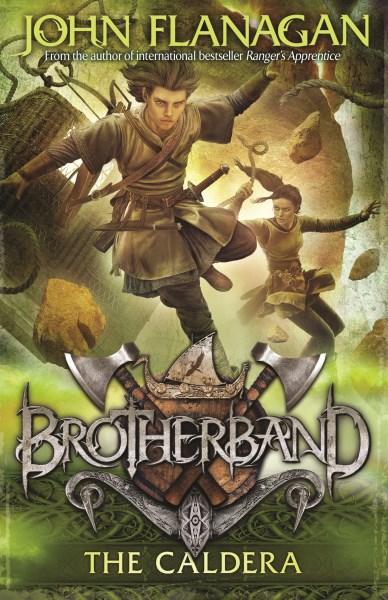 The Caldera
The Brotherband Series: Book 7
Hal and the brotherband are back home in Hallasholm when a knock on the door brings an unexpected visitor- Stig's long-absent father, Olaf.
The Empress of Byzantos's son has been kidnapped by pirates, and palace guard commander Olaf has been held responsible. The only way to redeem himself is to rescue the boy. Olaf needs a ship and a crew, and he has nowhere else to turn.
The pirates' fortress is on an island, where a collapsed volcano has left a caldera of towering cliffs surrounding a deep lagoon. There is only one way up or down - and the pirates have the key. How can the Herons possibly rescue...
About the Contributor
Before entering the exciting world of books, Bronwyn served in the Royal Australian Air Force, travelled extensively and worked (still does!) as a barista on the weekends. Books are her true passion. Bronwyn's debut fantasy novel Relic is coming out in 2019 with indie publishing house Talem Press. They are to publish her entire trilogy called The Relic Trilogy. In her spare time, Bronwyn writes, reads and enjoys keeping fit (which she undoes by eating loads of chocolate) with Martial Arts and personal training. She can't answer what her favourite book is but she has a soft spot for Peter Pan (J.M Barrie), Outlander (Diana Gabaldon), Stardust (Neil Gaiman), The Illuminae Files (Jay Kristoff and Amie Kaufman) and Six of Crows (Leigh Bardugo). Fantasy, sci-fi and YA make up the majority of her bookshelves.
Follow Bronwyn: Twitter