The Booktopia Book Guru asks
Ellie Marney

author of No Limits

Ten Terrifying Questions
____________
To begin with why don't you tell us a little bit about yourself – where were you born? Raised? Schooled?
I was born in Brisbane and grew up in country Queensland, in a tiny little dairy town called Dayboro. My dad was the local milkman, and we were 'the new family up on the hill' for the eleven years we lived there. I went to country schools and local pools, and fossicked around in creeks with my sister. We ended up moving into the outer Brisbane suburbs when I was in my early teens – think, state high school and 80s hair. I used to ride my bike to school, and harass the librarians to finish sorting all the new books so I could read them now.
What did you want to be when you were twelve, eighteen and thirty? And why?
At twelve, I wanted to be a jockey – my grandfather was a racehorse trainer and my dad worked part-time as a bookie, so I spent a lot of time at the track. Being a jockey seemed more achievable, somehow, than being a writer. That just meant being poor, which no one in my family wanted to encourage me into! And I liked the idea of working with animals – they seemed easier than people.
By the time I was eighteen, I wanted…well, probably just to leave home. Which I did a year later, while I was studying Arts at University of Queensland. And all the time, I was scribbling down stories and writing in journals, so the writing thing obviously wasn't going away…
By the time I was thirty, I was pregnant with my first child, I'd lived in Indonesia and India and Singapore, so I'd lived a little. I was writing fanfiction, not yet confident in my own voice, but I was on my way.
What strongly held belief did you have at eighteen that you do not have now?
That the city was better than the country. Now I think you're drawn to the city when you're young, but the country is the place you go home to.
What were three works of art – book or painting or piece of music, etc – you can now say, had a great effect on you and influenced your own development as a writer?
I think 'genre' would be the easiest answer, as far as influences go. My early writing influences were from sci-fi and fantasy and crime and horror – Isaac Asimov's Foundation series, David Eddings' Belgariad series, Arthur Conan Doyle's Sherlock, all Stephen King's books. I still own my father's early copies of Foundation.
I read a lot of Star Trek fanworks, too – d'you remember them, in the days before the internet? Ah, me. In my twenties, I was reading feminist texts like The Handmaid's Tale, then The Silence of the Lambs by Thomas Harris kind of grabbed me by the throat and has never really let go.





Considering the innumerable artistic avenues open to you, why did you choose to write a novel?
Oh dear. Well, I had a lot of artistic outlets, but at some early point I realised I was only ever going to be a second-rate painter, at best, and I get terrible stage-fright so my only natural talent – singing – was not going to work. Ha! Writing was always a way to become someone else. I'm happier with myself now, but I still love diving into the being of another person, another mind and another point of view.
Please tell us about your latest novel…
No Limits is kind of a spin-off from the Every series. It's set in Ouyen and Mildura, and told from a dual point of view, though the eyes of Harris Derwent – a rough-nut guy from the wrong side of the tracks – and Amita Blunt, the local police sergeant's daughter.
Harris and Amie form a connection when he's admitted to hospital with a leg injury, and when Harris – who's been run into debt by his abusive, alcoholic father – is offered work by a drug-dealer mate, he goes to Amie for advice. But the advice he receives is from Amie's dad, who tells him 'take the job – but then report to me…'
Harris becomes a narc inside a Mildura crystal meth cartel, with Amie as his contact when he returns for check-ups. They get closer – much closer – as a result, and then things start to get very dangerous indeed…



What do you hope people take away with them after reading your work?
I wanted to give readers an authentic look at life in rural small towns in Australia, how people talk and think, and I wanted to show an insider's perspective on drug crime. We think of drug crime as a purely urban problem, but it's not. Ice is an issue – a really big issue – in this country, especially in country towns, even in my own town. It's affecting a lot of teenagers, a lot of families, but it's like no one wants to talk about it.
I think teenagers are actually way more cluey about drugs than we adults give them credit for, though. They have to be – they're living with it, in their daily lives, in their social circles. I wanted to show how teenagers could be resourceful and hopeful, even in the most deadly circumstances. And of course, I threw in a lot about love, and family, and a bit of explosive action, along the way, cos that's how I write!
Whom do you most admire in the realm of writing and why?
I love Melina Marchetta, I really do. Something about every single book of hers I've ever read has spoken right to my heart. I want to be able to do that – to tell the story, but also resonate inside the reader's heart. I kind of aspire to being a weird combination of Melina Marchetta and Stephen King and Cassandra Clare!
Many artists set themselves very ambitious goals. What are yours?
I just want to write the things that make me and other people happy, and transported, and hungry for more. Those are always the books I love the most – the ones I get completely sucked into. And I don't think it's particularly ambitious, but I'd like to make enough money from writing one day that I can buy my husband a new car. He deserves it really, after living with me!
What advice do you give aspiring writers?
Read. Read everything.
Write what you love – write every day if you can, but whenever you get a free moment otherwise. Just do it, without thinking too hard. It'll be shitty, at first, but you'll get there.
And don't beat up on yourself. Just work at getting better.
Thank you for playing!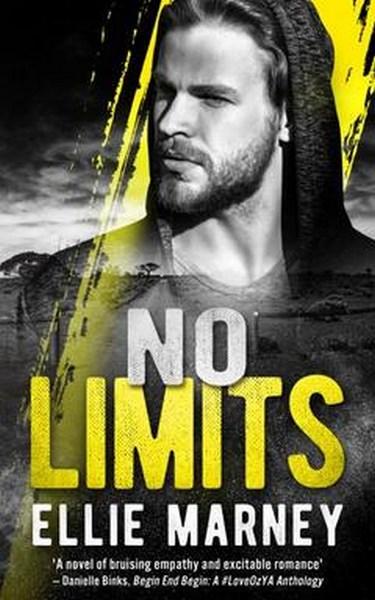 No Limits
New Australian YA romantic crime from the author of the award-winning Every series...
Boozer, brawler, ladies' man - nineteen-year-old Harris Derwent is not a good guy.
His one attempt to play the hero - helping out his old flame, Rachel Watts - has landed him in hospital. Now injured, broke and unemployed, he's stuck back in the country, at his father's mercy. Harris needs to pay off his dad's debts, and fast. But working as a runner for a drug cartel is a dangerous path - especially if Harris agrees to narc...
Eighteen-year-old Amita Blunt is the perfect police sergeant's daughter - practical, trustworthy, and oh-so responsible...
About the Contributor
Tanaya has been a lover of books for as long as she can remember. Now, her book collection is a little out of control, mostly consisting of YA fiction and pretty hardcovers. When she's not reading, she spends a lot of her time taking photos of books for her bookstagram account, @prettypagesblog. She also has a love of Disneyland, bullet journaling and cats.
Follow Tanaya: Twitter