Kate Forsyth, one of Australia's favourite novelists and the author of books including The Impossible Quest, Bitter Greens, The Wild Girl and The Beast's Garden, continues her blog with us, giving her verdict on the best books she read in July and August 2017.
---
Kate Forsyth's Reviews

---
Daughters of the Witching Hill
by Mary Sharratt
In the early 17th century, during the last years of the Elizabethan era, a witch craze hit Lancashire and a dozen men and women were brought to trial accused of black magic and Satanism. Six of the accused came from just two families who lived near to each other at Pendle Hill in Lancashire. Elizabeth Southerns (called Mother Demdike) was in her eighties, and was accused along with her daughter (also called Elizabeth) and her grandchildren James and Alizon Device. A neighbour Annie Whittle (called Mother Chattox) was also in her eighties and was accused along with her daughter Anne. The other six also lived nearby, and included a mother and her son. One died in prison, and one was found not guilty, but the rest were hanged on 20 August 1612. The two women in their 80s were both acknowledged village healers and cunning-women, and their testimony is a fascinating glimpse into the magical thinking of England in the 1600s.
Mary Sharratt has taken the story of the Pendle Witches – the most famous witch-trials in British history – and brought them to vivid and heart-rending life. Most of the narrative is told through the eyes of Bess Southerns, cunning-woman and widow, who ekes out a living on the edge of Pendle Forest by healing the sick, making love spells and foretelling the future. As her granddaughter Alizon grows up, Bess begins to teach her the secret of magic but finds herself at odds with her neighbour, Mother Chattox, who turns to the dark arts in her desire for revenge and power.
When a peddler suffers a stroke after an exchange of hot words with Alizon, the family finds themselves drawn into accusation and counter-accusation, which leads them inexorably towards tragedy.
I knew the story of the Pendle Witches well, having read a great deal about it over the years, but it is not necessary to know the background to be drawn into this powerful and beautifully imagined novel. This is a story about love, compassion, strength and betrayal, and a must-read for anyone who loved Hannah Kent's The Good People or Kathleen Kent's The Heretic's Daughter… Learn More.
---
The Ice Princess
by Camilla Lackberg
I haven't really been swept up into the craze for Nordic-noir (ie hard-boiled contemporary crime set in Finland or Norway or Denmark), but I do love a good atmospheric mystery and so I grabbed The Ice Princess on my e-reader when I saw it on sale.
First published in Sweden in 2003 and translated into English in 2007, The Ice Princess is Camilla Lackberg's first novel and is the beginning of a series set in the small fishing village of Fjallbacka, which has since been made into a hugely popular television drama in Sweden. Camilla Lackberg is Sweden's top-selling author, with sales of more than 20 million books in 60 countries.
The story begins when the writer Erica Falck is one of the first people to find the body of a woman frozen in a bath. The corpse is one of her childhood friends, Alexandra Wijkner, and at first it seems as if she had slashed her own wrists. However, there are a few unexplained mysteries about her death and Erica begins to hunt for the truth. Meanwhile, another old friend – local detective Patrik Hedstrom – has his own suspicions. When the two join forces, they uncover a long-hidden secret that will have tragic ramifications for the whole town.
The great strengths of this novel are the depths of characterisation, unusual for a murder mystery, and the ice-bound setting which adds so much tension and atmosphere. The book is not a thriller by any means; its suspense builds slowly but surely, and the growing relationship between Erica and Patrik adds warmth and charm. I really enjoyed it, and look forward to the next in the series… Learn More.
---
The Alice Network
by Kate Quinn
The Alice Network is one of the best books I've read this year. An utterly enthralling tale of love, courage, resistance and redemption, it begins in 1947 with the story of Charlie St Clair, who has been taken out of college because she is pregnant and does not know who the father is. Taken to Europe by her mother 'to take care of the problem', Charlie rebels. All she wants to do is try and track down her cousin, Rose, who went missing in Nazi-occupied France during the war. Charlie has only a few clues, but one of them leads her to the house of Eva Gardiner, a scarred and dangerous drunkard.
Eva then begins to tell her story. In 1915, she is a brilliant young woman hampered by a profound stutter that leads most people to think she is stupid. Fluent in both German and French, Eva is recruited as a spy for the British and sent into Occupied France to work for the Alice Network, an underground resistance group run by Lili, an audacious young woman with the codename of 'Alice'. Cool-headed, smooth-faced Eva is a natural, and begins to acquire useful information as she works as a waitress in a restaurant frequented by the top-brass German officers, who do not realise she speaks their language. Despite all her care, Eva catches the attention of the restaurant owner, a suave, sophisticated – and deadly – French collaborator named René.
The novel moves fluidly back and forth between the two historical periods, the suspense building as Charlie's search for her cousin becomes entwined with Eva's search for René, a man she had thought was dead. I just could not put this book down and found myself reading it when I had a million other things to do. I particularly loved the depiction of Eva's struggle with her stutter, as this has been a lifelong fight for me also. Stutterers are rarely given heroic status in fiction or film, and indeed often appear only for comic purposes. It's really refreshing to see someone with a speech impediment portrayed as clever, quick-witted and incisive. A stumbling tongue does not mean a fumbling brain.
The Alice Network was the first of Alice Quinn's books I've read, but it will not be the last. I'm hunting down all her other books as we speak! Learn More.
---
A Most Magical Girl
by Karen Foxlee
I'm a big fan of Karen Foxlee and always buy her books as soon as they come on my radar. A Most Magical Girl is a delightful, whimsical tale of a very ordinary girl named Annabel Grey who is sent to stay with two eccentric old aunts when her mother disappears. To her dismay, Annabel realises her aunts are witches and that she is the heir to their magic. Meanwhile, a wicked man named Angel is sucking out the power of sad things – such as flowers stolen from a new grave or the bonnets of long-dead babies – to feed his Dark-Magic Extracting Machine. He plans to take over the world and only Annabel can stop him. She needs help, however, which as always comes from the most unlikely people …
An enchanting story, told with simple lyrical writing, and just enough wild magic to keep it fresh and surprising, A Most Magical Girl is just the kind of book I would have loved when I was eleven… Learn More.
---
The Danish Girl
by David Ebershoff
Inspired by the tragic true-life story of Einar Wegener, one of the first to undergo gender reassignment surgery, The Danish Girl has since been made into a hit movie starring Eddie Redmayne. I haven't seen the movie but it certainly brought the book to my attention.
Then I heard David Ebershoff speak at the Historical Novel Society conference in the US, and I was so entranced I rushed off to buy the book straight away and have it autographed.
It's a simple yet fascinating story. Einer Wegener was a Danish landscape painter, married to another artist, Greta, who painted enormous portraits of famous people. One day Greta's model – a ballerina – failed to turn up and she asked her husband to model for her instead. Einar had to pull on a pair of silk stockings and hold a tutu against him. It awoke something in him. Einer began to dress as Lili, identifying more strongly with her every day. Eventually she underwent a series of surgeries, eventually dying of an infection after a botched attempt to transplant a uterus.
David Ebershoff has taken numerous liberties with the story, making Greta Wegener an American heiress when she was in fact Gerda Gottlieb and Danish. I believe this was to make the story more appealing to an American audience, but I would have preferred more historical accuracy. That detail aside, the novel is written with great sensitivity and tenderness, and Greta's struggle to understand Lili is at the core of the novel. A really fascinating and heart-breaking story… Learn More.
---
A light-hearted Regency romance by Australian author Anne Gracie, Marry in Haste is the story of a British soldier-turned-spy who unexpectedly finds himself hampered with a title, a vast estate, numerous aged retainers and a handful of wilful half-sisters who never do what they are told. Floundering helplessly, he turns to their former school teacher for help. But Miss Emmaline Westwood has her own dreams, and turning governess is not one of them. Life has other plans for her, however, and soon the mismatched couple are marrying for convenience's sake, much to the disapproval of his irascible Aunt Agatha, who must always have the last word.
Anne Gracie's Regency romances are always a delight, filled with vivid likeable characters, laugh-out-loud situations, and sparkling dialogue…Learn Moer… Learn More.
---
The Cottingley Secret
by Hazel Gaynor
One hundred years ago, two girls went down to the stream at the bottom of their garden in the village of Cottingley in Yorkshire, and took some photographs of fairies. Elsie Wright (aged 16) and Frances Griffiths (aged 10) were cousins, and each took turns in being photographed. They developed the photos, and showed them to Elsie's father who had mocked them for believing in fairies. Elsie's mother showed the photos at a meeting of the Theosophical Society, and eventually they came to the attention of Sir Arthur Conan Doyle, creator of Sherlock Holmes, who championed the two girls and their photos as evidence of supernatural phenomena. The two girls maintained the truth of their photographs all through the ensuing media storm but eventually confessed – when in their '80s – that the fairies had been drawn on paper and carefully cut out and stuck on hat-pins. All except one, Frances said. One of the photographs was real.
Hazel Gaynor brings the mystery of the Cottingley Fairies thrillingly to life in a gorgeously written narrative that moves seamlessly between Yorkshire in the 19th century – a time when Conan Doyle and other men of science wanted desperately to believe in the possibility of fairies and ghosts and spirits – and Ireland in the 21st century. A mystery, a love story, and an enchanting and surprising journey of self-discovery, The Cottingley Secret unwraps the true story behind one of the great hoaxes of the 19th century while still allowing the possibility of the magical… Learn More.
---
The Shadow Land
by Elizabeth Kostova
Elizabeth Kostova is best known as the author of The Historian which was a huge bestseller in 2005, riding the tsunami of vampire craziness. Elizabeth Kostova's book was dark, complex, intelligent, and filled with the true history of vampiric lore. I loved it. I also loved her second novel, The Swan Thieves, about art, love and madness. So I was really thrilled when I was asked to do an event with Elizabeth during her Australian tour in July.
She was here to promote her third book, The Shadow Land, which moves fluidly between the past and the present in Bulgaria. The story begins when a young American woman – newly arrived in the capital city of Sofia – accidentally finds herself in possession of someone else's bag. Inside the bag is an urn filled with human ashes.
Distraught at the discovery, Alexandra tries to find the original owner but the only clue she has is the name engraved on the urn – Stoyan Lazarov. In her quest to identify him, she finds herself in ever increasing danger.
The sections set in the past are told from numerous points-of-view but circle ever closer to the life and death of Stoyan Lazarov, a musician who sees something he should not have seen during the years of the communist regime.
Heart-breaking, evocative, and suspenseful, The Shadow Land explores a little-known and tragic part of European history in beautiful, restrained writing that brought me to tears several times… Learn More.
---
The Goblins of Bellwater
by Molly Ringle
The Goblins of Bellwater is a contemporary paranormal romance set in the USA, and so it not at all my usual kind of book. However, the author Molly Ringle was inspired by Christina Rossetti's famous poem Goblin Market, which is one of my all-time favourite poems; and her twitter feed is full of gorgeous pictures of forests and flowers and folklore; and the cover was just gorgeous. So I thought I'd stretch my reading boundaries and give it a go.
The story is set in Puget Sound, Washington, a place of moss-hung forests and stretches of still water drifting with mist. Unknown to most, the forest is home to creatures of the fae, some of them benevolent, but most not – the goblins of the book's title.
Local mechanic Kit must steal gold to give to the goblins to keep them from doing harm. One day he fails to bring enough, and so the goblins curse a young woman wandering nearby. Her name is Skye, and she find herself unable to speak of what has happened to her. Her older sister Livy cannot understand why her usually happy and talkative sister has become so silent and morose. Feeling alone and unsure, she reaches out to Kit and a tentative romance develops. Meanwhile, Skye – desperate for help – draws Kit's cousin Grady into the spell. The two love affairs develop side-by-side while Livy continues to try and work out what is wrong with Skye – not knowing that her hot new boyfriend is actually a kind of liaison officer with the goblin world and it is his failure to feed the goblins' greed that has caused the harm in the first place. This, of course, causes emotional problems when she finds out, while Skye and Grady gradually begin to lose their humanity and take on aspects of the ugly and malicious goblins who cursed them. Eventually Livy must find the strength within her to break the spell, and free Skye, Kit and Grady from their entanglements in the goblin world.
The novel has some of the eerie sensuality of Christina Rossetti's poem, and the setting is wonderfully conjured – it made me want to go to the Puget Sound and see it for myself. I also really liked the character of Livy, who was so kind and loving and deeply concerned with trying to save the natural world. It's unusual to see the relationship between sisters at the heart of a paranormal romance, and this freshness helped The Goblins of Bellwater from being too platitudinous. It hasn't converted me to being a fan of the genre, but anyone who likes their fantasy sexy, fast-paced and contemporary will love it… Learn More.
---
Beneath the Parisian Skies
by Alli Sinclair
A sweet, heart-warming romance set in the dreamy world of ballet in Paris. The narrative is split between the present-day story of Lily Johansson, who lost both her fiancé and her dancing career there a few years previously, and that of Viktoriya Budian, a ballerina who has escaped the Russian Revolution and is hoping to build a new life for herself in the City of Lights. I am both a balletomane and a Francophile, and so I really enjoyed the setting and dance scenes. Of the two narrative threads, the historical story worked better for me, as is often the case – perhaps because it was had greater drama and suspense… Learn More.
---
Kate Forsyth
Kate Forsyth is the bestselling and award-winning author of more than twenty books, ranging from picture books to poetry to novels for both children and adults.
She was recently voted one of Australia's Favourite Novelists. She has been called one of 'the finest writers of this generation', and 'quite possibly … one of the best story tellers of our modern age.'
Kate's books have been published in 14 countries around the world, including the UK, the US, Russia, Germany, Japan, Turkey, Spain, Italy, Poland and Slovenia.
Visit Kate Forsyth's Booktopia author page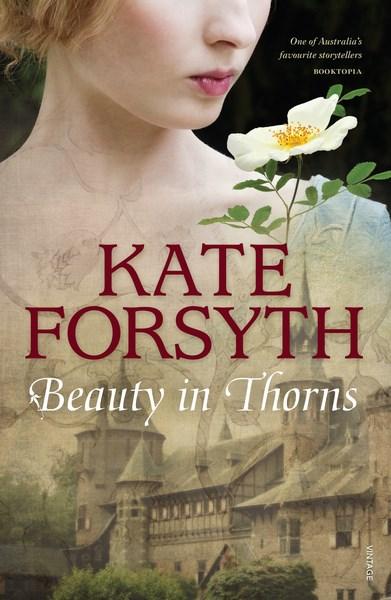 Beauty in Thorns
A spellbinding reimagining of 'Sleeping Beauty' set amongst the wild bohemian circle of Pre-Raphaelite artists and poets.
The Pre-Raphaelites were determined to liberate art and love from the shackles of convention.
Ned Burne-Jones had never had a painting lesson and his family wanted him to be a parson. Only young Georgie Macdonald – the daughter of a Methodist minister – understood. She put aside her own dreams to support him, only to be confronted by many years of gossip and scandal.
Dante Gabriel Rossetti was smitten with his favourite model, Lizzie Siddal. She wanted to be an artist herself...
About the Contributor