#stabstabstab… that is the hashtag fans of Jay Kristoff's Nevernight Chronicles have affectionately attached to the epic adventure. If you love nail-biting, high-stake adventures about young assassins looking for revenge, then this is the one for you. The series begins with Nevernight, where protagonist Mia Corvere sets out to become an unstoppable assassin by joining the Red Church (think Hogwarts, for assassins). Obviously, things got a little out-of-hand; arms were lost, death a permanent stench in the halls of the 'school' and Mia made both allies and enemies alike.
Fans, like many of us in the office, have been (im)patiently waiting for book two in the series. Godsgrave is finally here and it met our high expectations! More nail-biting, more high-stakes, more death… we loved it!
Jay popped by Booktopia the other week to sign copies of this epic story and to have a chat with us about this latest instalment. Listen here:
Review by Sarah McDuling:
Let me begin with a warning. Godsgrave is technically not a Young Adult book. And yet, given the huge popularity of Jay Kristoff in the YA community, The Nevernight Chronicles is definitely one of those crossover series that will appeal to both lovers of YA Fantasy and Adult Fantasy. It is also very awesome and highly entertaining!
In the name of full disclosure, I wanted to be perfectly clear about the bucket loads of violence and sex in this book! If you are a parent looking for a new fantasy series for your young impressionable tween, maybe read these books first and decide whether said tween is ready for the blood-soaked adventures of Mia Corvere.
As someone who isn't easily shocked, Godsgrave nevertheless managed to stun me with its gloriously uninhibited celebration of super-dark and ultra-sexy violence. This is a series that would be perfect for a film or TV adaptation. It's like Game of Thrones crossed with Assassin's Creed with a hint of Gladiator. It's bold and big and epic and stylish and just so much fun – my only complaint is that it has such a tremendous game changer of an ending that the wait for the next book is going to be absolutely EXCRUCIATING.
After saving the day in Nevernight, Mia has been accepted as a Blade of the Red Church. That's right, our little girl is all grown up and assassinating people for money! Unfortunately, not everyone in the Red Church believes that Mia is worthy of serving Our Blessed Lady of Murder…
Suspecting betrayal and with her own vendetta to fulfil, Mia defies the Red Church and embarks on a highly dangerous quest to wreck vengeance upon her enemies. This is a plan that involves selling herself into slavery! Indeed, having graduated from Deadly Assassin School, Mia has now enrolled herself in Scary Gladiator School. That's Mia Corvere for you, gentlefriends. She is nothing if not an ambitious young woman. Vicious, audacious and bloodthirsty are also adjectives that spring to mind.
Godsgrave is an excellent continuation of this wildly addictive series. Mia is as fierce, fearless and ferocious as ever. In this latest instalment she faces new challenges and old enemies, new friends and dangerous rivals. We have epic fight scenes, twisting plot turns, and the aforementioned game changer ending that literally made me shriek out loud.
Bring on book three!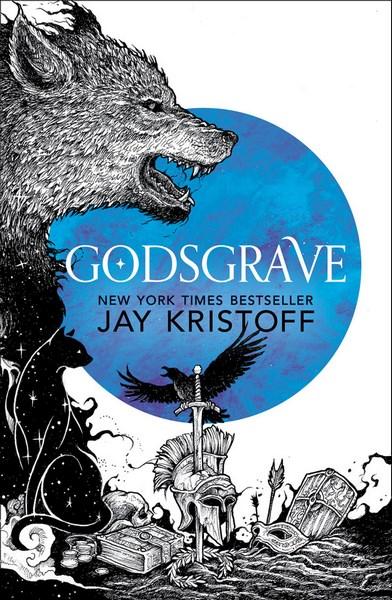 Godsgrave
A ruthless young assassin continues her journey for revenge in this new epic fantasy from New York Times bestselling author Jay Kristoff.
Assassin Mia Corvere has found her place among the Blades of Our Lady of Blessed Murder, but many in the Red Church ministry think she's far from earned it. Plying her bloody trade in a backwater of the Republic, she's no closer to ending Consul Scaeva and Cardinal Duomo, or avenging her familia. And after a deadly confrontation with an old enemy, Mia begins to suspect the motives of the Red Church itself.
When it's announced that Scaeva and Duomo will be...
About the Contributor
Before entering the exciting world of books, Bronwyn served in the Royal Australian Air Force, travelled extensively and worked (still does!) as a barista on the weekends. Books are her true passion. Bronwyn's debut fantasy novel Relic is coming out in 2019 with indie publishing house Talem Press. They are to publish her entire trilogy called The Relic Trilogy. In her spare time, Bronwyn writes, reads and enjoys keeping fit (which she undoes by eating loads of chocolate) with Martial Arts and personal training. She can't answer what her favourite book is but she has a soft spot for Peter Pan (J.M Barrie), Outlander (Diana Gabaldon), Stardust (Neil Gaiman), The Illuminae Files (Jay Kristoff and Amie Kaufman) and Six of Crows (Leigh Bardugo). Fantasy, sci-fi and YA make up the majority of her bookshelves.